Doughnuts. Donuts. No matter how you spell it, there is something decadently delicious about sitting down to a doughnut with your morning cup of coffee. These homemade baked chocolate cake doughnuts couldn't be easier to make, and they would be the perfect treat to make for your valentines this week. Or, package up a half dozen or so to send along to the neighbors, friends or teachers in your life. They'll be so happy you did!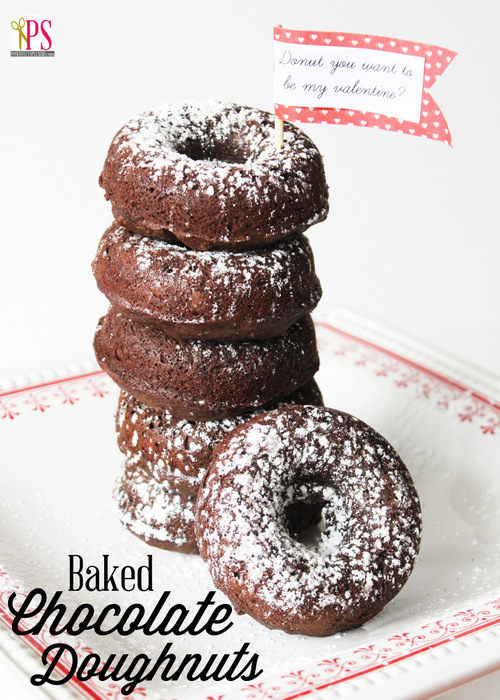 This baked chocolate doughnut recipe is a modification of a recipe from King Arthur Flour. I made a few changes to the original recipe, including replacing the light brown sugar with dark (I love the richness added to baked goods with the increased amount of molasses in the dark brown sugar), decreasing the amount of chocolate chips called for in the batter (I felt it didn't need quite so many), and adding a touch of cinnamon to change the flavor profile a bit (to me, cinnamon and chocolate flavors marry beautifully together). If you aren't a fan of cinnamon in chocolate baked goods, feel free to omit it from the recipe.
[gmc_recipe 3542]
Helpful Doughnut-Making Tips and Tricks
In order to make a batch of these doughnuts, you will need to purchase a pan specifically intended for this purpose. I purchased this Wilton doughnut pan at Jo-Ann with a 40% off coupon. If you can manage the expense, buying more than one pan eliminates the need to wash and re-grease the pan between batches, but I have managed just fine so far with having only one.
A time-saving technique you must try when making these doughnuts is to pour the prepared batter into a gallon-sized zip-top bag. Carefully snip off a small notch from one of the bottom corners of the bag, and then use the bag to pipe the batter into the prepared pan before spreading the top of the batter smooth with a small spatula. This is so much easier than trying to ladle the batter into the pan with a spoon! When the pans are filled, I have found that the doughnuts bake up best when each well in the pan is almost filled to the very top with batter.
My go-to place for baked doughnut recipes is always the King Arthur Flour website, which is where I found today's recipe. I have prepared two of their doughnut recipes so far. These chocolate cake doughnuts…
…and their pumpkin doughnuts in the fall. It is honestly impossible to determine which was more delicious!
(Images via PositivelySplendid on Instagram. I would love for you to follow along!)
Doughnuts are the perfect treat for packaging and giving as gifts. A great way to do so is to make a stack of 4-6 doughnuts and then push a wooden skewer down through all of the layers to anchor the stack. Add a cute little tag to the top of the skewer, wrap everything up with a bit of cellophane, and you are all set! I am going to give doughnut gifts to each of my kids' teachers for Valentine's Day.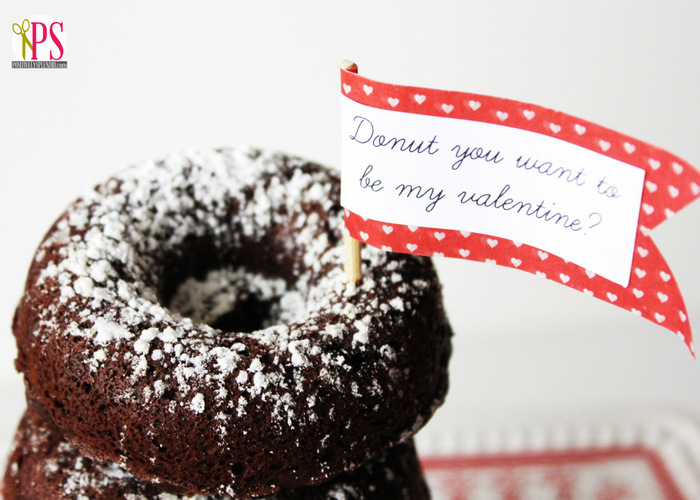 Thanks for stopping by!
Linking this to Tatertots and Jello
If You Liked This, You Might Also Be Interested In: