I am so thrilled today to be the final project shared in this month's Creative Carousel lineup! 
One thing I always love looking back on are the lists my children come up with for Santa each year. It still brings a smile to my face to remember my older son's 3-year-old list, which included a monster, a car and a bug. 🙂 By creating these Christmas List Photo Ornaments, you can create a memento to recall sweet memories like these each and every time your trim your Christmas tree!
For this project, you will need:
Unfinished 4″ wooden plaques
Acrylic paint
Cardstock
Patterned paper
Paper trimmer
Mod Podge
Foam brushes
Coke cans & manual die cutting machine (optional)
Metal stamps* (optional)
Paint pen (optional)
Hot glue
Eye screws
Ribbon
step
1
/ Paint your plaque in your desired color with acrylic paint and allow to dry completely. While your plaques dry, print a photo of your subject in black and white onto your cardstock. Using your paper trimmer, trim your photo down to 3×3″. Trim a piece of coordinating patterned paper to 3.5×3.5. When your paint is dry, affix your photo to the front of your plaque and your patterned paper piece to the back using 2-3 even layers of Mod Podge. Allow everything to dry completely.
Note: Because your photo is printed onto cardstock, the ink will run just a bit when your Mod Podge it, creating an antiqued look. If you prefer a crisper, cleaner look, have your photos professional printed.
step
2
/ Using the technique
for how to create metal tags from empty Coke cans,
create a large tag to go on the back of your ornament and a small tag for the date. I used my Lifestyle Crafts
Nesting Frame dies
. Use your metal stamps and paint pen to embellish your large tag with your child's list as is detailed in the post linked above. Do the same for the date tag. Hot glue your finished list tag to the back of your ornament.
Note: If you don't want to make metal tags, no big deal! You can print your list onto cardstock and then Mod Podge it to the back of your ornament.
step
3
/ Affix an eye screw to the top of your ornament to serve as the hanger. Thread a piece of decorative ribbon through the screw and tie it in a festive bow. If desired, embellish your bow with the date tag you created in step 2 and small baubles like bells or miniature ornaments.
You are finished!
I love that these ornaments not only document the kids' wish lists for Santa, but they also include a photo and the year so I can always remember exactly what they were like at the point in time the lists were written!
In case you've missed any of the terrific Christmas Decor projects shared over the course of this week's Creative Carousel lineup, I hope you'll check out each and every one! 
***
Some of my regular readers might be wondering where the Saturday Seven is this week. Well, I have an exciting announcement:
Tonight at precisely 7 p.m. (Central) the first-ever Saturday Seven link party will kick off!
I will still be listing my seven personal favorites as I always have, but I am now going to open things up so you can share your projects, too! I hope you'll plan to be here, and that you'll spread the word for others to stop by as well!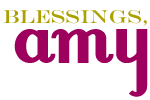 Linking this to…
Skip to My Lou
Home Stories A to Z
Tip Junkie
Today's Creative Blog
If You Liked This, You Might Also Be Interested In: