Are you hosting a big holiday meal this year? 

Today I'm going to share a quick and easy project that is not only a perfect way to dress up your table for holiday entertaining, but it also doubles as a thoughtful gift! These Pine Cone Place Card Ornaments will let holiday dinner guests know exactly their place at the table, and they can take them home once the party is over to hang on their tree to enjoy for years to come.
Ready to see how they're put together? Let's get started!
For this project, you will need…
Pine cones
Spray paint primer
Metallic silver spray paint
Small baubles: ornaments, bells, etc.
Ribbon 
Hot glue
step 1 / Spray your pine cone with primer and allow it to dry completely before spraying with your silver paint. When your paint is dry, gather your supplies to assemble your ornament. 
step 2
/ Cut an 18-inch length of ribbon, and tie a knot at the center. Slip your tag over one of the tails and slide it to the center of the ribbon so it touches the center knot. Slip an ornament and/or bell over the same tail, and then add another bauble to the other side, as well. Tie your ribbon in a nice bow. Pretty!
step 3
/ Tie another length of narrow ribbon to the top of your pine cone, forming a loop for hanging your ornament, as shown. Use a dab of hot glue to adhere your assembled bow embellishment to the top of your pine cone. 
These are so simple to put together, but they make such a statement, don't you think?
Thanks so much for making me a part of your day!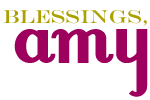 Linking this to…
Skip to My Lou
If You Liked This, You Might Also Be Interested In: