Hi there! My name is Amy, and my blogging home is
Positively Splendid.
In a nutshell, I am just a girl striving daily to appreciate the simple pleasures of life by creating something beautiful, meaningful, or delicious!
My goal is for my blog to be a haven of sewing, crafting and DIY inspiration, and a place where creative people of all skill levels can come and feel right at home. Because I feel strongly that everyone should be equipped to create something beautiful on their own, each and every project at Positively Splendid is explained to the last detail with step-by-step photo tutorials. I like to think of each tutorial as sitting down with friends to learn something new together!
Today I'm going to share a scrappy wreath that will allow you to adorn your front door in style this fall!
For this project, I kicked things off by creating a Simple Ruffled Wreath by following the steps in the tutorial. Then, I set to work finding just the right embellishments.
The jelly roll I used for my Ruffled Autumn Leaf Tee still had some life left in it, so I went ahead and used the rest of the strips for this project. The moment I determined myself to use those jelly roll strips, I knew exactly what I wanted to do with them. Last year, I was absolutely charmed by these gorgeous Jersey Knit Flowers at A Little Lovely. I assembled the flowers for this wreath using this technique, but with one notable difference: instead of cutting the slits in each of the strips with scissors, I tore them to achieve a less-polished look. These flowers were so easy and fun to put together! I made as many flowers as I had jelly roll strips left in my stash (which wound up being around 15). Then, I set to work assembling my wreath.
For this project, you will need:
Fabric flowers, as described above
A Simple Ruffled Wreath
Burlap
Raffia
Ribbon
Hot glue
Shears
step

1) Wind your ribbon around your wreath, securing with hot glue as you work.
step
2)
Cut leaf shapes of varying sizes from your burlap. Apply a dab of hot glue to the bottom point of each leaf, and pinch the sides together to give it dimension, as shown. 
step
3)
Arrange your flowers and leaves as desired on your wreath, moving and adjusting your design until you are satisfied with the overall effect. At this point, I highly recommend taking a picture of your wreath to refer to later on, just in case your flowers become misplaced as you are adhering them in place. I have found this to be a real sanity-saver!
step

4)

Secure your flowers and leaves to your wreath using hot glue.
step
5)
Create raffia sprigs by cutting 8-inch bundles of raffia (with about 4-5 strips of raffia each). Fold each bundle in half, and secure at the folded end with a tied piece of raffia. Tuck these pieces into place randomly on your wreath; secure with hot glue.
step
6)
Loop a long piece of ribbon through the top of your wreath, and tie it in a bow. Your wreath is now ready to adorn your front door!
Thanks so very much to Amanda for having me over today. I absolutely adore fall, and all of the ideas shared during this series have been fabulous!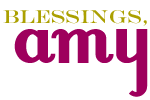 Having grown up in a home brimming with sewing notions and paintbrushes, Amy has a deep love for all things creative. On any given day, you'll find her knee-deep in her latest creative endeavor, with projects ranging from sewing and crafts to home decor and kid-friendly ideas. Amy believes that everyone, regardless of skill level or experience, possesses the ability to create something beautiful, and Positively Splendid was born of her passion for helping others harness their innate creative potential.