Hi there! I am so thrilled to have the opportunity to guest post here for the immensely talented Beckie! My name is Amy, and my blog, Positively Splendid, is a place where I share about my passions for cooking, crafting and raising a family. I would love for y'all to stop in for a visit!
I am always on the lookout for unique project ideas, and the inspiration for the creation I'll be sharing with y'all today came in the grocery checkout line, when I was admiring a necklace worn by a fellow shopper. I knew I absolutely had to have one, so I set to to work to figure out how to make these funky twistable flowers for use on jewelry pieces and the like. My talented mom recently gave me a set of Dritz quick-turn tools that I had been wanting to put to good use, and I knew this project would be perfect for that. I hope you enjoy!
For this project, you will need…
Scrap fabric
Pipe cleaners
Quick-turn tool
Marine vinyl
Snaps and snap setting tool
Hot glue gun
Basic sewing tools: machine, scissors, etc.
Cut your scrap pieces of fabric into 1″ x 12″ strips (one for each flower you wish to make). Fold each piece in half lengthwise with right sides facing, and stitch all the way down the piece, 3/8″ from the folded edge. When you reach the end, pivot your foot 90 degrees and stitch across the bottom as shown, making sure to backtack to secure your stitches.
Trim as closely as possible to your line of stitching.
Following your quick-turn tool's package instructions, turn your tube right side out. Reinsert your turning tool's outer tube piece into your completed fabric tube, scrunching the fabric as necessary to ensure it reaches the very end of your fabric piece. Slide a pipe cleaner into the turning tool piece as shown, making sure the end of the pipe cleaner reaches the end of your fabric piece. While pinching the fabric and pipe cleaner together to ensure the pipe cleaner doesn't move, remove your turning tool tube and set aside.
Scrunch up your fabric tube around your pipe cleaner, as much or as little as you like.
Now, starting at the closed end, twist your flower into a spiral.
When you reach the end of your fabric, trim off the excess pipe cleaner and set it aside to use for another use (or for a subsequent flower).
Now pull a bit of the gathering out of the unsewn end of your rolled flower, so the fabric is just a bit longer than the pipe cleaner within. Place a dab of hot glue on the back of your flower and adhere the excess fabric as shown.
These flowers would be terrific for a bib necklace, or even a pair of earrings. To make a cuff as I have, though, here's what you need to do.
Measure around your wrist where you want your cuff to fall. To that measurement, add 1/2″ (or a bit more, if you desire) for ease, plus another 3/4″ to accommodate your snaps. Now, cut a strip of marine vinyl that is 1″ wide and as long as the above specifications.
For instance, my wrist measurement was 5.25″.
5.25 + .5 + .75 = 6.5.
So, my cuff piece was 1″ x 6.5″.
With a marker, place a dot approximately 1/2″ from the edge of your cuff piece on the right side, and another dot 1/2″ from the opposite edge on the wrong side.
Now, set your snaps on your cuff piece. (I recently shared a detailed post on snaps on my blog, and also a video tutorial.) Set your snaps so the operational side of your socket piece is on the wrong side of your band, while the operational side of your prong piece falls on the right side.
Use hot glue to adhere your flowers to your cuff, making sure to use one of the flowers to hide the snap.
Adhere the rest of your flowers in a similar fashion, with the edges overlapping slightly as shown. Be sure to leave about 1/2″ between your last flower and your prong snap piece.
All done! So fun and simple!
Thank you so much, Beckie, for inviting me over today!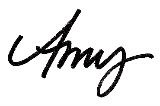 If you enjoyed this post, subscribe to Positively Splendid 
to receive updates, and join us on Facebook and Twitter!





Having grown up in a home brimming with sewing notions and paintbrushes, Amy has a deep love for all things creative. On any given day, you'll find her knee-deep in her latest creative endeavor, with projects ranging from sewing and crafts to home decor and kid-friendly ideas. Amy believes that everyone, regardless of skill level or experience, possesses the ability to create something beautiful, and Positively Splendid was born of her passion for helping others harness their innate creative potential.