Welcome! I am so glad you're here!
In honor of Memorial Day today, I wanted to share a tutorial for a patriotic little tote I made for myself to carry this summer back and forth from the pool, play dates and trips to the store. What I love most about this tote pattern is how easily it comes together, and how simple it is to switch up the fabrics and embellishments to achieve a completely unique look each and every time I make it!
Ready to make one for yourself? Let's get started!
For this project, you will need…
Red and white marine vinyl* (The red I used is very festive and sparkly, found at Joann!)
Denim
Black and white gingham
Red quilting cotton fabric, for tote lining and bow accent
Coordinating thread
Washable ink marker
Wash Away Wonder Tape
Tissue paper
Leather sewing machine needle
Basic sewing supplies: machine, shears, pins, etc.
*Not ready to try using vinyl on a project? No worries. Use red and white cotton fabrics backed with fusible web to create your applique instead.
Prep Work: Cut out all of your tote body pieces.
From your denim – (2) pieces cut to 14 x 15.5″
From your red quilting cotton – (2) pieces cut to 14 x 15.5″
From your black and white gingham – (1) strip that is 4 x 45″
(2) strips that are 5 x 34″
step
1
/ Cut a 5.5″ square from your white marine vinyl. Using a spool of thread and your washable ink marker, round off each of the corners, as shown, and trim away the excess. Now, cut our your star template, and trace it onto the back of your red vinyl. Cut your star out, and adhere it to the center of your rounded square piece with Wash Away Wonder Tape.
step
2
/ Outfit you machine with your leather needle. Cut a piece of tissue paper large enough to cover the entire star design on your vinyl patch, and place the tissue piece on top of your design. Stitch all the way around the perimeter of your star to affix it to your white piece. Carefully tear away the tissue when you're done, using tweezers to remove any small pieces that remain. Now, use Wash Away Wonder Tape to affix your patch to the lower-center of the right side of one of your denim pieces. Cover the patch with tissue, and stitch around the outer white perimeter to affix it to your denim.
step
3
/ Line up your denim pieces, right sides facing, and use a 1/2″ seam allowance to stitch down one long side, across the short bottom side, and back up the other long side. Leave one short side open.
(This will be the top of your bag.)
Snip your corners, as shown. Turn your piece right-side out, using a corner-turning tool to turn your corners well.
(I keep a wooden chopstick handy for this purpose.)
Press your piece, making sure not to press over your vinyl patch. Now, stitch your red pieces together in the same manner, snipping your corners as you did before. Leave this piece turned wrong-side out.
Slip your red lining piece inside your denim piece, lining up the side seams and top edges. Pin your pieces together, and run a line of basting stitches all the way around the top edge to secure them together. Remove your pins.
step
4
/ Take your 4″ gingham strip and fold it in half lengthwise; press. Fold each of the long outer edges inward toward center so their raw edges are lined up with the seam you just pressed. Press these folds. Fold your entire piece in half lengthwise and press again.
(This piece will form the binding that will hide the top raw edges of your tote body.)
Open up your finished gingham binding piece, and fold it over the raw edge of your tote body piece, making sure the raw edge of the tote lines up with the press center seam of your binding piece. Pin the binding in place as you work all the way around your tote. When you come back to the place you began, trim off any excess binding, and fold your binding under 1/4″; pin it into place. Edgestitch all the way around the lower edge of your gingham binding piece to affix it to your bag.
step
5
/ Take each of your 5″ strips and fold and press them as you did your binding piece in step 4. Open your pieces back up, and turn each short edge under 1″; press. Refold each piece. Edgestitch around the enter perimeter of each strap to close it. Now, pin each strap so that each end is 2.5″ in from either side seam and the ends of the strap are 3.5″ down from the top edge of your tote (see diagram below). Affix the strap ends to your tote by stitching a rectangle with an "x" through the center, as shown.
All finished!
As always, please let me know if you have any questions! I would love to hear from you, too, if you put this tutorial to use to create a tote of your own!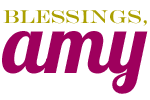 Linking this to…
Today's Creative Blog
The Stories of A to Z
Tatertots and Jello
Having grown up in a home brimming with sewing notions and paintbrushes, Amy has a deep love for all things creative. On any given day, you'll find her knee-deep in her latest creative endeavor, with projects ranging from sewing and crafts to home decor and kid-friendly ideas. Amy believes that everyone, regardless of skill level or experience, possesses the ability to create something beautiful, and Positively Splendid was born of her passion for helping others harness their innate creative potential.