Add style to your holiday decor this year by creating custom Christmas stockings with my Classic Cuffed Christmas Stocking pattern. Using your favorite fabrics, a full set of these Christmas stockings can easily be completed in a weekend or less. Let me show you how!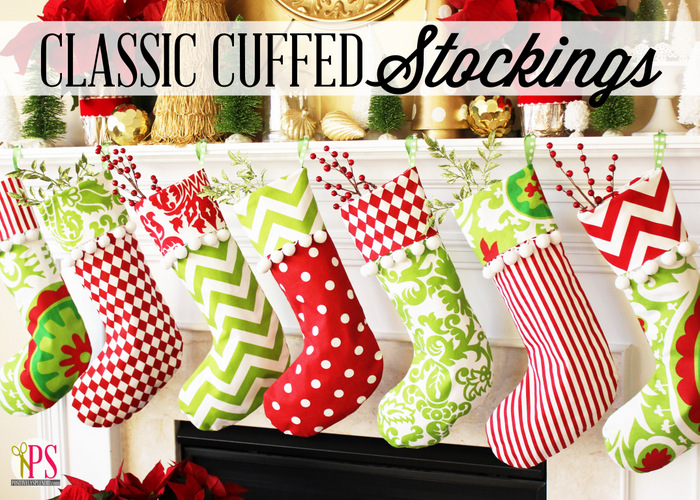 I shared last week about this year's Christmas mantel display, which includes a new set of Christmas stockings I sewed for each member of our family. Because I needed to sew seven of these gems (one for each of us, plus one for our beloved beagle, Maggie), I needed to come up with a pattern that could be whipped up in no time, but that yielded professional, polished results. This is the pattern I drafted.
The basic technique for creating these is the process I used in my Whimsical Christmas Stocking pattern, with a couple of modifications: I tweaked the overall shape of the stocking to a more classic silhouette, and I substituted a traditional cuff for the ruffled top. Ready to see how easily these come together? Let's get started!
For this project, you will need…
Classic Cuffed Christmas Stocking Pattern (Click link at left to be taken to the free download)
Fabric in coordinating styles and colors (I highly recommend Premier Fabrics)
White muslin
Rotary cutter and mat
Coordinating thread
1″ pom pom trim
Fabric hot glue
Ribbon
Basic sewing supplies: machine, shears, etc.
Optional: serger*
*To construct my stockings, I used a serger to enable me to stitch my stockings together and finish my seams in one step. If you do not have a serger, don't worry! You can complete this project with a standard sewing machine. I'll be including instructions for both methods throughout this tutorial.
To begin, print off the pattern pieces and assemble them according to the instructions on each piece.
Use the assembled pattern to cut out the following pieces for each stocking:
From your main fabric: 1 outside front piece and 1 outside back piece (These can either be of the same fabric, or different fabrics, depending upon your preference)
From your muslin: 2 inside lining pieces
Now, use a rotary cutter and mat to cut a piece of fabric for the cuff portion of your stocking that is 10 x 13.5 inches.
Now that all of the cuts are made, let's make a stocking, shall we?
To start, lay one of your muslin pieces on a flat surface (1). (Muslin really doesn't have a right or a wrong side, so don't worry about which direction it faces). Now, layer one of your outside pieces face up directly on top of the muslin piece, carefully lining up all of the raw edges (2). Next, layer the other outside piece face down (3) before layering your remaining muslin piece on top in a similar fashion (4). It is very important to smooth everything out very thoroughly as you create each layer, to ensure all of the edges of each layer are precisely aligned.

When everything is layered with all of the outside edges precisely aligned, pin through all layers to secure all of the pieces together. Wondering why I pinned parallel to the edge instead of perpendicular to it like is typically recommended for sewing? I do this when I plan on serging an edge, to prevent any possibility of serging over a pin. That is a helpful tip I learned from Mama Reita!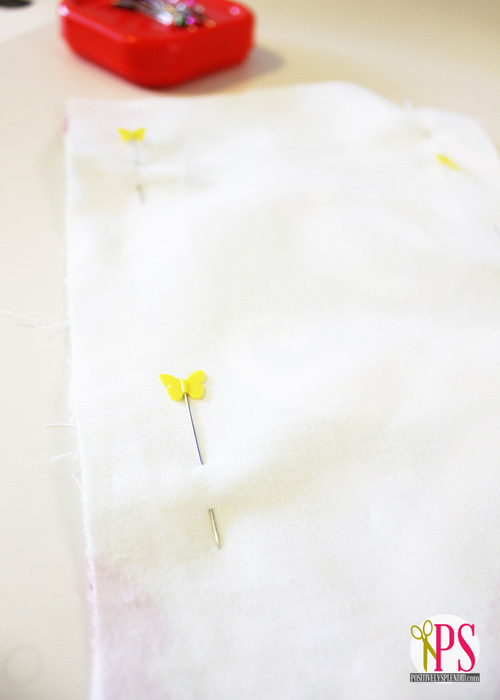 Now, serge all the way around the stacked pieces, making sure to leave the top opening unstitched. (If using a conventional sewing machine, stitch around the edges using a 1/4″ seam allowance before finishing the seam with a wide zig-zag or an overcast stitch.)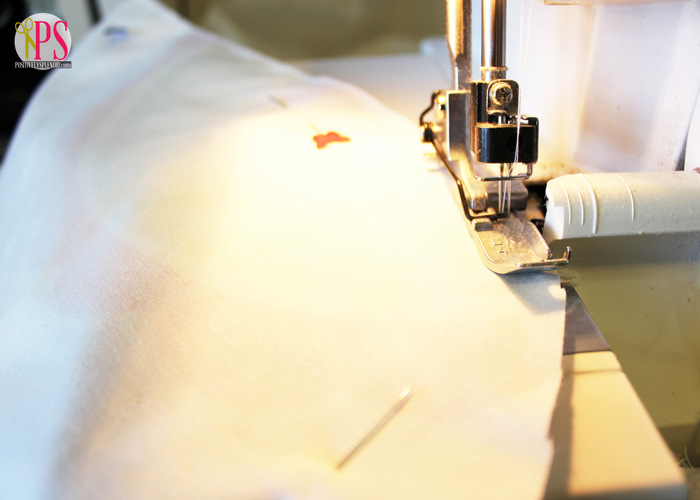 Serging around an inside corner can be challenging, but I've found a great way to do so with success: gently pull the fabric in front of the presser foot to the left so that its edge always creates a straight line with the edge of the fabric under the presser foot. You will likely have to fold the fabric over a bit to make this happen (see below), but manipulating the fabric this way will make stitching a curve as easy as stitching a straight line.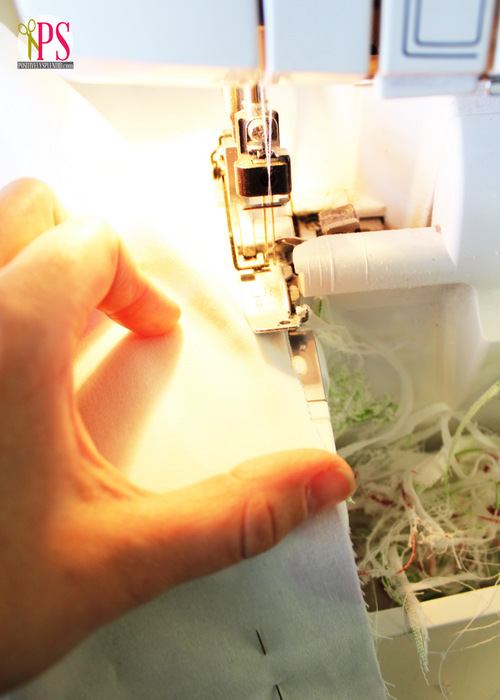 When everything is stitched together, set the assembled main stocking aside for now.
Fold the stocking cuff piece in half width-wise, as shown, aligning the short edges. Pin.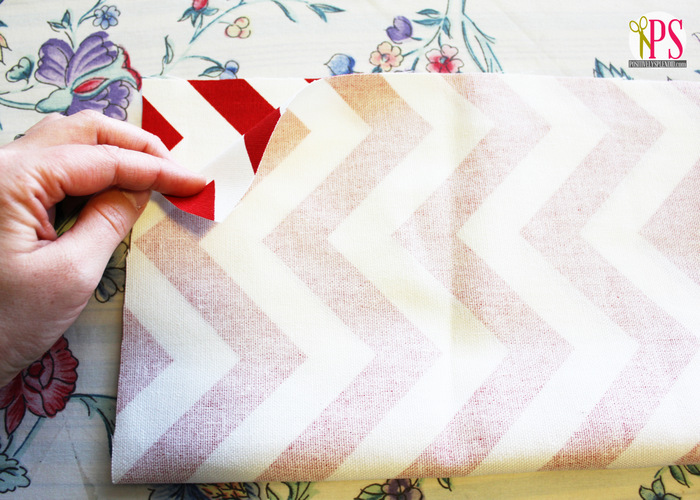 Serge (or stitch with a 1/4″ seam allowance) along the short edge, so that the piece forms a tube. Lay the stitched piece on a work surface and press it flat, so that the seam runs through the center of the piece, as shown.
As an aside, it looks like I need some practice lining up my chevrons, no? 😉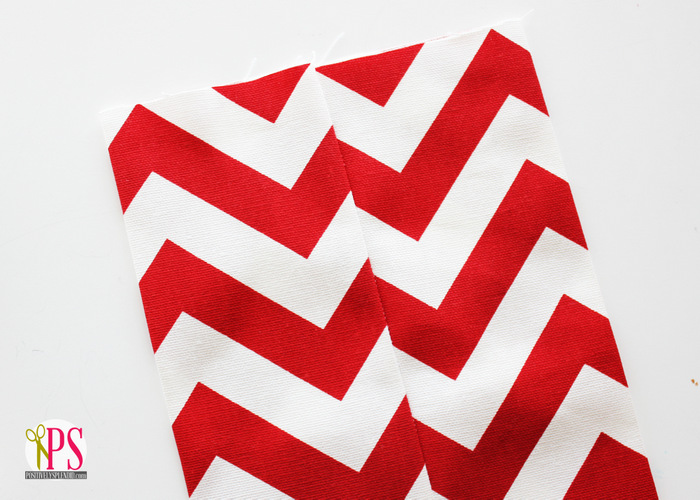 Now, fold the bottom edge of the tube up through the inside of the tube, so that the piece is folded in half, with wrong sides facing, and the remaining raw edges are all aligned.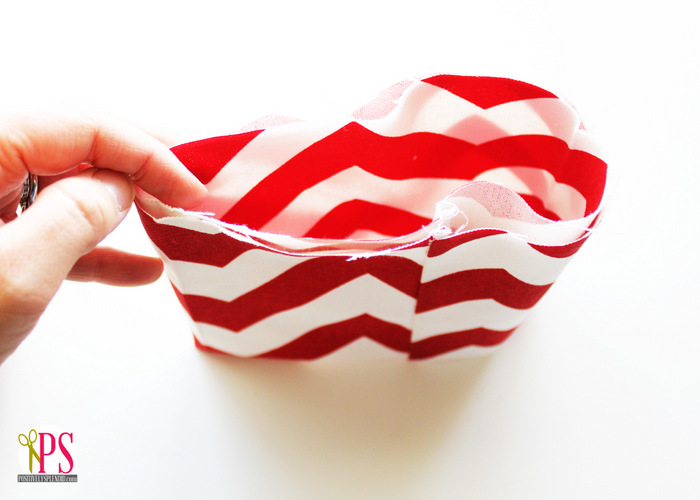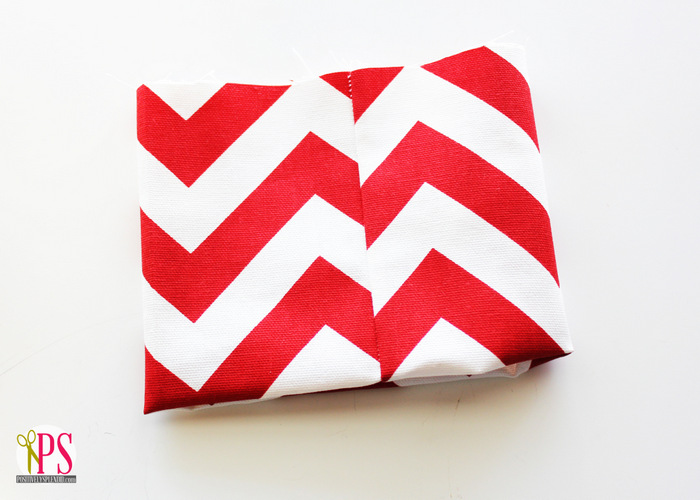 Cut a 6″ length of ribbon, and form it into a loop, as shown.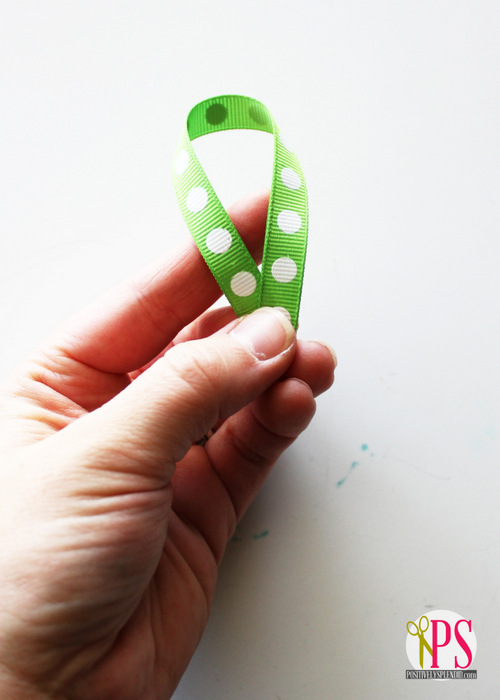 With your assembled main stocking still wrong-side out, place it on a flat work surface with the toe of the stocking facing the direction you want it to face on your finished stockings. (I chose to have the toe of my set face left, but that is completely up to personal preference.) Pin the loop face down to the top raw edge of your stocking, about 1/2″ from the outside seam. Note: Make sure that you pin it only to the top two muslin and fabric layers and not through all four layers to prevent sewing the top of your stocking shut in the next step!
Stitch 1/8″ from the edge to baste the ribbon to the stocking, making sure to remove the pin when you're finished.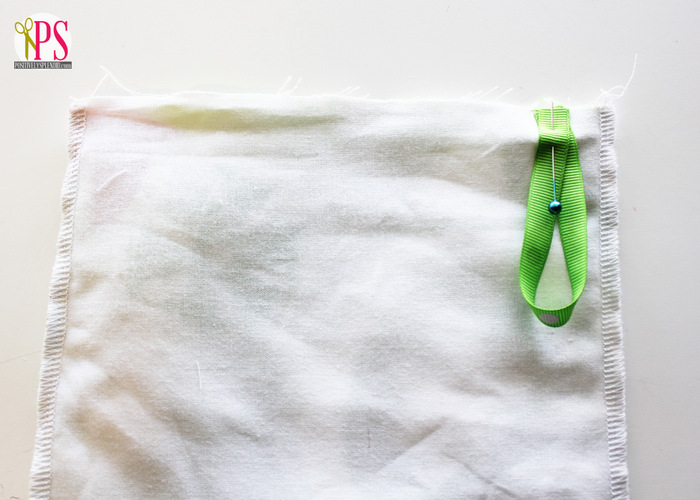 Slip the cuff down over the top of the stocking, as shown, with the seamed side aligned with the side you basted the ribbon to. Pin the raw edges together, making sure to pin the cuff only through two layers through the stocking to the top remains open, as shown.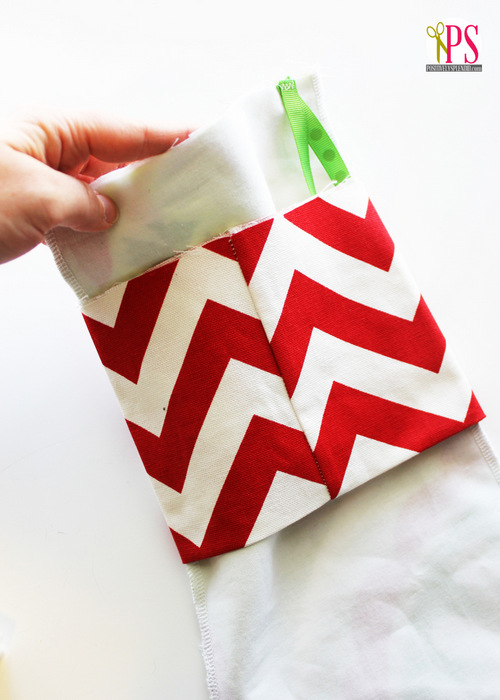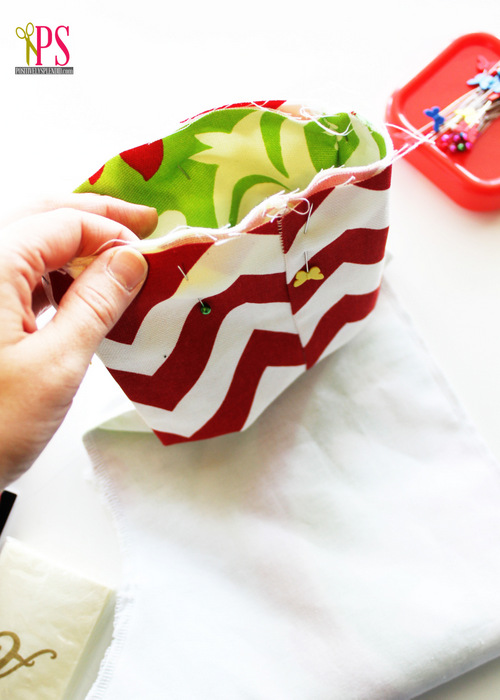 Baste the cuff to the stocking by stitching 1/8″ from the edge with a conventional sewing machine. Remove all pins, and then serge the pieces together, as shown. (If using only a conventional machine, stitch the cuff to the stocking 1/4″ from the raw edge, and then finish the seam with a wide zig-zag or overcast stitch.)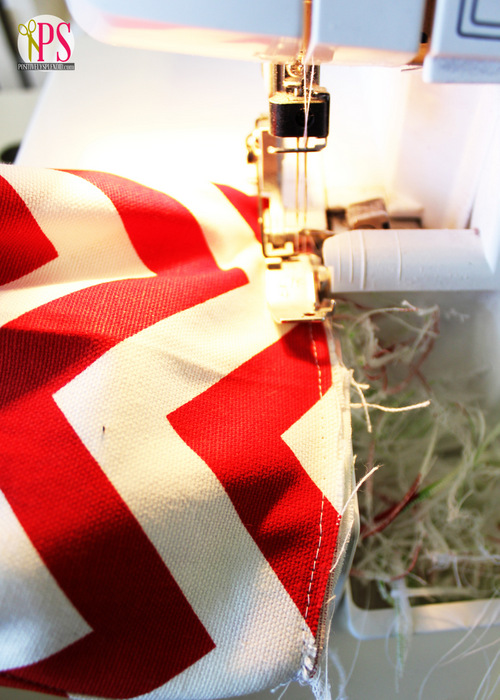 Turn the stocking right side out and press. Fold the cuff down, and press again.
To add pom-pom trim, lay the stocking face up on a work surface, and fold the cuff up. Using a glue gun and fabric hot glue sticks (I just discovered that they make such a thing!), adhere a strip of pom-pom trim to the back of the cuff, so that only the tassels and pom-poms hang over the top edge. Fold the cuff back down.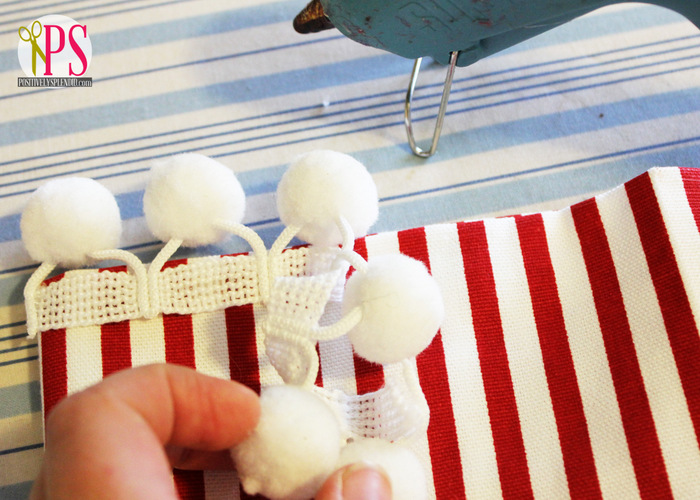 You are finished!
I love the classic silhouette of these stockings, and the pom-pom trim really adds a pop of decorative pizzazz!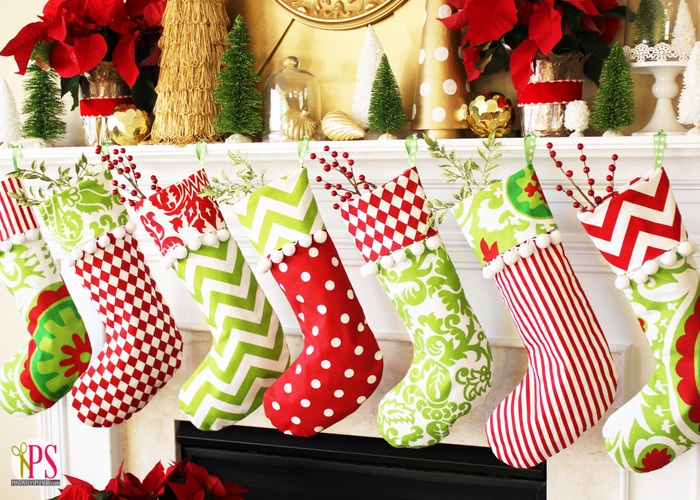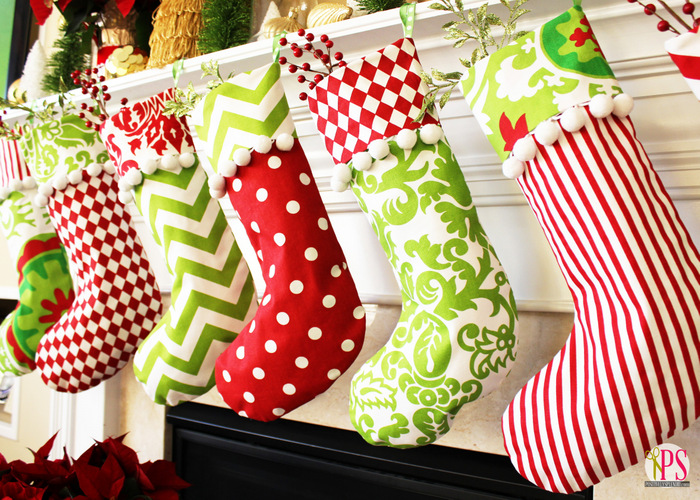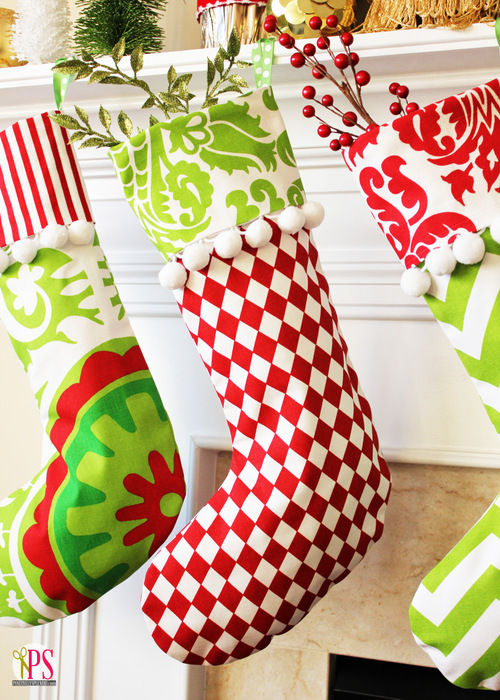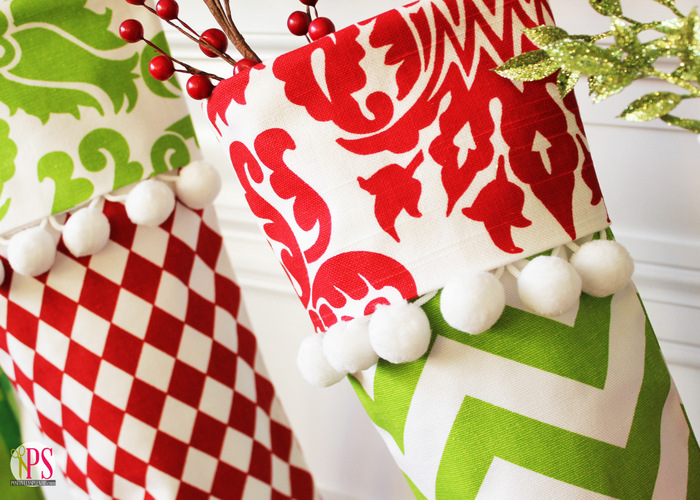 Once your stockings are finished, be sure to check out my stocking-hanging tips for making them look polished and sharp!
Wanting a more modern take on Christmas stockings? Check out my Whimsical Christmas Stocking pattern, a knock-off of the stockings from Ballard Designs.
For all of the details on the rest of my mantel display, visit my 2012 Christmas Mantel post.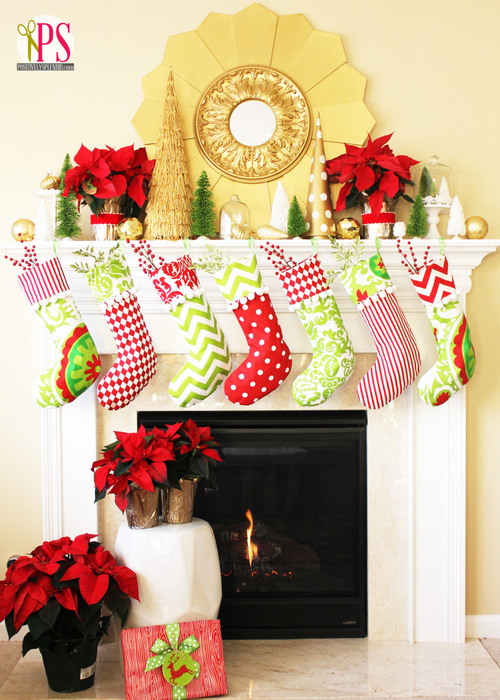 As always, please be considerate when using my patterns and remember that they are intended for personal, non-commercial use only. You may not make any of these stockings to sell, but feel free to use the pattern as many times you wish to make stockings for yourself or to give as gifts. Thank you!
 Thanks so much for making PS a part of your day!
Having grown up in a home brimming with sewing notions and paintbrushes, Amy has a deep love for all things creative. On any given day, you'll find her knee-deep in her latest creative endeavor, with projects ranging from sewing and crafts to home decor and kid-friendly ideas. Amy believes that everyone, regardless of skill level or experience, possesses the ability to create something beautiful, and Positively Splendid was born of her passion for helping others harness their innate creative potential.