Inspired by the gorgeous sunburst mirrors I've been admiring in my favorite shelter magazines and catalogs, I made a DIY mirror of my own for less than $30 using a ceiling medallion and humble foam board. Let me show you how to make a DIY sunburst mirror of your own to add pizzazz to your holiday decor this year!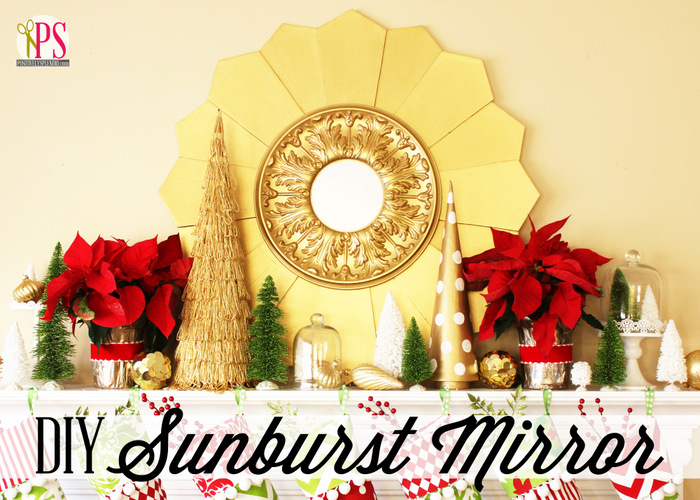 To make one roughly 30-inch sunburst mirror, you will need…
DIY Sunburst Mirror Ray Template (free download)
(3) 20 x 30-inch pieces of white foam core board
X-Acto knife and replacement blades
Pencil
Ruler
(1) 16-inch ceiling medallion (I purchased mine at Lowe's for just under $20)
(1) 6-inch round mirror (I purchased mine at Jo-Ann)
Spray primer
(2) bottles gold acrylic craft paint (I highly recommend the Metallic paint from Martha Stewart. The quality of these paints is well worth the extra expense!)
Paint brushes
Hot glue*
*I used hot glue to make the assembly process go more quickly, but if you prefer, you can use a stronger adhesive, such as E6000. Just be sure to allow for extra drying time!
To start, download and assemble the template for the rays of your sunburst. Trace the template 16 times onto your foam board (you will need to use two sheets for this step, fitting 8 rays per sheet). To save space, trace the template as shown, so that the side of one ray is aligned with the side of the next.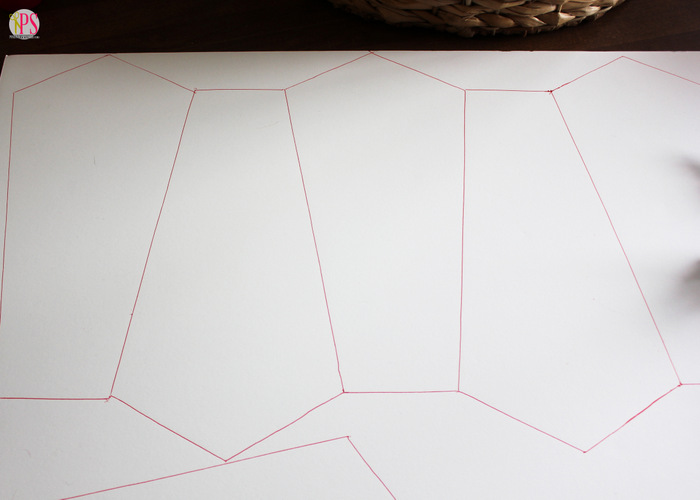 Use an X-Acto knife to slowly and carefully trim each ray. You will likely need to replace your blade once or twice as you work to ensure your edges stay nice and clean. Continue cutting until each of your 16 rays is cut out.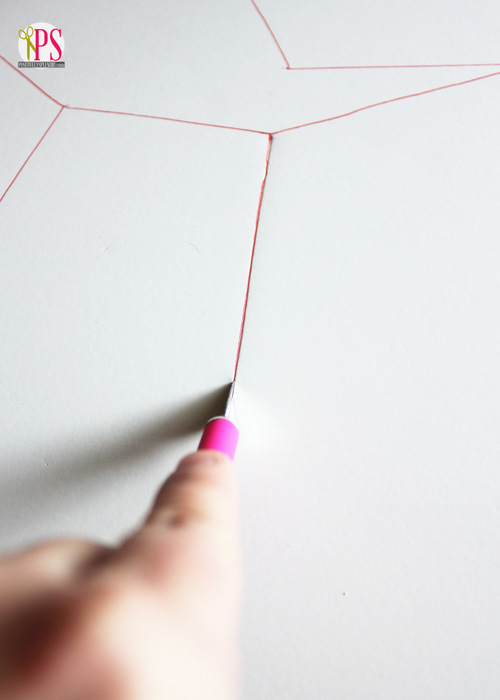 Trace two 9.5-inch circles onto the remaining sheet of foam board (I used a serving bowl as my template). Cut each circle out with an X-Acto knife. Note: Neither of these pieces will be visible on your completed mirror, so having perfectly clean edges isn't crucial for this step.
Use a ruler to mark a line 1″ from the bottom (straight) edge of eight of the ray pieces. Measure in 1.5″ from the bottom corner of each piece, and make a mark to designate the center of each.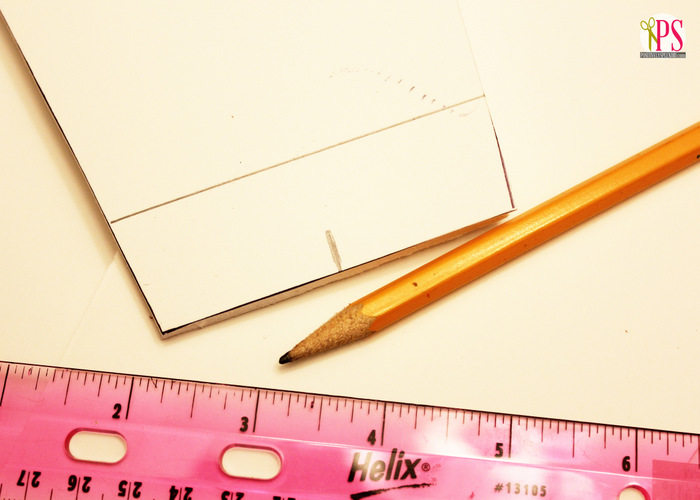 Grab one of your 9.5-inch circle pieces, and use a pencil to first divide the piece into quarters by making two marks at 90-degree angles that run directly through the center of the piece. (I found my the clear ruler from my rotary cutter set was really helpful here, as it has guide marks for all of the different angles.) Now, divide each of the quarters of your circle in half, drawing lines at 45-degree angles up from the center point of your circle, so that your circle is now divided into eighths. This might seem tedious, but making these markings will ensure your finished rays are spaced evenly, which is the key to a finished project that doesn't scream, "I made this at my kitchen table!"
Lay your circle on a large, flat surface so that the markings are facing up. Align the center marks of each of the eight rays you marked in the previous step with the lines on your circle so that they are evenly spaced. Make sure the bottom edge of each ray is spaced 1″ from the outer edge of the circle, using the straight lines you drew earlier to guide your placement of each one. The corners of each of the ray piece will just touch, as shown. Use hot glue to affix the ray pieces to the circle base until all eight of your marked ray pieces are attached.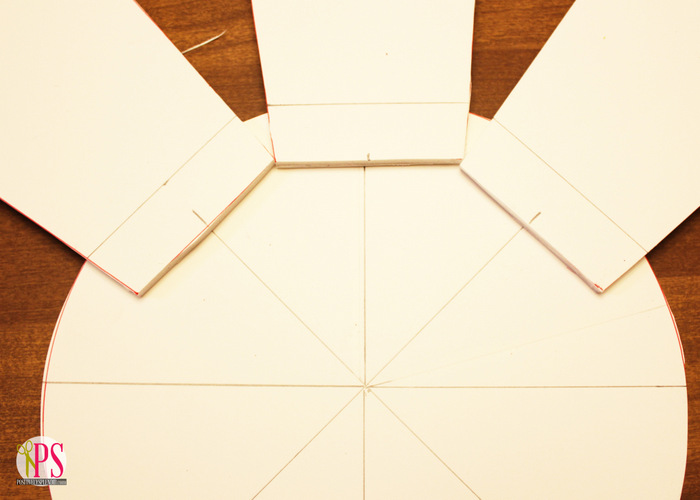 When your first layer of eight rays is affixed, center the remaining eight ray pieces on top of the lower layer, positioning the upper pieces directly between the lower pieces, as shown. The corners of these pieces will just touch, as shown. Affix these pieces with hot glue.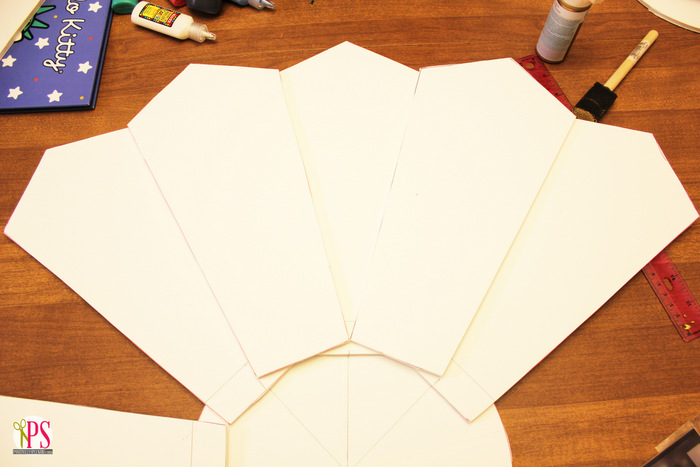 When all of your ray pieces are attached, affix the remaining circle piece on top with hot glue. You will now have a "sandwich" of sorts: circle piece, rays, and circle piece.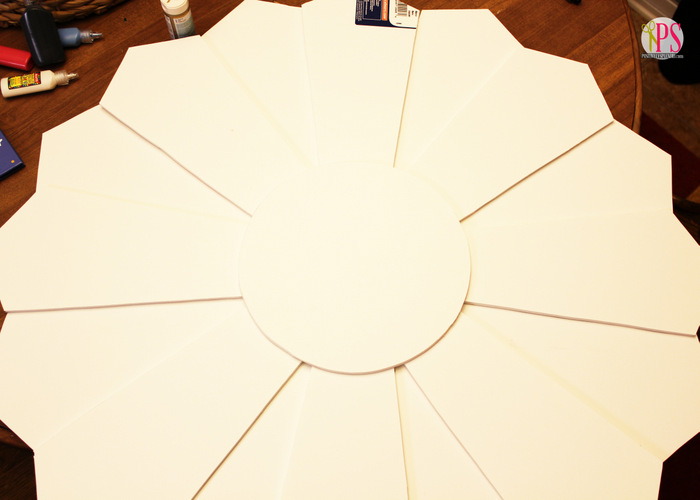 Spray the ceiling medallion with a coat of spray primer. Once it is completely dry, center the ceiling medallion on top of the upper-most circle, and adhere it with hot glue.
Now, use a brush to apply 2-3 coats of acrylic paint to the entire surface of your assembled sunburst. When the paint is completely dry, affix the mirror piece to the center of the medallion with hot glue.
You might be wondering why I chose to use craft paint here instead of something easier, like spray paint. Here's the deal: spray paint is indeed more convenient, but after doing a trial run, I discovered that it melts the outer edges of the foam center of the foam board, causing the board to warp. In other words, it doesn't look very pretty. 🙂 I have heard from some who have had success spraying foam board like this, but I think that in any case where the finished product needs to be absolutely straight and/or flat, acrylic craft paint is most definitely the safest option.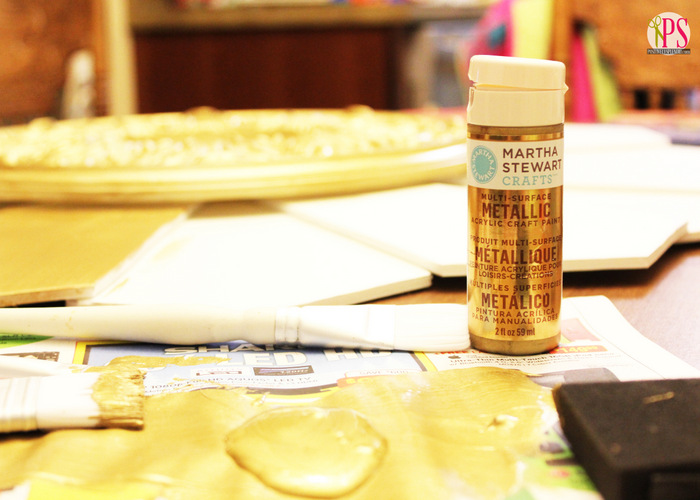 You are finished!
I will be so bold as to guess that very few people would ever guess that portions of this mirror were purchased in the presentation department of an office supply store!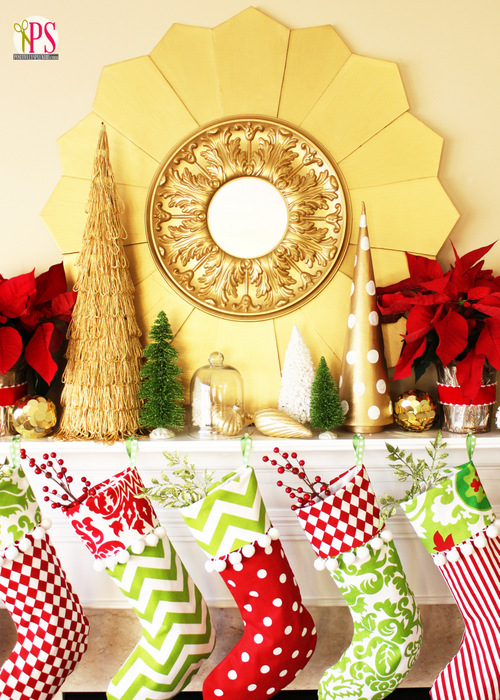 I love the rich gold tones of my mirror, but I think this would also look stunning in a striking shade of red!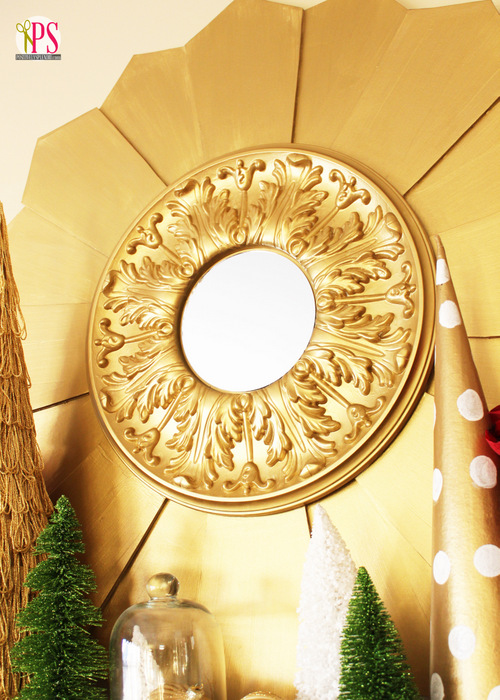 If you haven't already, I hope you'll venture over to see the entire tour of my Christmas 2012 mantel. And be sure to stop back in first thing Monday morning when I'll be sharing the tutorial for the classic cuffed stockings I made for this display!
I'll see you here tomorrow night for the Saturday 7 party!
Having grown up in a home brimming with sewing notions and paintbrushes, Amy has a deep love for all things creative. On any given day, you'll find her knee-deep in her latest creative endeavor, with projects ranging from sewing and crafts to home decor and kid-friendly ideas. Amy believes that everyone, regardless of skill level or experience, possesses the ability to create something beautiful, and Positively Splendid was born of her passion for helping others harness their innate creative potential.