Our family has called a number of states home over the years, and I'm always looking for ways to pay homage to the places we've lived. These DIY Watercolor State Coasters are such a great way to pay tribute to a favorite state, whether you've called it home or have loved visiting there. For these state coasters, I used the fabulous new line of watercolor paints from Martha Stewart available exclusively at Michaels stores and at Michaels.com, and I think you are soon to see why they have become one of my new favorite crafting products! Continue reading for the full how-to for this easy DIY craft project.
I've teamed up with Plaid and the Plaid Creators team to bring today's post to you. All opinions are entirely my own.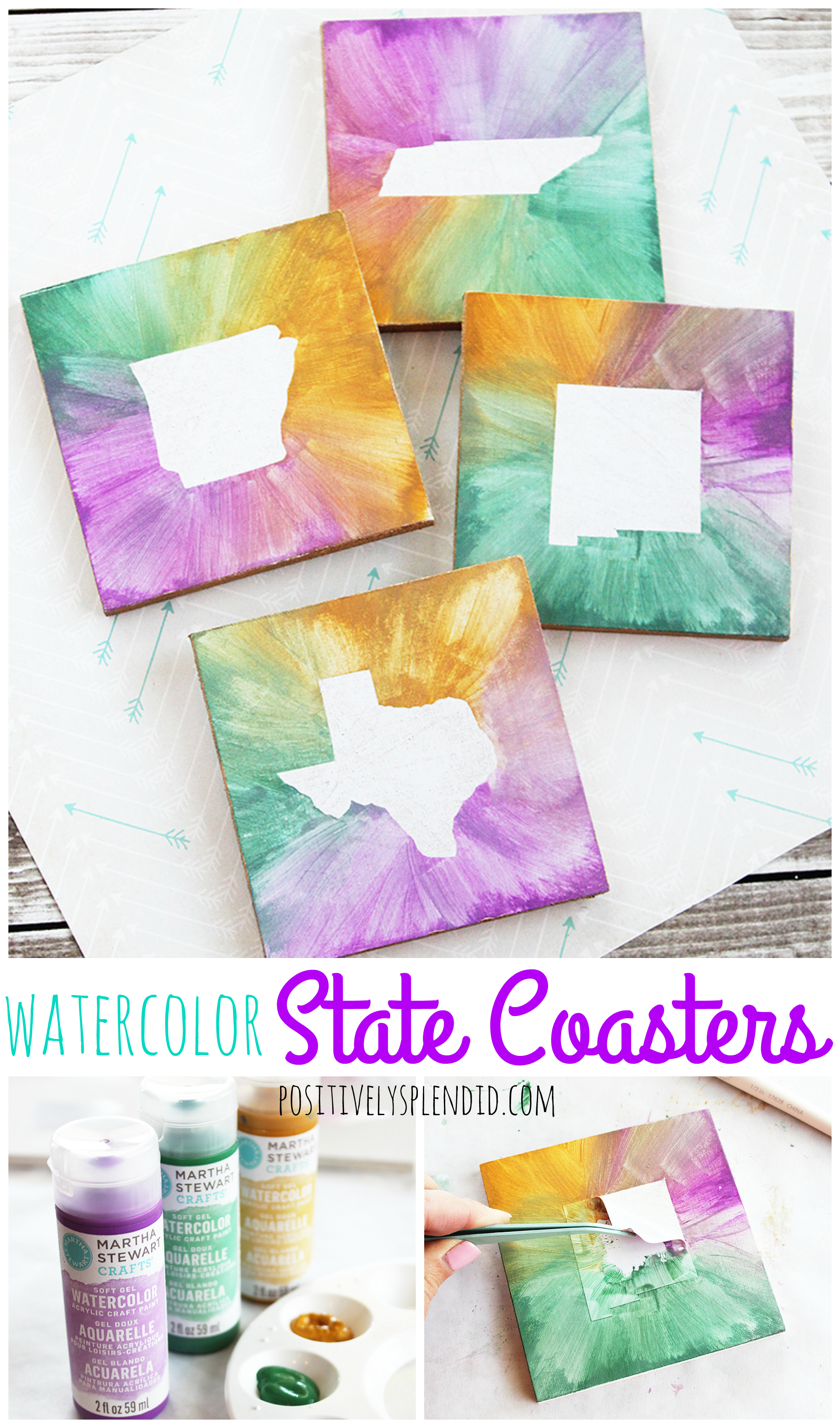 DIY Watercolor State Coaster Supplies
---
Note: I used 1/4″ MDF for this project, since I had it on hand from another project. Any thin wood will work for this project, so feel free to use what you have on hand cut to the 4″ square size, or look in the wood craft section at Michaels for pre-cut square wood plaques to use to avoid having to make any cuts at all!
Use the paint brush to paint the entire surface (front, back and sides) of each MDF square with one thin coat of the acrylic craft paint. Allow the paint to dry completely, at least 2 hours. (This is very important to ensure the adhesive mask sticks well to the surface in the next step, so avoid the temptation to rush!)
Sketch an outline of your state onto the front side (not the backing) of the adhesive vinyl/contact paper. (Instead of sketching my states by hand, I downloaded and printed templates here.) Cut out the state shape, remove the backing, and affix it to the top center of one of the painted MDF pieces. Repeat this step to prepare the other coasters with a variety of state shapes, or with the same state for all four. The choice is up to you!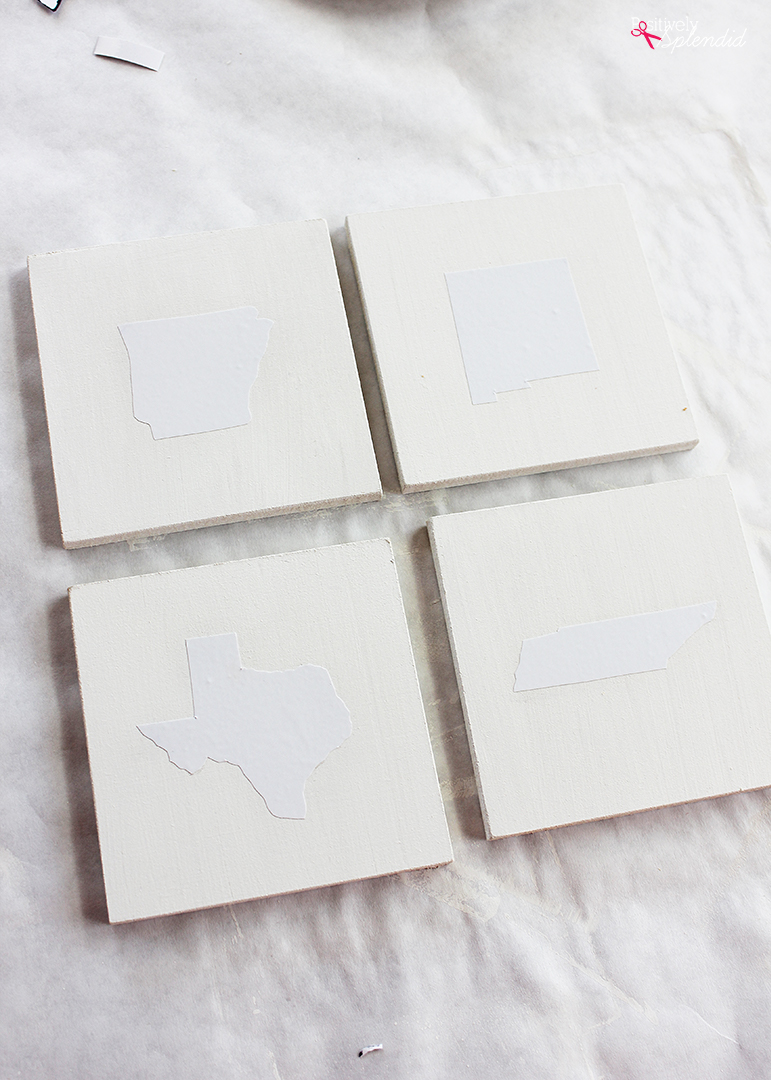 Now, the really fun part–diving into those Martha watercolor paints to create your state coasters!
I have always loved the look of watercolor projects, but I have found traditional watercolor paints challenging to work with, and too limited in the types of surfaces they can be used with. That is why I was absolutely thrilled when I was introduced to the Martha Stewart Watercolor Craft Paint. These paints are a dream! Unlike traditional watercolor, they have a permanent gel-based acrylic formula, which makes them incredibly easy to blend. Straight out of the bottle, they have a vivid, vibrant hue (there are 40 colors to choose from!), but the real magic happens when you dilute them just a bit with water to blend for gorgeous watercolor effects. They can use on multiple different surfaces including wood, watercolor paper, fabric, canvas, and more, and they are durable on indoor and outdoor porous surfaces. These paints are seriously amazing, y'all, and the brushes from the line really help you use the paint to its full potential.
For these state coasters, use the watercolor brush to apply three adjoining sections of contrasting watercolor paints to the surface of the coaster surrounding the state shape. No need to dilute the paints with water at this point–simply apply them as they come straight out of the bottle.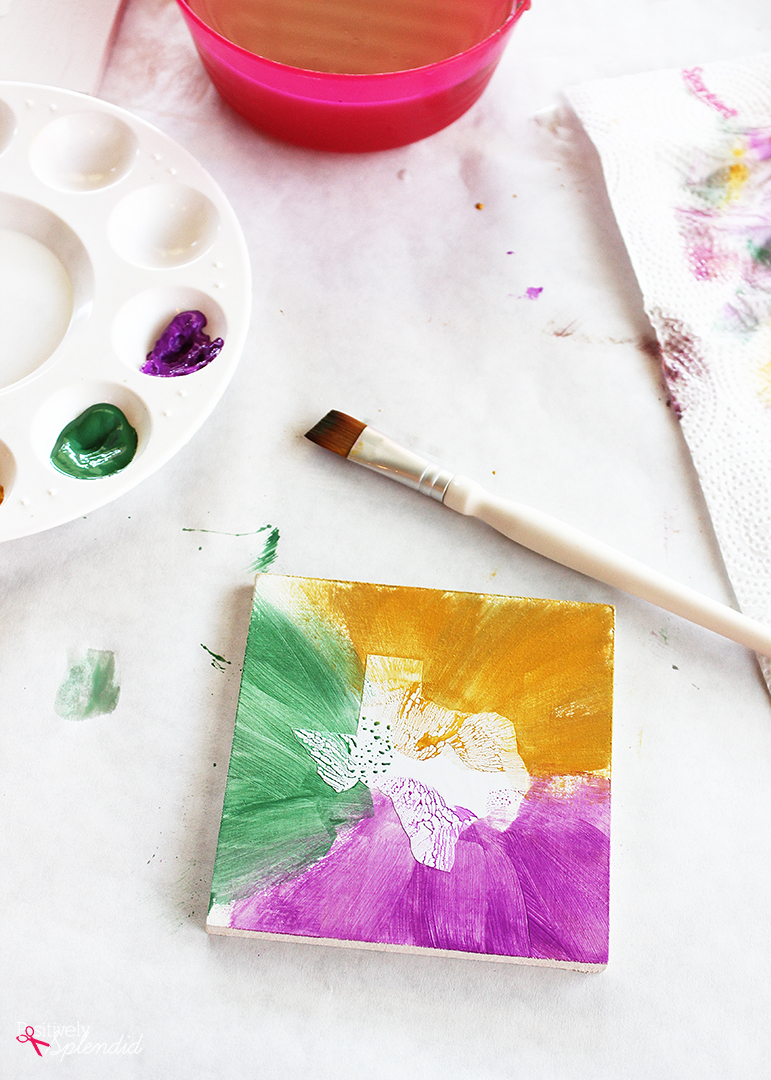 Next, dip the brush into some water, dabbing off most of the excess with a paper towel so that it is thoroughly wet, but not dripping. Use the wet brush to blend the three colors together. Seeing how these paints blend so beautifully is really like magic!
Note: To prevent the paint from bleeding under the surface of the state mask, only use brush strokes that go out and away from the mask piece. Also, adhesive vinyl seems to prevent bleeding better than contact paper.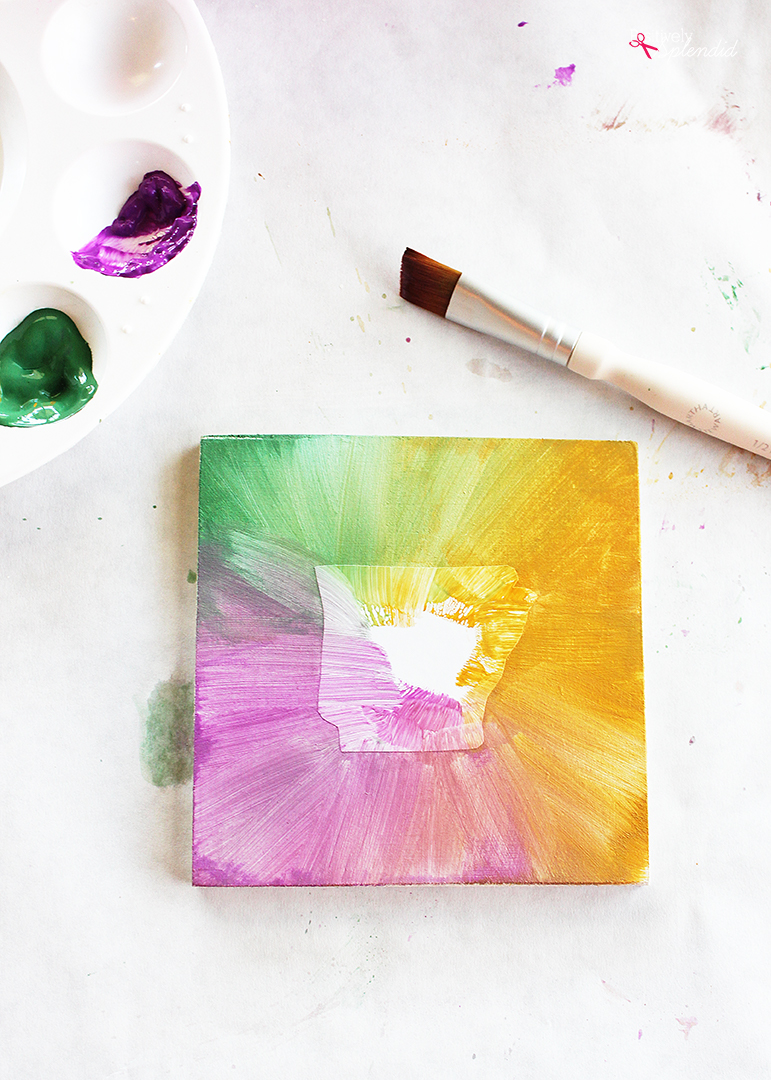 Allow the watercolor design to dry for 15 minutes before carefully removing the state mask from each coaster. (I might have squealed a little at this point–it's hard not to get excited when you see that pretty reveal!) Set the coasters aside to dry for 1 hour, or until they are dry to the touch.
Use a small brush to apply the liquid gilding around the outer perimeter of each coaster. Set aside to dry.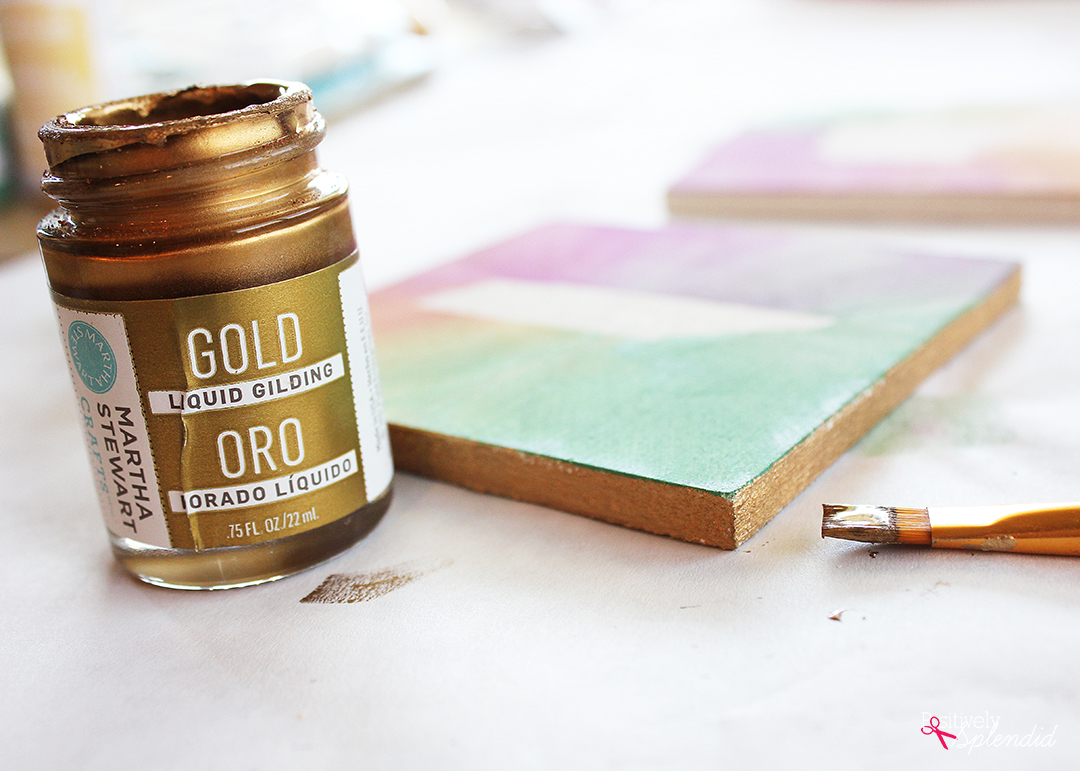 After 2 hours, apply a coat of spray sealer to each coaster to prevent moisture damage when in use. Use pinking shears to cut 4 squares of felt that are just smaller than the coasters themselves. Affix the felt to the back of the coasters with the E-6000 adhesive.
Voila! You've got a set of watercolor state coasters to use and enjoy, or to give as a thoughtful gift to someone special!
This same masking and painting method could be used to create any number of coaster designs: monograms, flowers, or even custom silhouettes. There are so many fun possibilities! The watercolor paint give this project such an artsy, fun vibe. I just love how these turned out!
There are so many fabulous new products available from Martha Stewart, and I was thrilled to have the opportunity to play with many of them during a recent trip to the Plaid headquarters in Atlanta. I am totally smitten with the Martha Stewart Marbling Medium. It can be used with the Multi-Surface Acrylic Craft paints to create the most amazing marbled designs on projects without having the colors mix and muddle. It's almost magical!
Find even more great inspiration by following Plaid on Facebook, Pinterest and Instagram!
Having grown up in a home brimming with sewing notions and paintbrushes, Amy has a deep love for all things creative. On any given day, you'll find her knee-deep in her latest creative endeavor, with projects ranging from sewing and crafts to home decor and kid-friendly ideas. Amy believes that everyone, regardless of skill level or experience, possesses the ability to create something beautiful, and Positively Splendid was born of her passion for helping others harness their innate creative potential.