Moving into a new home is a lovely, memorable time, but one that puts you at risk of being infected with a very insidious disease the moment the shiny new key first turns in the door.
It's a disease that makes you feel like what you already have is inadequate.
An affliction that makes you covet what others have.
A sickness that leaves you feeling downtrodden and dejected.
What is this dire illness, you might ask? It's called

Gotta-have-it-itis.
I have had a my latest case of Gotta-have-it-itis for three months now. It all began when the movers unloaded the truck in front of our new home, and the images of what I wanted this place of ours to ultimately be started dancing around in my head. Soon thereafter, I noticed myself feeling a little off.
I was eyeing the gorgeous photos on other blogs with a pang of jealousy.
I was thinking constantly of the gorgeous couch/chair/kitchen table I saw in my latest magazine.
And that's when I knew I had been afflicted.
Gotta-have-it-itis is a disease that robs you of your appreciation for what you have, and it replaces a sense of contentment with a compulsion to acquire new, better things. 
The kitchen table that has seated my family for every meal for so many precious years has now become an eyesore.
The hutch we inherited from Matt's grandmother is an outdated dinosaur that needs to be repainted, or else discarded.
Our roll-top desk needs to be replaced with a newer, more fashionable version. 
The coffee table Matt and I scrimped and saved to pay for when we married is begging to be chucked in order to be replaced by a new cocktail ottoman.
 Can any of y'all relate?
In the throes of dealing with Gotta-have-it-itis, it is common to become totally paralyzed. Why bother decorating a home with the lowly things you already own, knowing they'll never measure up to the furniture or the decor you see on your favorite blogs? Why work on making your house a home when you can't afford to buy the baubles and frills that adorn the pages of your favorite magazine?
It told you this is an insidious illness.
Friends, I am a Gotta-have-it-itis sufferer, and I will be for the rest of my life. It is a struggle, and especially in a world where unattainable images greet us each time we turn on the television or open a magazine. Since I have become a blogger, I have sensed a particular weakness in my ability to resist the green-eyed monster. I am not proud of that fact, but it is certainly true.
When my heart becomes the heaviest with the feelings of envy and inadequacy caused by a relapse of Gotta-have-it-itis, I have found only one remedy to be effective:
I take a look around. And then I evaluate every single little thing I like about where I am in my life right now, right at this very moment. 
I count my blessings. 
It sounds trite, but it really does work.
My hutch is a relic? Well, it is filled with china given to us by beloved friends for our wedding, and with heirloom family pieces that each tell a remarkable story.
Our coffee table is unsightly? Each and every gash and ding was placed there by the precious hands of our precious children, wielding the toys or books Matt and I are fortunate enough to be able to provide for them.
Truly, counted blessings are the only fool-proof antidote to Gotta-have-it-itis. 
I'm counting today, and I'll be counting for the rest of my life. My life is filled with tremendous blessings, and the joy found in those is something I pray I will always be able to count on.
Be on your guard against all kinds of greed; life does not consist in an abundance of possessions.
Luke 12:15
Thank you so much for being a part of Positively Splendid!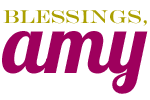 Having grown up in a home brimming with sewing notions and paintbrushes, Amy has a deep love for all things creative. On any given day, you'll find her knee-deep in her latest creative endeavor, with projects ranging from sewing and crafts to home decor and kid-friendly ideas. Amy believes that everyone, regardless of skill level or experience, possesses the ability to create something beautiful, and Positively Splendid was born of her passion for helping others harness their innate creative potential.