Let's face it: the number of cute projects for girls outnumbers those for boys by a very lopsided margin. I am always on the lookout for ways to include my little guy when it comes to fun wearable items, like I did with this little Boden knock-off monster tee, and then again with this Butterball Tee for Thanksgiving. 
After I finished the Ruffled Easter Egg Tee for his baby sister the other day, Jack asked when I would make him his very own Easter shirt. I knew at that moment I had to set to work to create him something uber cute, and thus the idea for the I Leap 4 Peeps tee was born. This tee is one that can be put together in to time flat, but the result is downright irresistible!
 Interested in making one or a little guy (or girl) in your life? Let's get started!
For this project, you will need…
A plain t-shirt
A small piece of white scrap fabric
Printable iron-on transfers
Freezer paper
Iron
Green, yellow and light blue fabric paint
Brown fabric marker
Thread
Basic sewing supplies: machine, shears, etc.
A die-cutting machine that cuts SVG files (I used my Cricut and Sure Cuts a Lot software)
Peep SVG file
(refer below for an option if you don't have a die cutter)
step

1

/ Use your die cutter and the SVG file to cut out a row of three of your peeps from your freezer paper. Discard the bunny cutouts, reserving only the negative portion of the cut out image. Carefully iron this stencil onto the front of your white fabric piece. Use a foam brush to carefully paint each of your bunnies, starting at the top of the ears and working downward. Allow your paint to dry completely before peeling away the freezer paper. Set this piece aside for now.
step

2

/ Use your computer word processing software to print "I Leap 4" onto your transfer paper. (Refer to the transfer paper packaging for recommended settings.) Note: You will want this phrase to be the same width as your line of Peeps, so adjust your font and size accordingly. I used Budmo Jiggler font. Cut out your wording, and iron it onto your fabric piece, just above your row of Peeps. Use your fabric marker to draw dots for the features on your Peeps, as shown.
step

3

/ Trim down your piece so that it is a square, making sure your images and wording are centered. Carefully stitch this patch to the front of your t-shirt, finishing two lines of stitching for an added decorative touch, if desired. Lightly rough up the edges of your fabric patch to give your tee a broken-in look.
You are finished!
Project Notes
No die cutter at your disposal? Trace a row of three Peeps onto the dull side of your freezer paper using this JPEG file as your template, and then use very sharp scissors to carefully cut out each bunny shape. It requires a bit more work, but the results will be just as nice!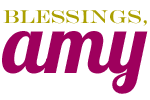 Linking this to…
The CSI Project
Having grown up in a home brimming with sewing notions and paintbrushes, Amy has a deep love for all things creative. On any given day, you'll find her knee-deep in her latest creative endeavor, with projects ranging from sewing and crafts to home decor and kid-friendly ideas. Amy believes that everyone, regardless of skill level or experience, possesses the ability to create something beautiful, and Positively Splendid was born of her passion for helping others harness their innate creative potential.