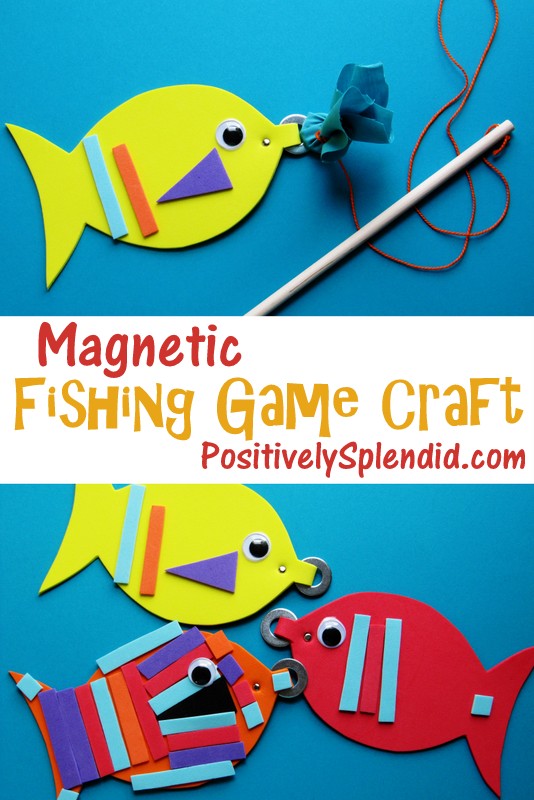 As a mom of four little ones, I truly appreciate a good craft project. Any parent knows, however, that there is a conundrum that arises as the result of such artistic creations: just what exactly to do with them once they are complete? My
Pottery Barn knock-off cable art display
is a perfect way to hang some of their proudest handiwork, but I have found over time that some of the best craft projects are something that can be put to good use later on. Enter this fun
Magnetic Fishing Game.
The act of decorating each fish is a fun exercise in creativity, yet their creations become functional pieces that can be used thereafter for indoor fun at its best!
For the smallest artists, this project is one that will necessitate a fair amount of work by a parent or caregiver. Older children, however, will have great fun helping with each step of the process in this project.
Directions:
For the fishing poles, use a 1/16″ drill bit to drill a hole in the end of a 1/4″ x 12″ wooden craft dowel. Cut 3″ squares from scrap fabric and place a 3/4″ circular magnet at the center of each one. Bring the corners of the fabric up and around the magnet, twisting to secure, as shown. Use embroidery floss, craft thread, or yarn to secure your magnet within the fabric, making sure to leave a long tail on one side of your knot. Thread this tail through an embroidery needle, and use the needle to push the thread through the hole in your dowel. Tie a knot in the end of your thread to secure it to your pole.
For the magnetic fish, create a fish template on cardstock, referring to my photos below for my fish design, as needed. At the nose of your fish, draw a tab that is 1/4″ wide and 1″ long, as shown below. Cut out your fish shape. Trace this template onto sheets of craft foam in assorted colors, and cut out each shape.
Using a small hole punch, carefully punch holes in the locations specified on the fish template. (If you don't have a small hole punch, you can easily make these holes with a sharp pair of scissors.) Slide a 3/8″ flat washer over the flap on the front of each fish, as shown, and fold the flap over so that your punched holes are aligned. Place a brad through each of the holes, pressing open the prongs to secure. Your little fishies are now ready to be treated to their royal decorating treatment!
Use buttons, pieces of craft foam, markers, pompoms, wiggly eyes, and other fun embellishments to add some flair to your fish. Allow any glued-on elements to dry completely.
Now, grab your poles and set to work seeing who can make the biggest catch of the day!
Looking for more ideas for indoor crafting fun to while away a wintry afternoon? Check out these other projects!
Having grown up in a home brimming with sewing notions and paintbrushes, Amy has a deep love for all things creative. On any given day, you'll find her knee-deep in her latest creative endeavor, with projects ranging from sewing and crafts to home decor and kid-friendly ideas. Amy believes that everyone, regardless of skill level or experience, possesses the ability to create something beautiful, and Positively Splendid was born of her passion for helping others harness their innate creative potential.