No doubt about it: the holiday season is almost upon us! If you are on the lookout for how to decorate a show-stopping Christmas tree this year, I've teamed up today with Michaels and the Michaels Makers to share my glamorous Poinsettia and Ribbon Christmas tree, which is decorated to the nines and abounding with beautiful color and texture. The layering technique used to create this tree looks like it would be very difficult to do, but I'm going to show you today that it really is as easy as can be. (Truly!) Read on for all of the details.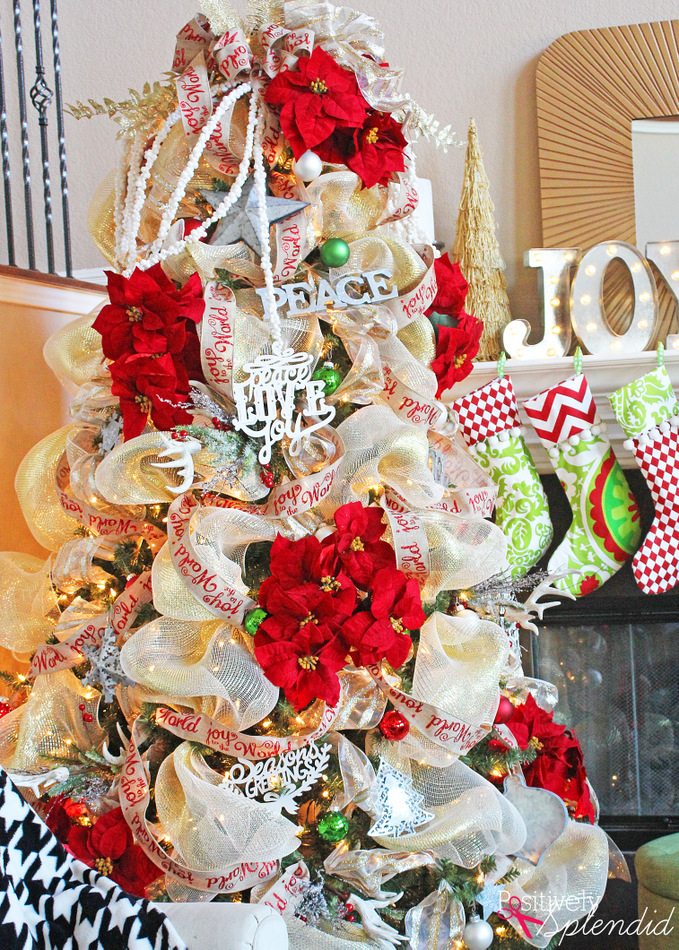 Today's post is brought to you by Michaels. All opinions are entirely my own.
At the heart of this tree is a foundation of cascading ribbon of three different varieties: gold iridescent mesh, sparkling glitter organza, and glitter printed burlap. I opted to use these three different types of ribbon because each one imparts a different texture and feel to the tree, which adds tons of great dimension.
Covering an artificial tree like this one with ribbon really is so simple to do. I recommend beginning with the mesh ribbon, and then adding the organza and finally the burlap.
Starting at the top of the tree, gather one end of the mesh ribbon and twist two branches around the gather. Then, measure 10-12 inches down, and use your hand to gather the ribbon, as shown. Gently press the ribbon section upward to create a tuft and then affix it to the tree with two twisted branches as you did before. Continue working down to the base of the tree in this same manner. When you reach the bottom of the tree, trim the ribbon and affix the end to the tree with two twisted branches. Then, return to the top of the tree, and create another column of ribbon in the same manner. My 7-foot tree required 2 entire 10-yard rolls of 21-inch mesh to create 5 cascading columns.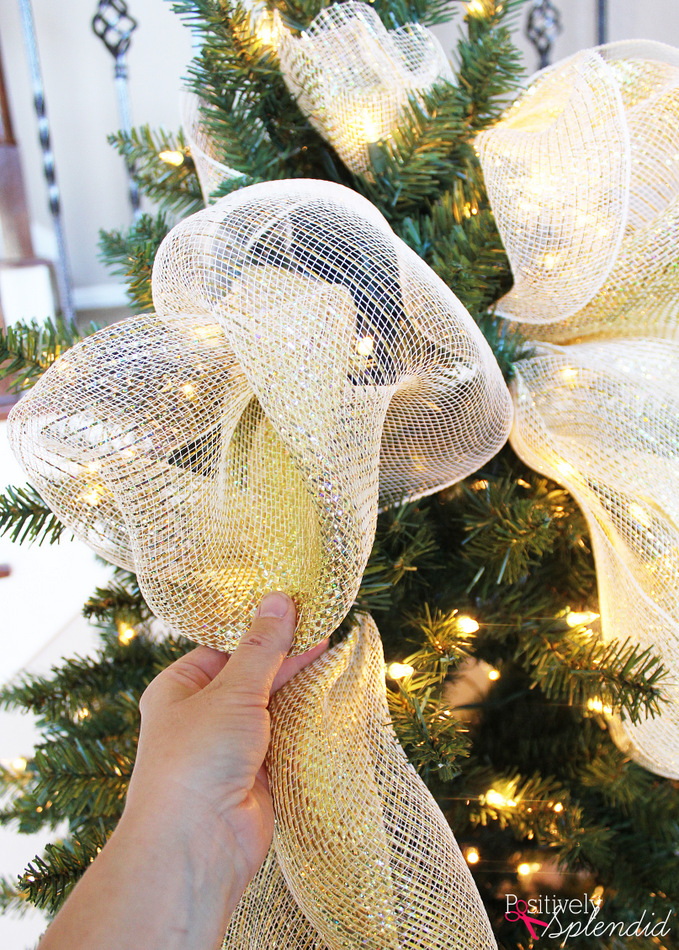 Once the mesh ribbon is affixed, create cascading columns of the organza ribbon in exactly the same fashion (twist, gather, tuft, twist), affixing these columns in between the mesh ribbon, as shown. My tree required almost 3 entire 10-yard rolls of the 6-inch ribbon for this step.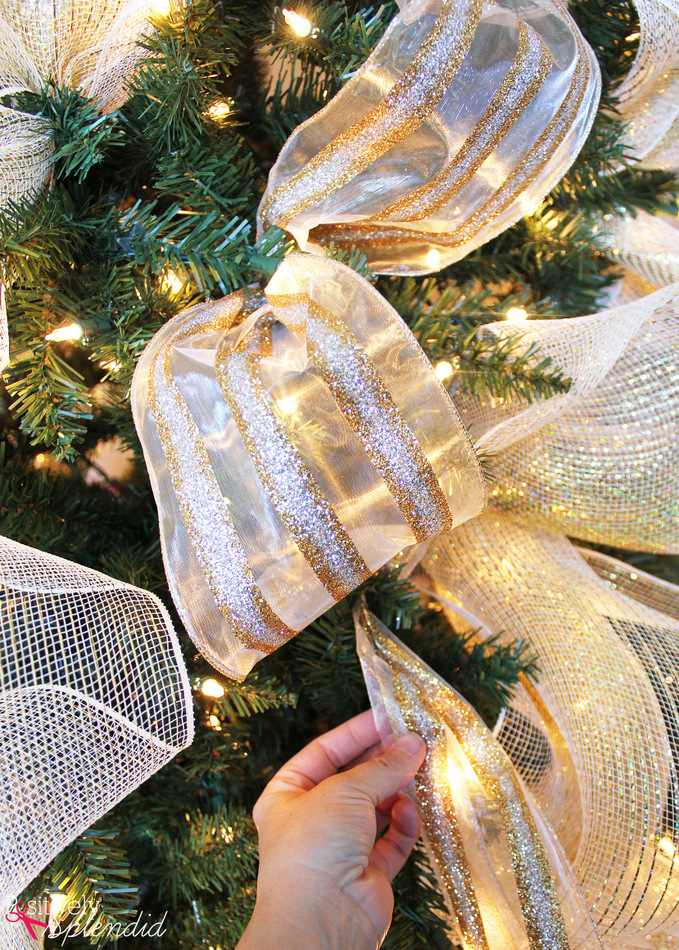 With the base layer of mesh and organza in place, it's time to add the burlap ribbon. Starting at the top of the tree, work downward and from side to side to zig-zag the ribbon toward the bottom of the tree, affixing it with twisted branches as you work. When you reach the bottom of the tree, start again at the top and create another zig-zag of ribbon in the same fashion. This layer of ribbon should overlap the mesh and organza layers to give the tree some great dimension.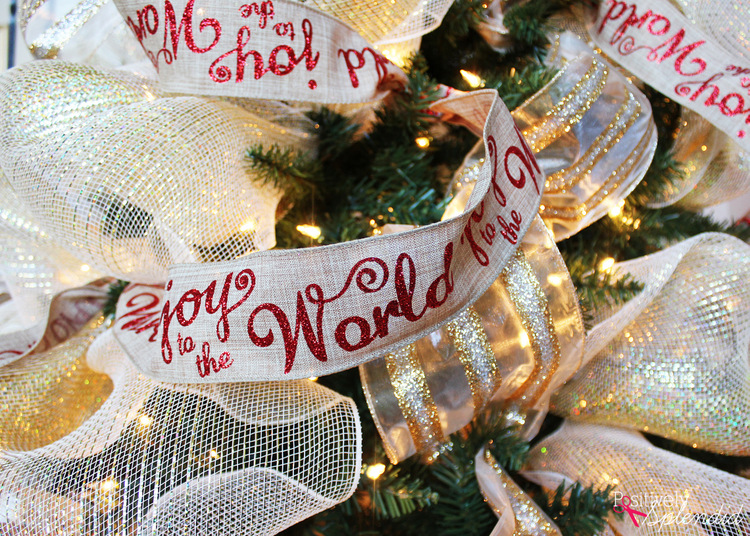 When the ribbon has all been layered onto the tree, it is time to add tons of personality with poinsettias, picks, sprays and ornaments!
My tree features an array of red poinsettia bushes, which I tucked into the tree branches. I then added some antler, greenery and berry sprays, as well as an assortment of pretty galvanized metal and wooden ornaments along with glass ball ornaments in red, white and green.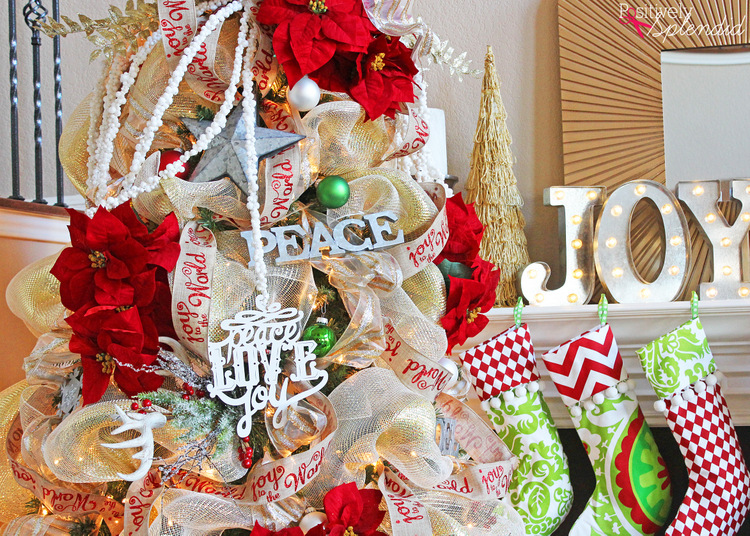 I created a tree topper with some ribbon bows, as well as gold feather and leaf picks and sprays, cascading white berry sprays and a red poinsettia bush.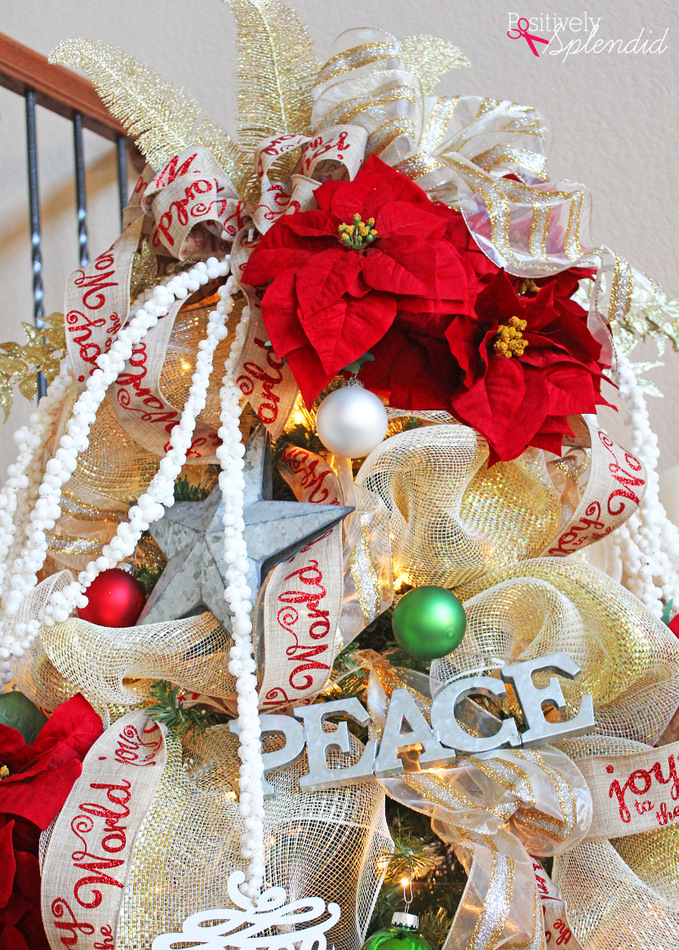 Instead of a typical tree skirt, I opted to draw in an unexpected pop of white and black by creating a tree container using a felt storage basket.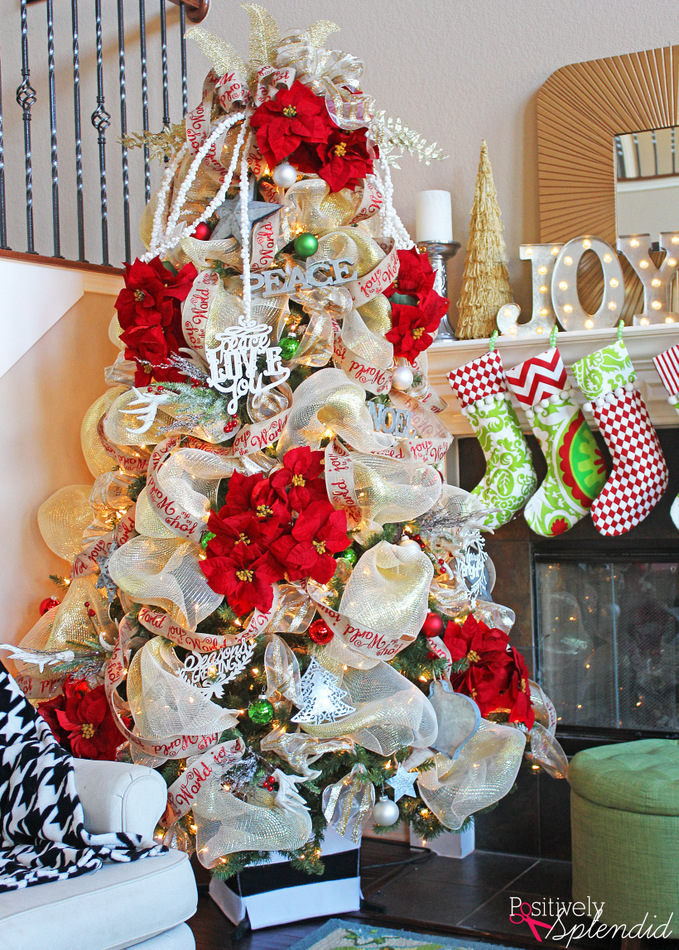 To do so, I cut out the bottom of the basket, and then created a slit at each corner for each of the four legs of the tree stand.
I love the overall look created with the cascades of different ribbon, along with the bright pops of red from the poinsettias and the shimmer of the different gold and silver tones!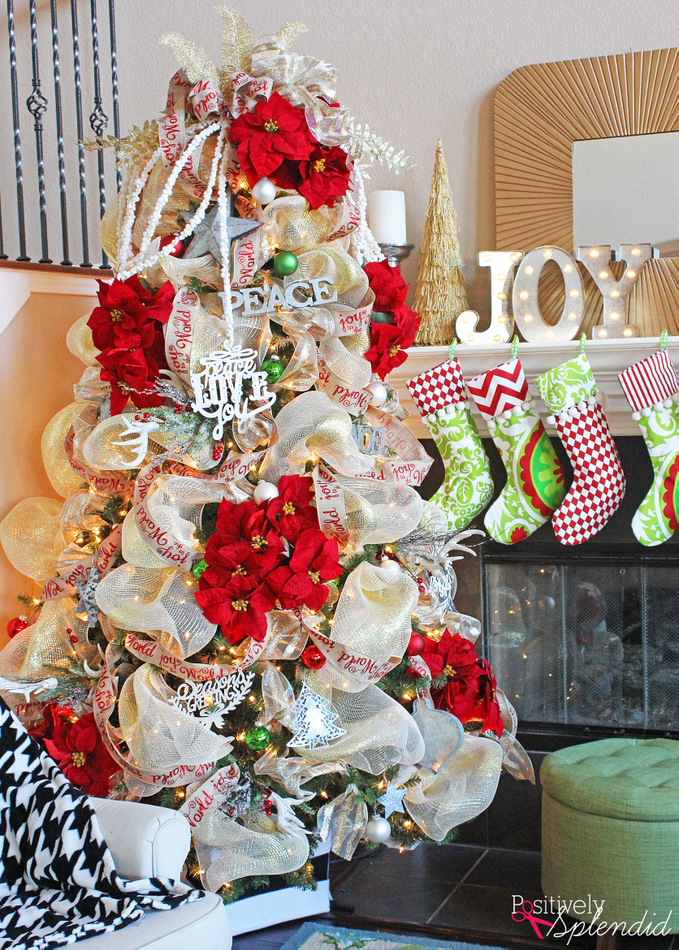 Curious about my stockings pictures above? Be sure to check out the tutorial for my Classic Cuffed Christmas Stockings. While you're at it, be sure to check out the how-to for my Gold Fringed Topiaries, too.
Inspired to start decorating your own tree? From now until November 14, you can get FREE shipping on all Christmas trees that are 6ft or taller on Michaels.com! If you're just getting started on your holiday decor, you can also check out some of the ornament projects and tutorials available on Michaels.com. And, if you want even more gorgeous tree inspiration, be sure to check out the wonderful tree created by my fellow Makers. (There is so much eye candy here!)
Having grown up in a home brimming with sewing notions and paintbrushes, Amy has a deep love for all things creative. On any given day, you'll find her knee-deep in her latest creative endeavor, with projects ranging from sewing and crafts to home decor and kid-friendly ideas. Amy believes that everyone, regardless of skill level or experience, possesses the ability to create something beautiful, and Positively Splendid was born of her passion for helping others harness their innate creative potential.