Wowzers…it's been eons since I last posted a reader spotlight. I will say, though, that the blog I have to share today was certainly worth waiting for.
Until I decided to earnestly take the leap and make a go of Positively Splendid, I had no idea how many delightful, lovely people I would meet through the blogging community. I find it so encouraging that in a cut-throat world, there are still generous souls out there making a successful go of it. I count myself immensely blessed to be in the company of all of you! What a fun ride this is!
Last week, I posted about a tool I've found that lets you use your regular sewing machine to create a faux rolled hem. (If you haven't already seen the post, head here to take a look.) In my post, I mentioned one of my favorite pattern companies, Izzy & Ivy, as being one of those that utilizes a lot of rolled hems in their garments.
Fast forward to a couple of days later when I received a comment from a reader on that particular post. Shasta from Izzy & Ivy stopped by to let me know they had shared my tip with her readers on her blog, and she asked if I would send her my address so she could send me a little something to thank me for mentioning them. How kind is that?
I hope you don't think that I'm trying to imply by any means that the reason to show appreciation for fellow bloggers is so you can get something in return. What I have hoped to convey is how immensely blessed we should count ourselves to be a part of such a beautiful community of creative individuals, and how, as stewards of the talents we've been given, we can use our gifts to brighten someone's day.
Thank you again, Shasta, for your sweet gesture of kindness!
So what inspirational goodness will you find when you venture over to the
Izzy & Ivy
blog? Where shall I begin?
There are obviously patterns – glorious patterns! – to covet. I adore the
Macy Giggles
 dress, but I have to say I am chomping at the bit to sew up a version of
Ruthie's Romper
(one of the gifts they sent me!!) for Tink.
I do hope you'll stop by their place. You'll be so happy you did!
Thanks so much to everyone who played along for our Blue Dragonfly giveaway. The lucky winner is…
Congratulations, Lee! I will contact you so you can tell me which necklace you would like to receive as your prize!

Happy weekend, friends!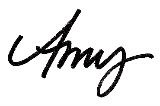 If you enjoyed this post, subscribe to Positively Splendid 
to receive updates, and join us on Facebook and Twitter!





Having grown up in a home brimming with sewing notions and paintbrushes, Amy has a deep love for all things creative. On any given day, you'll find her knee-deep in her latest creative endeavor, with projects ranging from sewing and crafts to home decor and kid-friendly ideas. Amy believes that everyone, regardless of skill level or experience, possesses the ability to create something beautiful, and Positively Splendid was born of her passion for helping others harness their innate creative potential.