Baked Cranberry-Orange Doughnuts with Orange-Vanilla Glaze

Print recipe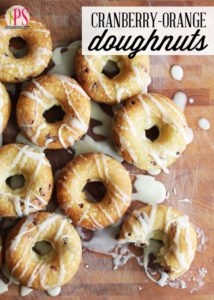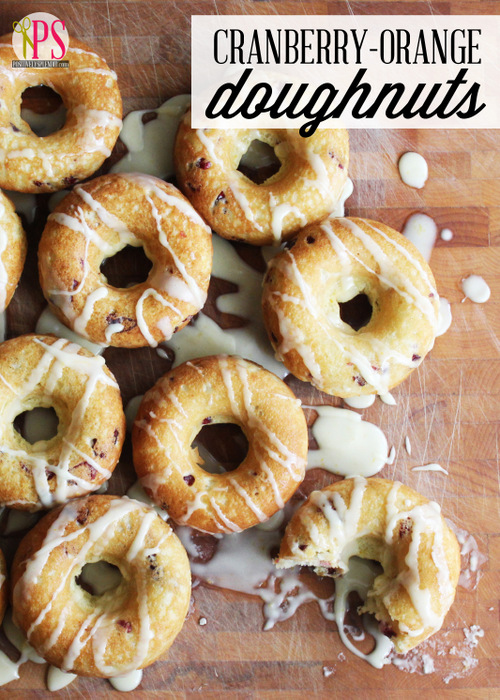 | | |
| --- | --- |
| Serves | 18 |
| Prep time | 15 minutes |
| Cook time | 12 minutes |
| Total time | 27 minutes |
| Meal type | Breakfast |
| Misc | Child Friendly, Freezable |
Baked orange-cranberry doughnuts with an orange-vanilla glaze.
Ingredients
2 cups all-purpose flour
1 tablespoon baking powder
1/2 teaspoon salt
1/2 teaspoon baking soda
2 Large eggs
1 cup sour cream (preferably not low-fat)
1/2 cup sugar
1/4 cup vegetable oil
1 teaspoon vanilla
1 teaspoon orange zest
1/2 cup dried cranberries (finely chopped)
1 cup powdered sugar
1/2 teaspoon vanilla extract
1-2 tablespoon orange juice (more if needed to achieve drizzling consistency)
Directions
Step 1
In the bowl of an electric stand mixer, stir together flour, baking powder, salt and baking soda.
Step 2
In a medium bowl, whisk together eggs, sour cream, and sugar. Stir in oil.
Step 3
Add the wet ingredients to the dry ingredients, stirring just until combined. Stir in 1 teaspoon vanilla, orange zest and dried cranberries.
Step 4
Spoon batter into a lightly greased doughnut pan, filling each cavity about 2/3 full. Bake at 350 for approximately 12 minutes, or until a wooden pick inserted in the center of one of the doughnuts comes out clean. Dump doughnuts from pan immediately and cool on a wire rack. While doughnuts are cooling, prepare the glaze.
Step 5
For the glaze, stir together powdered sugar, 1/2 teaspoon vanilla and orange juice, adding the juice 1 tablespoon at a time until the glaze is a drizzling consistency. Drizzle over doughnuts.