Caramel-Pecan Monkey Bread

Print recipe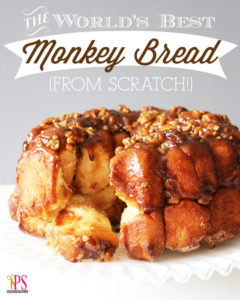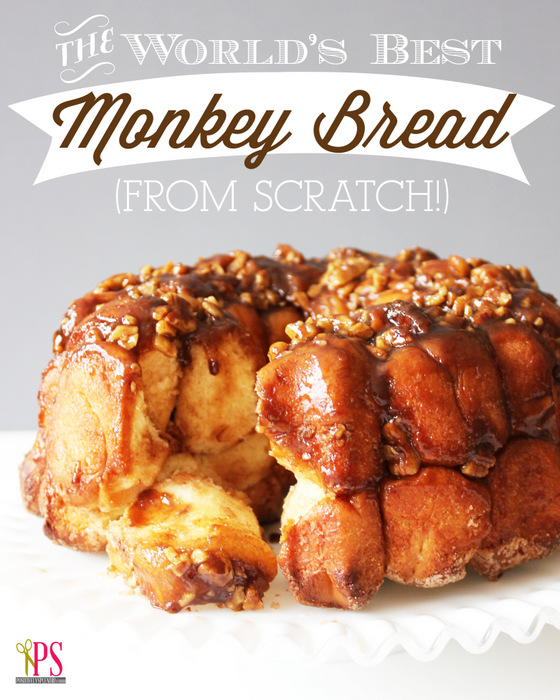 | | |
| --- | --- |
| Serves | 12 |
| Prep time | 9 hours |
| Cook time | 40 minutes |
| Total time | 9 hours, 40 minutes |
| Meal type | Bread, Breakfast, Dessert |
| Misc | Child Friendly |
Take monkey bread to the next level with this luscious from-scratch recipe. Homemade yeast dough is paired with crunchy pecans and gooey caramel for a treat that is equally delicious as an indulgent breakfast or a decadent dessert.
Ingredients
2 1/4 teaspoons active dry yeast ((1 package))
1/4 cup warm water (110-115 degrees)
5 cups all-purpose flour
1 cup warm whole milk (110-115 degrees)
1/3 cup butter (melted)
1/4 cup sugar
1 teaspoon salt
2 Large eggs
6 tablespoons butter (cubed)
1 cup brown sugar (packed)
6 tablespoons whole milk
2/3 cups chopped pecans (divided)
1 cup granulated sugar
1 teaspoon ground cinnamon
1/2 cup butter (melted)
Directions
Step 1
To begin, make the dough. Dissolve the yeast in the water in the bowl of a stand mixer fitted with a dough hook attachment, and allow it to sit for 5 minutes, until bubbly. Add 3 cups of the flour, 1 cup of milk, the melted butter, 1/4 cup sugar, salt and eggs. Beat at medium speed for 3 minutes. Stir in enough of the remaining flour, 1/4 cup at a time, until the dough is firm and not sticky. Increase the speed of the mixer to medium high, and allow the dough hook to knead the dough for 3-4 minutes. All of the dough should form a ball on the hook, and the sides and bottom of the mixing bowl should be clean. Place dough in a greased bowl, turning once to grease the top. Cover and refrigerate overnight.
Step 2
For the caramel, place the brown sugar, cubed butter and 6 tablespoons milk in a microwave-safe bowl. Cook on high for approximately 3 minutes, stopping to stir after each 1-minute interval, until mixture is bubbly and sugar is completely dissolved. Pour half of the caramel into the greased Bundt pan and sprinkle with half of the pecans.
Step 3
Punch the risen dough down, and roll it out into a large rectangle on a floured surface. Use a pizza cutter to cut the dough into 40-50 squared, and then shape each square into a ball.
Step 4
Mix together the sugar and cinnamon in a pie plate. Pour the melted butter into another pie plate. Roll the dough balls in the butter and then coat with the cinnamon-sugar mixture. Place half of the balls in the pan, and then pour the the remaining caramel on top and sprinkle with the remaining the pecans. Finish with a final layer of the remaining dough balls. Cover the pan and let rise until doubled, approximately 1 hour.
Step 5
Bake at 350 degrees until the top is a deep golden brown, 40-50 minutes. (I highly recommend placing the Bundt pan on a baking sheet to prevent any boiling-over messes.) Cool for 10 minutes before inverting onto a serving plate. Serve warm.