Classic Bolognese Meat Sauce

Print recipe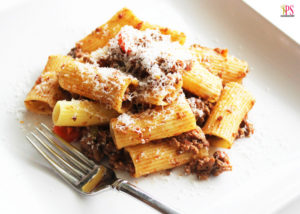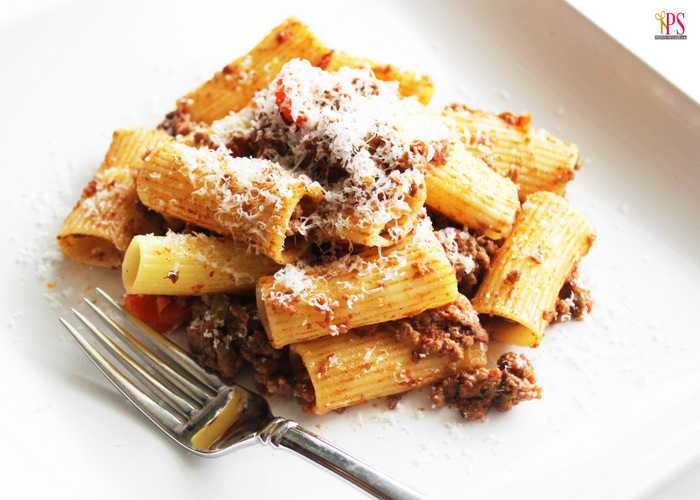 | | |
| --- | --- |
| Serves | 12 |
| Prep time | 30 minutes |
| Cook time | 4 hours |
| Total time | 4 hours, 30 minutes |
| Meal type | Main Dish |
| Misc | Freezable |
| Region | Italian |
Ingredients
2 tablespoons olive oil
1 Large onion (chopped)
2 Medium carrots (chopped)
2 stalks celery (chopped)
2 cloves garlic (chopped)
1 tablespoon tomato paste
1lb ground beef
1/2lb ground pork
1 cup whole milk
1/8 teaspoon grated nutmeg
1 cup red wine
salt
pepper
28oz canned whole tomatoes (chopped, juices reserved)
1/2 teaspoon dried oregano
1/2 teaspoon dried thyme
2 bay leaves
Directions
Step 1
Heat the olive oil over medium heat in a large Dutch oven. Place the onion, carrot and celery in the heated pot; season with a generous pinch of salt and 1/4 teaspoon pepper. Saute until the onion is golden and the other vegetables are softened. Add the garlic and saute an additional 2 minutes or so. Add the tomato paste, stirring to coat the vegetables, and saute for 1 minute.
Step 2
Add the ground beef and pork to the pot, and season with an additional pinch of salt. Use a wooden spoon to gently break up the meat, and cook until the meat has lost its raw, red color. (The meat will not be entirely cooked through at this stage.) Add the milk, and bring it to a gentle simmer, stirring frequently, until it has reduced by about half. Stir in the grated nutmeg.
Step 3
Add the wine and bring it to a steady simmer. Simmer to reduce the liquid slightly before adding the tomatoes and their juices. Stir thoroughly to incorporate all of the ingredients. Stir in the thyme, oregano, bay leaves, and additional pinch of salt and 1/4 teaspoon or so of pepper.
Step 4
Reduce the heat to very low so that the sauce is at a very gentle simmer. Cook, uncovered, for at least 3 hours, stirring occasionally. If the sauce gets too dry as it cooks, add 1/2 cup of water to the pot to prevent it from sticking. (When the sauce is finished cooking, however, no water should remain.) Taste the sauce, and season to taste with additional salt, if desired. Toss sauce with cooked, drained pasta, and serve with a generous grating of Parmesan.