Glazed Coffee Squares

Print recipe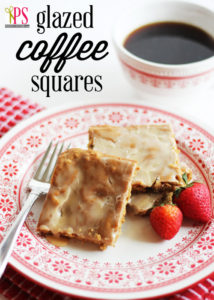 | | |
| --- | --- |
| Serves | 12 |
| Prep time | 20 minutes |
| Cook time | 20 minutes |
| Total time | 40 minutes |
| Meal type | Breakfast, Dessert |
These bar cookies feature a rich, spicy crumb and a coffee-infused powdered sugar glaze.
Ingredients
1/2 cup brewed coffee
1/4 cup raisins
2 tablespoons molasses
1/2 cup butter (softened)
3/4 cups dark brown sugar (packed)
1 Large egg
1 1/2 cup all-purpose flour
3/4 teaspoons ground cinnamon
1/8 teaspoon ground nutmeg
1/2 teaspoon baking soda
1/2 teaspoon baking powder
1/2 teaspoon salt
1/2 cup chopped pecans
1/2 teaspoon vanilla extract
2 tablespoons brewed coffee
1/2 teaspoon butter (softened)
1 cup powdered sugar
Directions
Step 1
Preheat oven to 350. Place the 1/2 cup coffee, raisins and molasses in a small sauce pan and simmer 10 minutes or so, until the raisins plump. Cool.
Step 2
With a stand mixer, beat the 1/2 cup butter, brown sugar and egg until light and fluffy, stopping to scrape the sides of the bowl as needed. In a medium bowl, whisk flour, cinnamon, nutmeg, baking soda, baking powder and salt; add to butter mixture and beat just until combined. Gradually pour in the raisin mixture, beating on low speed until blended. Stir in the chopped pecans.
Step 3
Spread batter evenly in greased 9x13" pan using a spatula. Bake 18-20 minutes, or until a wooden pick inserted in the center comes out clean. Cool 10 minutes on a wire rack.
Step 4
For the glaze, combine vanilla, 2 tablespoons coffee, 1/2 teaspoon butter and powdered sugar, stirring until smooth. Spread over warm cake, and let stand until set.