Salt dough ornaments are a classic Christmas craft that I have memories of making when I was small. In fact, my keepsake ornament box is filled with salt dough ornaments made by my own children, and they are some of my most treasured ornaments to hang on the tree each year! Salt dough is very easy to make with inexpensive ingredients, making it a wonderful idea for Christmas craft projects. In this post, I share my favorite salt dough recipe (with a video detailing how to make it), plus helpful tips and troubleshooting advice that I've learned to help you get great results when baking and decorating your ornaments.
You'll definitely want to bookmark this as your go-to guide for homemade salt dough!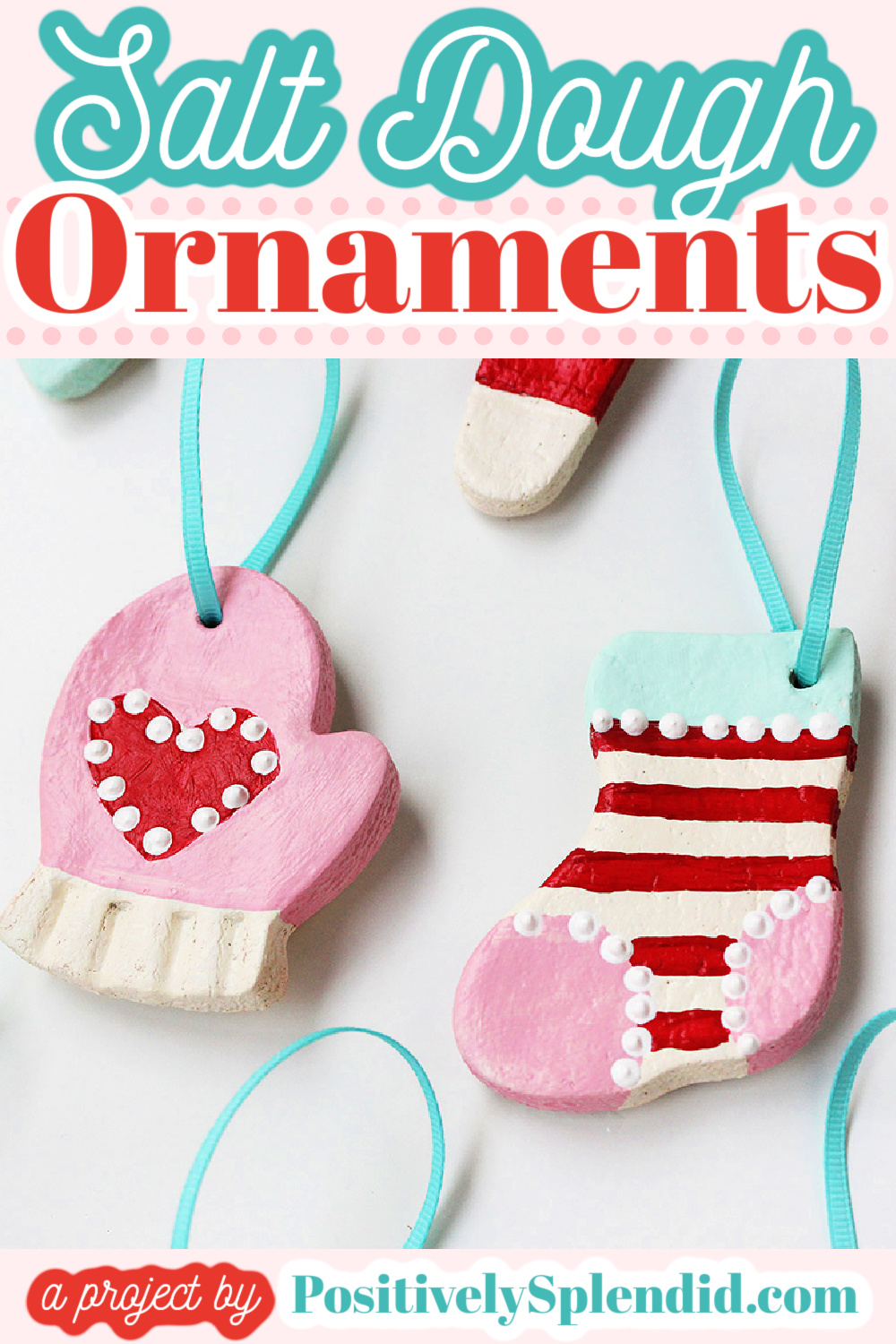 I've organized this post into five helpful sections:
The BEST salt dough recipe for making salt dough ornaments
My tips for cutting and baking salt dough ornaments
Tips for painting and decorating salt dough ornaments
Troubleshooting tips/tricks for working with salt dough
My must-have tools for working with salt dough
This post contains affiliate links.

More handmade ornament ideas!
The BEST Salt Dough Recipe for Making Ornaments
NOTE: This recipe is enough to make approximately 18 3-inch ornaments. Double the proportions to make a larger batch if you like!
A printable PDF of this recipe and instructions is available at the end of this post.
2 cups flour
1/2 cup salt
3/4 cup warm water
Combine the flour and salt in a large bowl, mixing well to combine.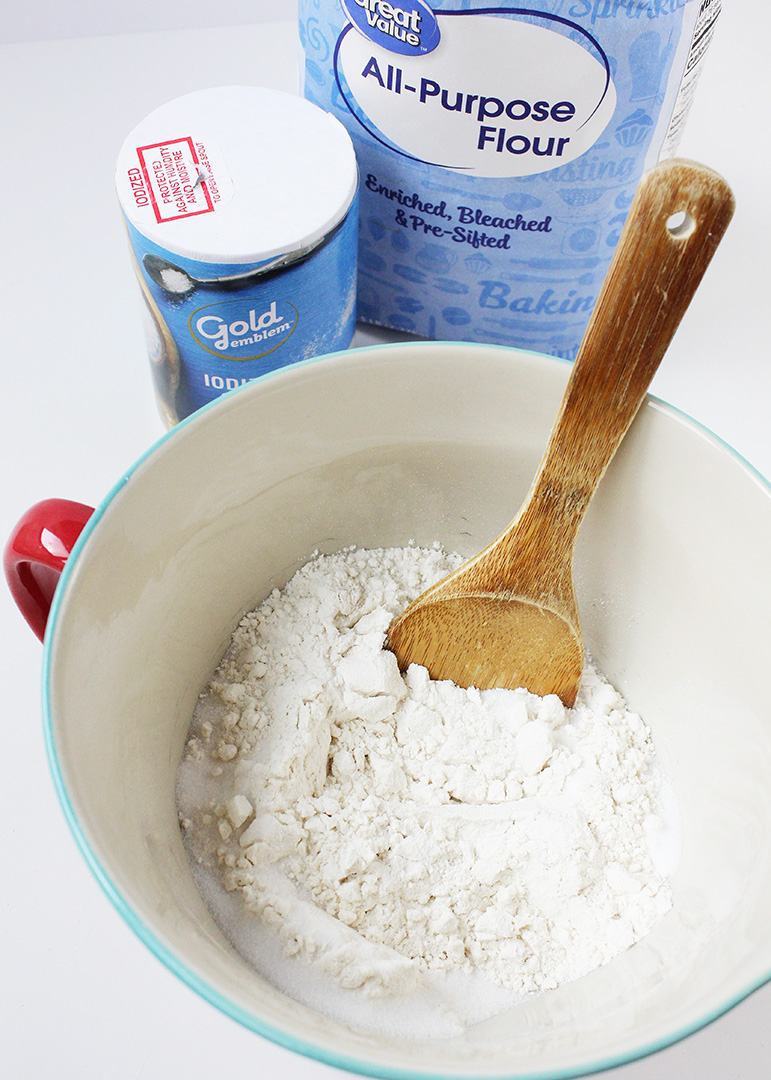 Slowly add in the warm water, stirring as you pour it in a steady stream. The dough will look lumpy/shaggy at first…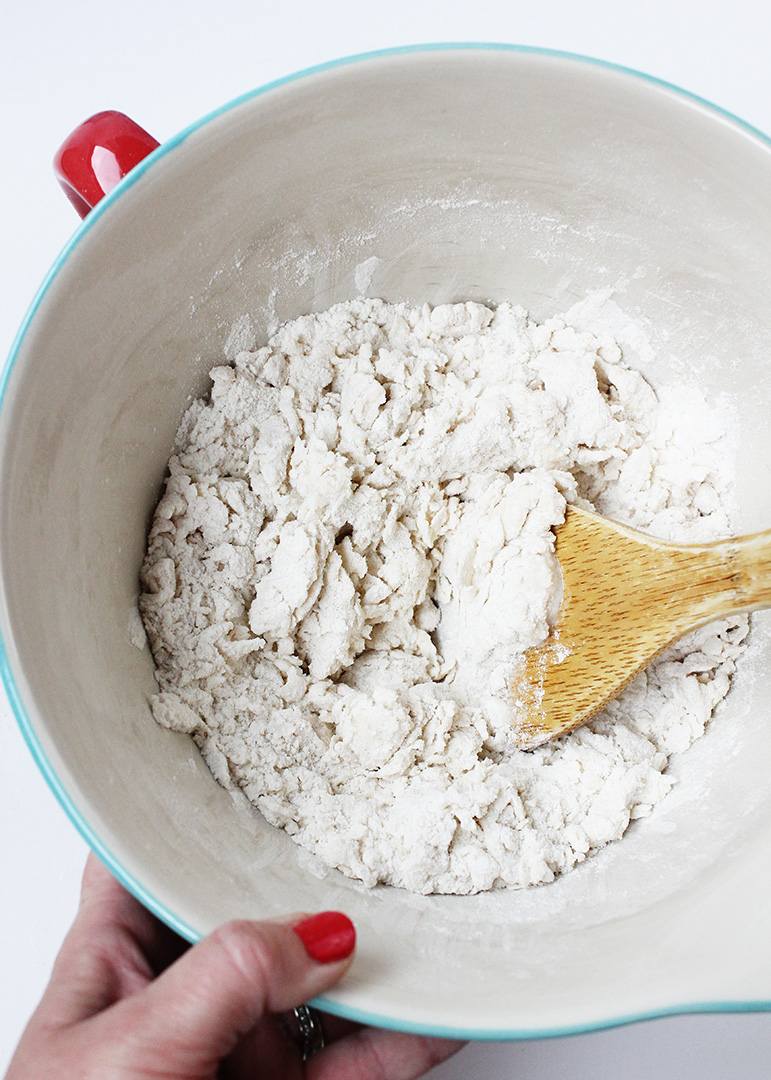 …but as you continue adding water, it will start to come together. Once all of the water is added, use your hands to mix the dough until it is smooth. If the dough seems dry, add a bit more water, 1 tablespoon at a time, until the dough is smooth. If the dough seems too sticky, add a bit of flour to the dough and mix with your hands until it is incorporated.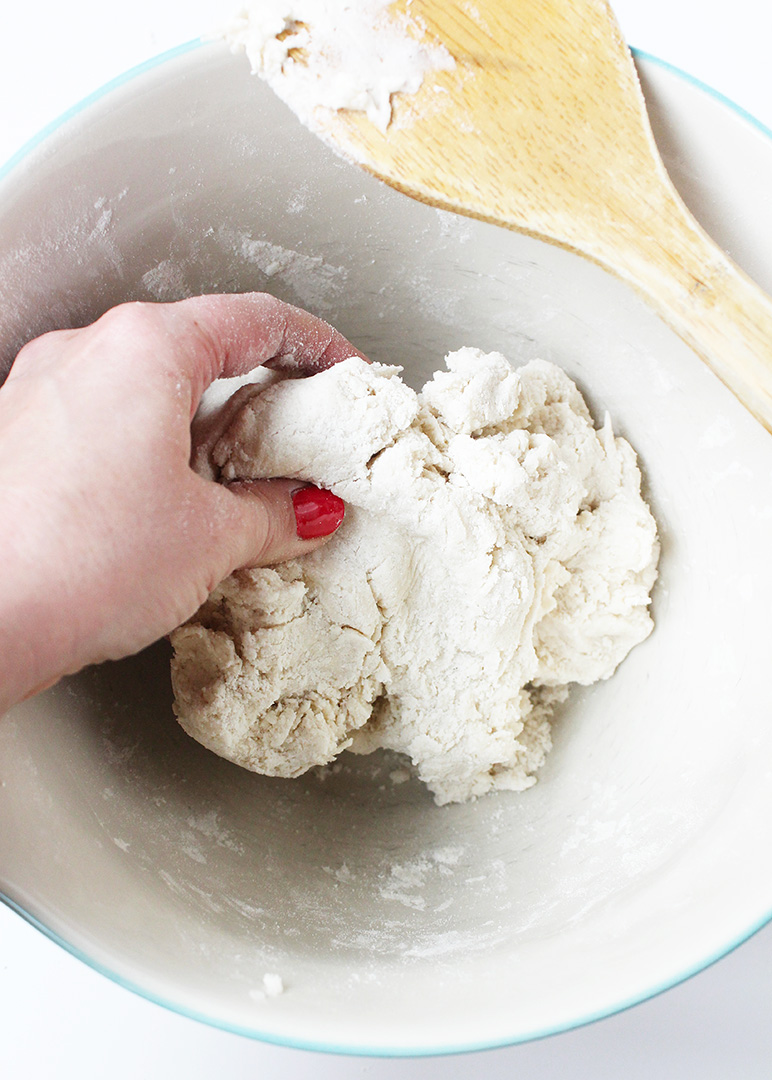 Remove the dough to a floured working surface (I like to use a silicone mat for this step for easy cleanup), and knead the dough for a minute or two, until the dough is smooth and uniform.
That's all there is to making homemade salt dough! So easy!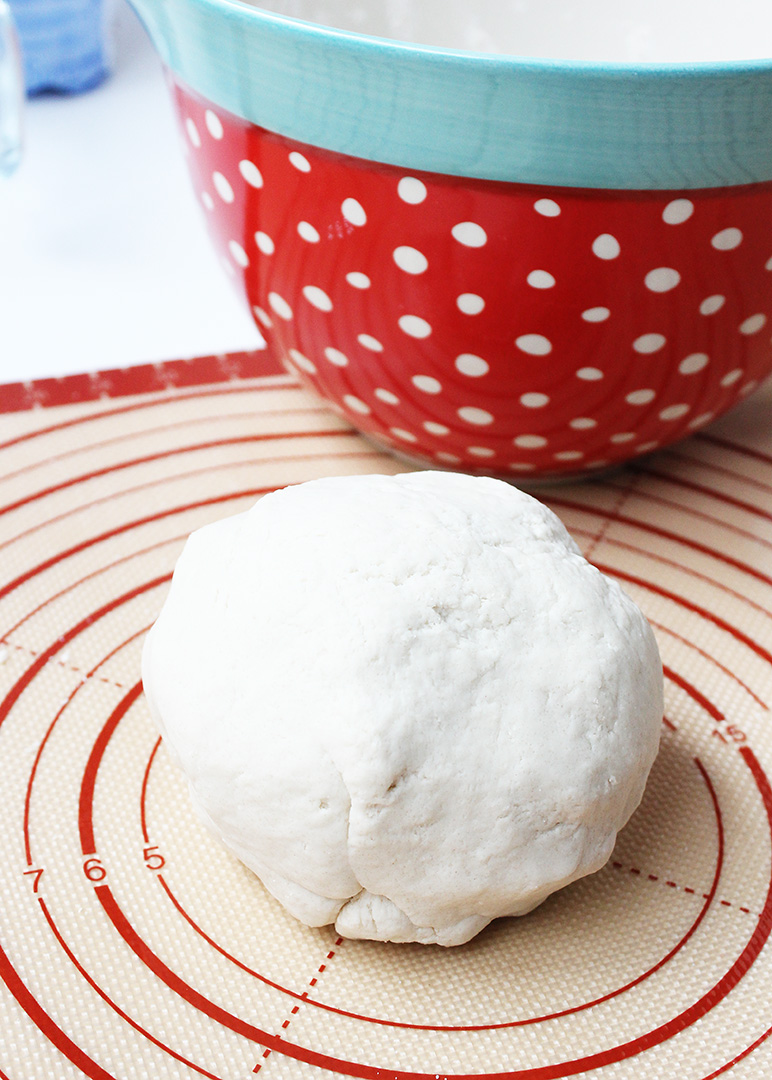 How to Cut and Bake Salt Dough Ornaments
Once your salt dough is made, it's time for turning it into ornaments!
Here is my tried-and-true process:
Step 1: Roll the dough out to 1/4″ thickness
Step 2: Use cookie cutters to cut out shapes
Step 3: Place the dough on prepared baking sheets
Step 4: Poke holes for hanging and embellish
Step 5: Bake and cool completely
Step 1: Roll the Dough
I like to cover my work surface with a silicone pastry mat when rolling out the dough to prevent it from sticking, but you can also roll it out onto a lightly floured countertop. 1/4″ is the sweet spot for thickness for rolling the ornaments. Any thinner than that will yield ornaments that can be brittle and won't hold up over time. Rolling the dough thicker yields ornaments that are harder to get totally baked through, and are more prone to bubbling up when baking.
Step 2: Cut Out with Cookie Cutters
I have found metal cookie cutters work best for cutting out salt dough ornaments, since they help create nice, crisp edges. When cutting, press the cutter straight down through the dough in one quick motion, and then wiggle it just a bit from side to side to loosen the excess dough from the edges. I like to cut out all of my shapes at once and then remove the excess dough all in one fell swoop.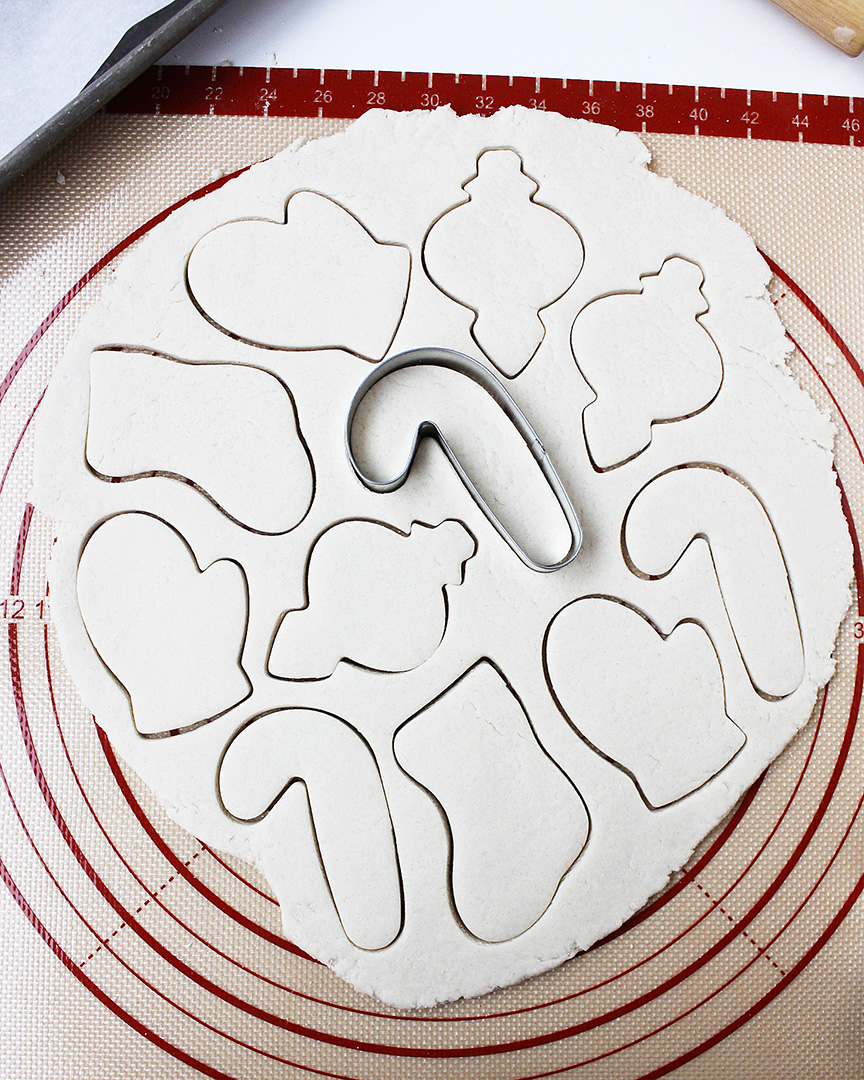 Step 3: Place the Pieces on Sheets for Baking
Line metal baking sheets with parchment paper before baking, and then use a mini spatula to transfer the cut shapes onto the baking sheet. Using a spatula instead of your hands will prevent the pieces from becoming misshapen.
Step 4: Poke Holes and Embellish
Use a lollipop stick or skewer to make holes through the top of each ornament (this will be where you thread ribbon or twine through for hanging later on). At this point, you can also use the stick to embellish the shapes with stripes, lines, dots, etc. This really gives the finished ornaments lots of great dimension!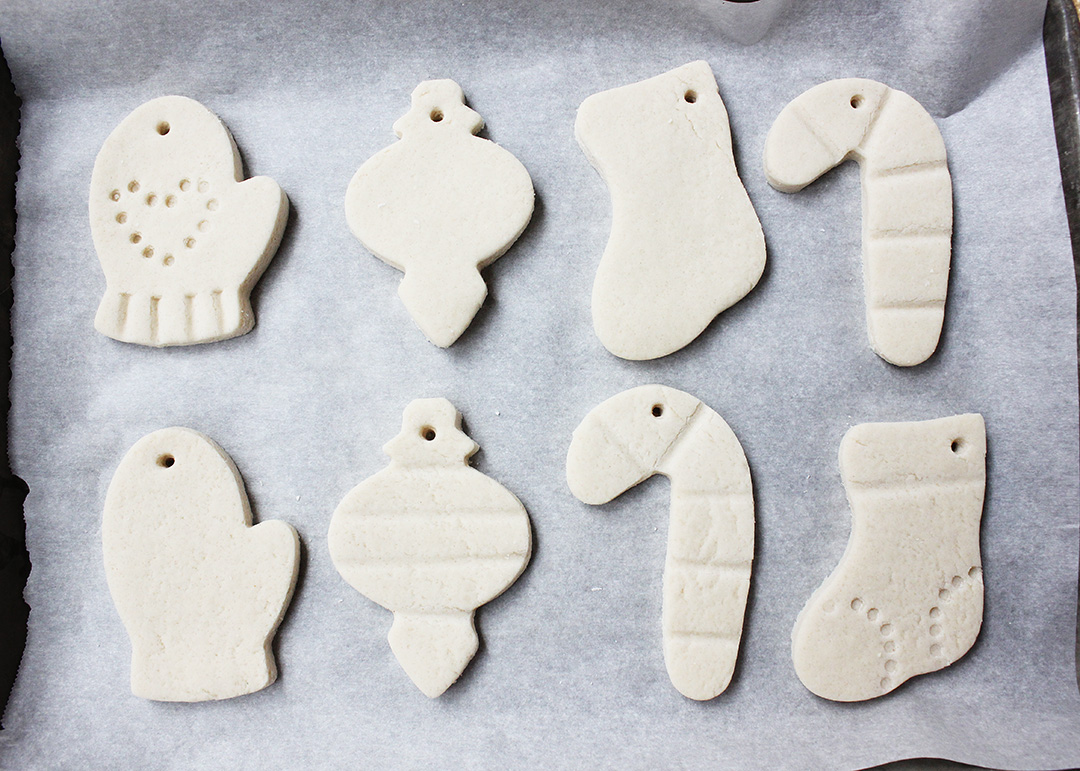 Step 5: Bake and Cool
The key to baking salt dough ornaments is not to have the oven too hot, as that can cause the dough to puff up while baking. Bake the ornaments at 250 degrees for about 2 hours, flipping the ornaments several times as they bake to ensure they dry out evenly. You will know the ornaments are done when they are dry and hard when you tap on them with your finger. Set the ornaments aside to cool completely before decorating.
How to Decorate Salt Dough Ornaments
We've finally reached what, in my opinion, is the best part of making salt dough ornaments: decorating them!
A few key pieces of advice for painting and decorating ornaments made with salt dough:
Use high-quality multi-surface acrylic paint. This will give you the best, most even coverage. I like to add a base coat of white paint, and then once that coat is dry, add on designs with other paint colors.
Get creative! Paint stripes, shapes, polkadots, or any other pattern you like.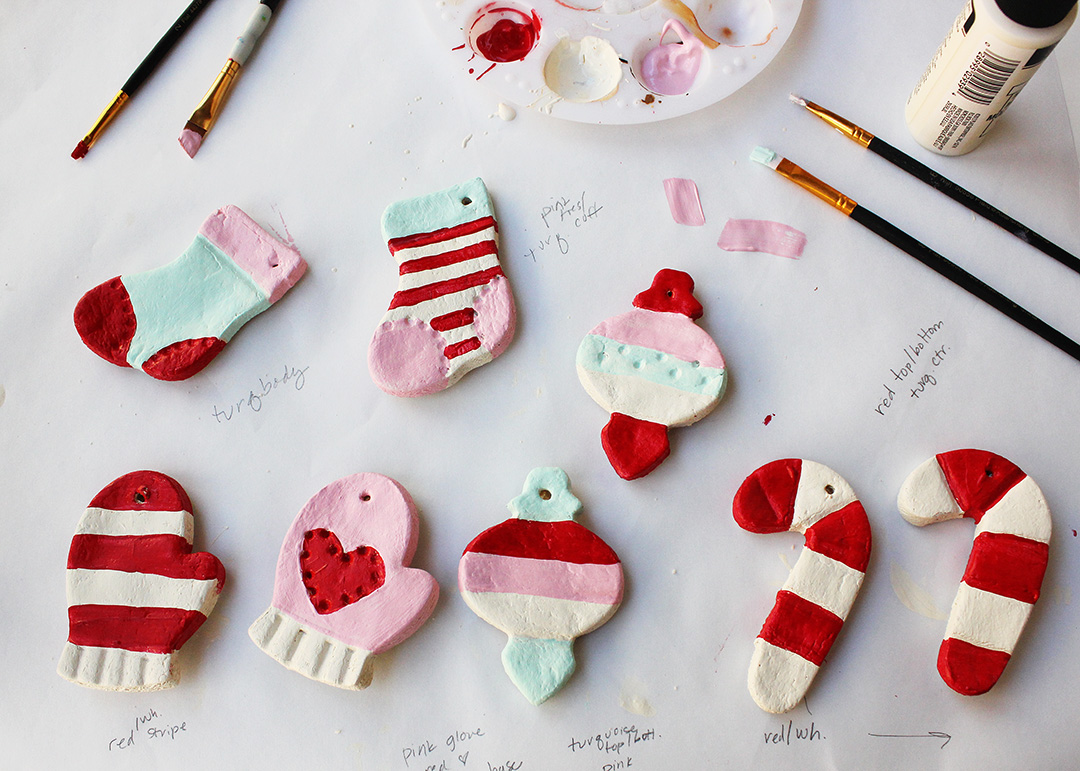 Use bristled paintbrushes rather than foam. These help you get into all of the nooks and crannies more easily.
Personalize with paint pens. Write names, dates, or any holiday message you like!
Add dimension with puff paint. I love to add dots and stripes of puff paint to give my ornaments tons of great dimension.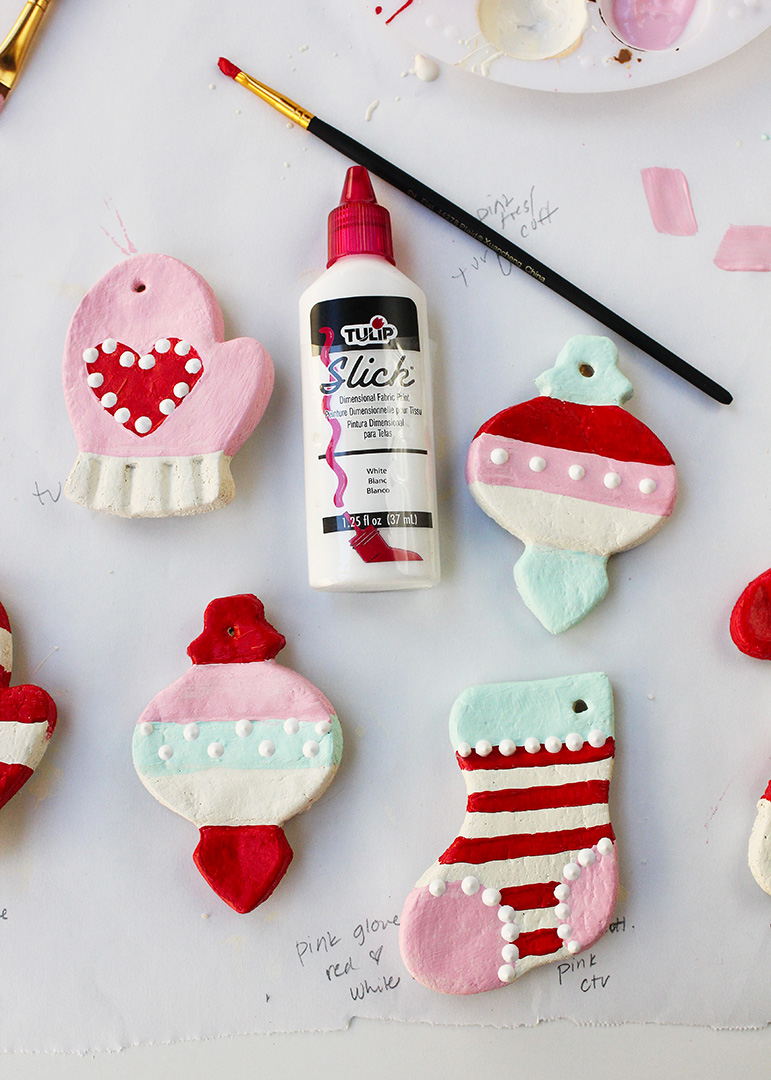 Spray with sealer to protect and preserve. Once your painted designs are completely dry, apply a coat of clear acrylic sealer to ensure your ornaments last for years to come.
Add a hanger. Thread a piece of 1/8″ ribbon or twine through the top hole to create a hanger for your ornament.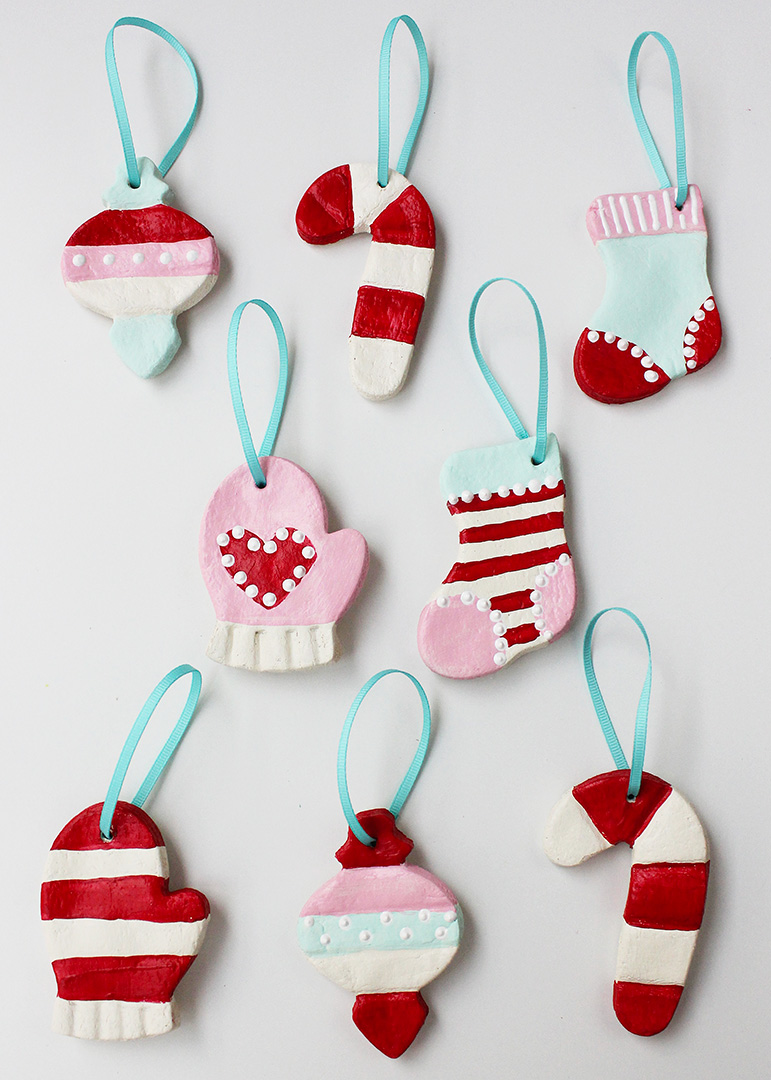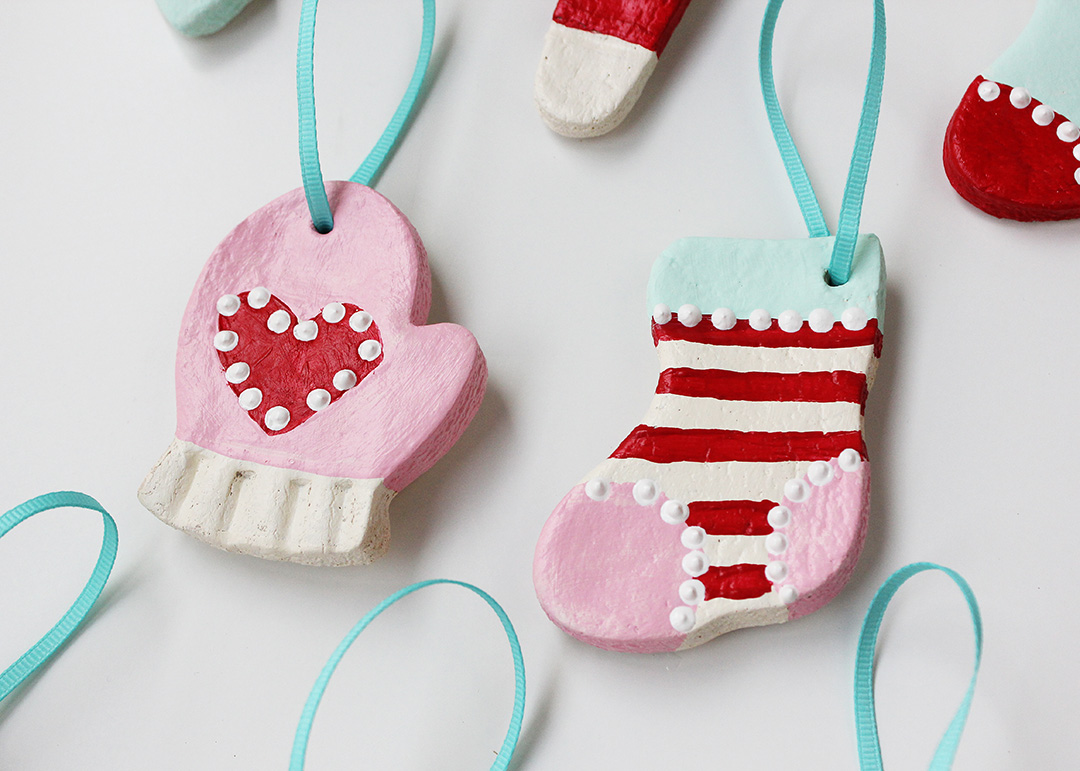 Troubleshooting Advice and Helpful Tips
Making salt dough ornaments really is easy to do, but here are some helpful pieces of advice for some issues you might encounter along the way.
Make sure your dough isn't too dry. The photo below is of two ornaments made from two different batches. The ornament on the left was made with dough that was just the right consistency, which gave the finished ornaments a nice, smooth surface. The dough used for the one on the right was much dryer, which resulted in the ornaments having a rough, uneven texture.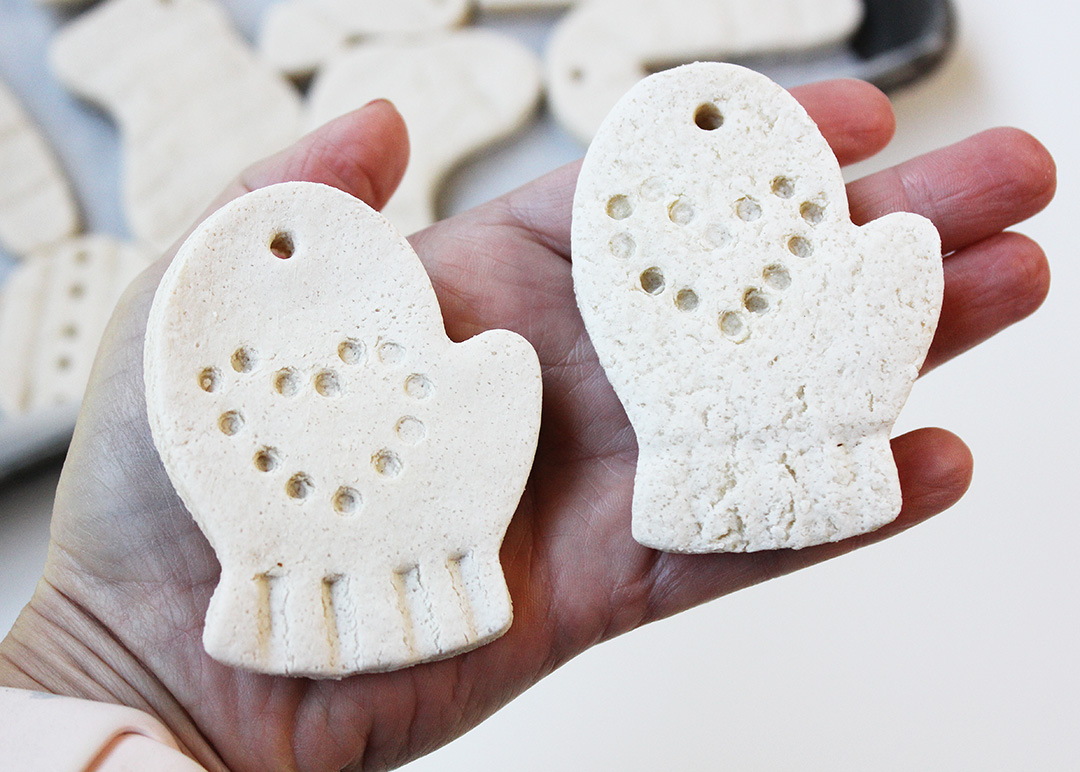 These ornaments are very toxic to pets! Make sure when hanging to place them in areas that your furry friends can't access.
Salt dough can be hard on your skin. Because of the high salt content of the dough, salt dough is very drying to skin. If have particularly sensitive skin, it might be a good idea to wear gloves when working with the dough.
Keep dough covered with a damp cloth if not using immediately. Salt dough can dry out quickly if you don't use it immediately, which will make it much harder to get even, smooth ornaments.
Watch out for bubbles. If you notice any bubbles that arise as the ornaments bake, use a toothpick to pop them, and gently press the bubble to flatten.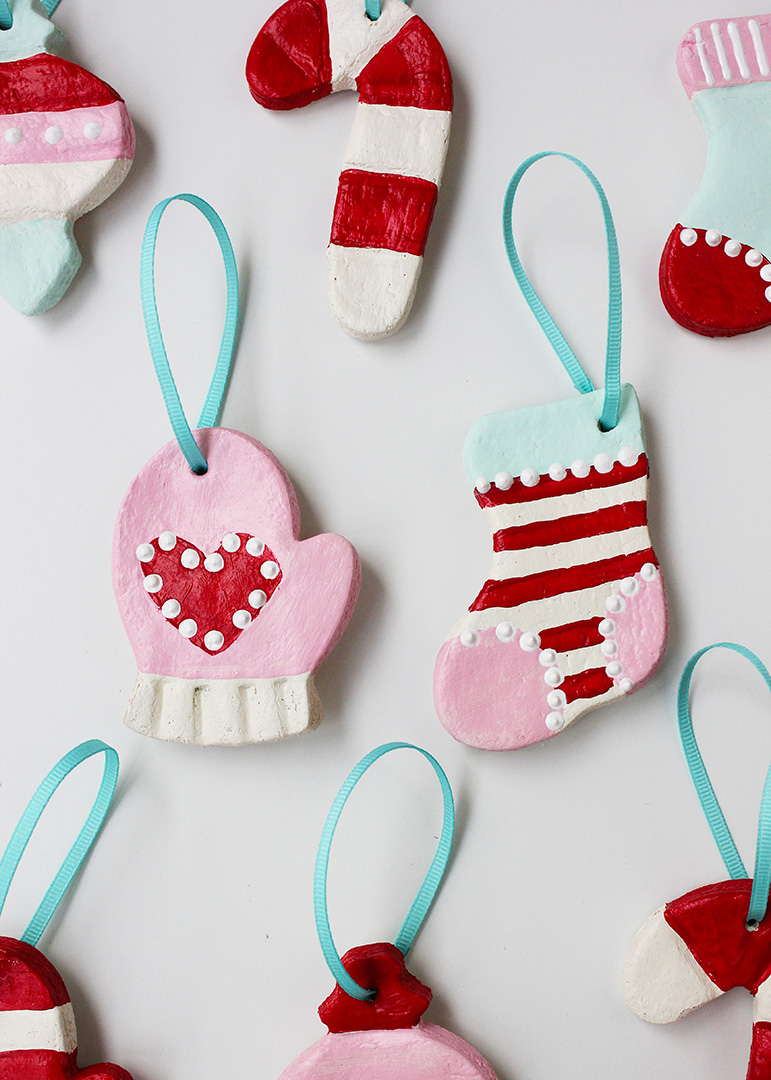 Helpful Tools and Supplies for Making Salt Dough Ornaments
Click through the list below to see the products and tools I recommend when making ornaments with salt dough.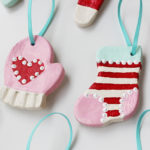 Print
Salt Dough Ornaments
The BEST recipe for making salt dough ornaments to enjoy for years to come!
Materials
2

cups

flour

1/2

cup

salt

3/4

cup

warm water
Instructions
Combine the flour and salt in a large bowl, stirring well to combine. Gradually pour in the water, stirring as you pour, until mixture comes together. Use your hands to mix the dough until all of the flour is incorporated, adding more water, 1 tablespoon at a time, if needed.

Transfer the dough onto a floured surface (or a surface covered with a silicone pastry mat). Knead several times until the dough is smooth and uniform.

Roll the dough to 1/4" thickness, and use cookie cutters to cut into shapes. Transfer shapes to a parchment-lined baking sheet. Poke holes through the top of the ornaments with a skewer or lollipop stick. Use the stick to create shapes and designs onto the ornaments, if desired.

Bake at 250 degrees for approximately 2 hours, until ornaments are hard and dry when tapped on with your finger. Remove from the oven, and cool completely before decorating.

Decorate the ornaments with craft paint, puff paint, paint pens, glitter, etc. When your painted designs are dry, spray with an acrylic sealer to preserve them for years to come.

Thread a piece of ribbon or twine through the top hole, and hang on your tree!
Having grown up in a home brimming with sewing notions and paintbrushes, Amy has a deep love for all things creative. On any given day, you'll find her knee-deep in her latest creative endeavor, with projects ranging from sewing and crafts to home decor and kid-friendly ideas. Amy believes that everyone, regardless of skill level or experience, possesses the ability to create something beautiful, and Positively Splendid was born of her passion for helping others harness their innate creative potential.