Hello, everyone! My name is Amy, and my little corner of the blogging world is known as Positively Splendid. 
It is such a thrill to be trading spaces with Myra today! She and I had the opportunity to meet at Blissdom this year, and I was immediately drawn in by her warmth and genuineness. Her blogs are a true reflection of what a marvelous person she is!
My goal is for my blog to be a little haven of crafting and DIY inspiration, and a place where creative people of all skill levels can come and feel right at home. Because I feel strongly that everyone should be equipped to create something beautiful on their own, each and every project at Positively Splendid is explained to the last detail with step-by-step photo tutorials. I like to think of each tutorial as sitting down with friends to learn something new together! I would love for you to stop in for a visit!
I absolutely adore upcycling and refashioning items I already have on hand to create something beautiful, and I recently did just that with a set of three ordinary diaper boxes. 
Curious to see how I did it? Head over to check out the full tutorial for my Diaper Box Canvas Bins!
If you're as thrilled about the advent of spring as much as I am, you'll have to check out my tutorial for how to created this Tiered Terracotta Planter. It really makes a terrific statement on your front porch!
Living in the south and raising three children who adore being outside, I am always on the lookout for ways to  keep bugs (and their bites!) at bay when we are sitting outside in the evenings. I made my own
citronella candles
last year, and I loved how stylish and effective they were. It's about time to make another batch!
I firmly believe a wreath is like a smile to greet visitors when they arrive at your front door! I love creating something unique and colorful to adorn my entry, and I thus created this no-sew
Calla Lily Wreath.
Sewing is my truest creative passion. I first sat down in front of a machine three years ago, and everything I know I have learned through trial and error (and lots of long-distance phone calls to my mom!). I strive to share straightforward, thorough and easy-to-follow sewing tutorials that are perfect for those just getting their feet wet, but also for experienced sewists, too.
You'll be amazed at how simple it is to put together this sweet little Refashioned Tee Bolero!
Throughout the month of May, I'll be hosting an event at Positively Splendid called the Summer Survival Guide: Tips, Ideas & Inspiration for a Splendid Summer. As I'm sure we all know the summer months aren't often the high time for creative endeavors, I have in mind for this guide to inspire you to keep creating even in the midst of vacations and pool outings! I would love for y'all to stop in for a visit to check out the all-star lineup of contributors and giveaways I have lined up!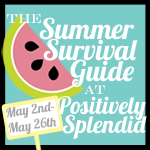 A sincere thank you again to Myra for having me over today! Y'all are welcome at my place any time!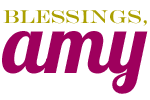 Twitter: @splendidamy
Facebook: facebook.com/PositivelySplendid
Having grown up in a home brimming with sewing notions and paintbrushes, Amy has a deep love for all things creative. On any given day, you'll find her knee-deep in her latest creative endeavor, with projects ranging from sewing and crafts to home decor and kid-friendly ideas. Amy believes that everyone, regardless of skill level or experience, possesses the ability to create something beautiful, and Positively Splendid was born of her passion for helping others harness their innate creative potential.