Hello, everyone! I am absolutely over the moon to be sharing a project here at Tatertots and Jello today! Jen's blog is among the first I ever followed, and I never cease to be inspired by her wealth of creativity. I've had the privilege to meet Jen in person twice now, and I have to say that she is just as charming in person as she is on screen!
My name is Amy, and my blogging home is known as
Positively Splendid,
a place where I share about my passion for all things creative. As a wife and mother of three (with our fourth due in the fall), I find pursuing creative endeavors to be the thing that preserves my own unique identity. I love taking ordinary ingredients and transforming them into something lovely!
My goal is for my blog to be a little haven of crafting and DIY inspiration, and a place where creative people of all skill levels can come and feel right at home. Because I feel strongly that everyone should be equipped to create something beautiful on their own, each and every project at Positively Splendid is explained to the last detail with step-by-step photo tutorials. I like to think of each tutorial as sitting down with friends to learn something new together! I would love for you to stop in for a visit!
Today I'm going to share with y'all a tutorial for how to create a vibrant and fun throw pillow cover to punch up your home decor. This project was inspired by
this gorgeous rug
I came across on Modern Chic Home a few weeks back.
All set to make a peacock pillow of your own? Let's get started!
For this project, you will need…
Printable Templates
An 18″ pillow form
White cotton twill fabric
Washable ink marker
Freezer paper
Grey spray paint
Felt in assorted colors
Coordinating thread
Basic sewing supplies: Machine, shears, etc.
Optional: Rotary cutter and mat
Prep Work
Print off and cut out your feather template.
Cut your twill fabric to the following dimensions:
(1) 18.5 x 18.5″ square
(2) 18.5 x 11.25″ rectangles
step
1
/ Trace your template onto your freezer paper your desired number of times, and cut out your shapes. For my pillow, I used 17 feathers. Use your washable ink marker to mark the precise center of your square piece of fabric. Iron one of your feather pieces directly over this mark, taking care to ensure it is straight. Now, iron your remaining feather pieces in your desired configuration around your center piece, making sure each feather is evenly spaced as you work. 
step
2
/ Spray your fabric piece evenly with your paint, applying 2-3 light, even coats. When the paint has dried, remove and discard your freezer paper pieces.
step
3
/ Cut 3 pieces of freezer paper to 8.5 x 11″. Print the circle templates you downloaded above onto the dull (unshiny) side of your freezer paper.
Note: For my pillow, I printed 2 sheets of the large circles and 1 of the small circles.
 Iron your printed templates onto your felt, distributing the circles among your different colors as desired. Carefully cut each of your circles out, and discard the freezer paper backing.
step
4
/ From each of your small circles, cut a small notch, as shown. Carefully stitch these smaller pieces onto the lower portion of your larger felt circles. Place your stitched pieces at the bottom of the feather spaces on your pillow front, aligning them toward the bottom point of each feather. Carefully stitch around the perimeter of each circle to affix them to your pillow front. Repeat until each feather space contains a circle piece.
step
5
/ Fold one of the long edges of one of your rectangle pieces under 1/4″; press. Fold under another 1/4″; press. Stitch this hem to secure. Repeat with the other rectangle piece. Lay your completed front panel on a work surface, right side up. Place one of your rectangle pieces on top of your front piece, right sides facing, so that the top edge and corners of each piece are aligned and the hem you just sewed runs through the center, as shown. Pin. Place your other rectangle piece over the other two pieces in a similar fashion, this time aligning the bottom edges and corners. Pin. 
Note: Then hemmed edges of your rectangle pieces will overlap by 3 inches at the center.
 Using a 1/4″ seam, stitch all the way around your pinned pieces. Clip your corners, and turn your cover right side out. Slip your cover onto your pillow form.
All finished!
Thank you so much, Jen, for having me over today! I hope to see y'all over at
Positively Splendid
very soon!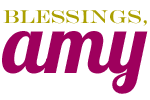 Twitter: @splendidamy
Facebook: facebook.com/PositivelySplendid
Having grown up in a home brimming with sewing notions and paintbrushes, Amy has a deep love for all things creative. On any given day, you'll find her knee-deep in her latest creative endeavor, with projects ranging from sewing and crafts to home decor and kid-friendly ideas. Amy believes that everyone, regardless of skill level or experience, possesses the ability to create something beautiful, and Positively Splendid was born of her passion for helping others harness their innate creative potential.