I have such precious kids. Even when life is mind-blowingly hectic, I manage to have moments of total clarity and joy when I look at each child and realize that I am living now the days I will long for when they are all grown and on their own. What a blessing to watch them grow and thrive!

Lily is an absolute delight; I just cannot say how much we adore her. Four and a half months old, and she is already stealing hearts!
I have been a busy bee lately when it comes to creating. As soon as I get my act together, I have much to share!
So glad you could stop in!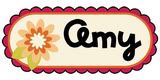 If You Liked This, You Might Also Be Interested In: