This is a sponsored post written by me on behalf of Little Debbie®. All opinions are 100% my own.
Every mom deserves a special treat on Mothers' Day, and today, I've partnered with Little Debbie® to share a decadent frozen dessert that she is sure to love! This turtle swirl ice cream cake recipe features a layer of cream-filled chocolate cake rolls, topped with a layer of vanilla ice cream and a layer of creamy whipped cream, all crowned with a generous drizzle of chocolate fudge, salted caramel and toasted pecans. You absolutely cannot believe how delicious this dessert is–or how incredibly easy it is to make. The secret is a childhood favorite of mine: Little Debbie Swiss Rolls! Read on for all the details.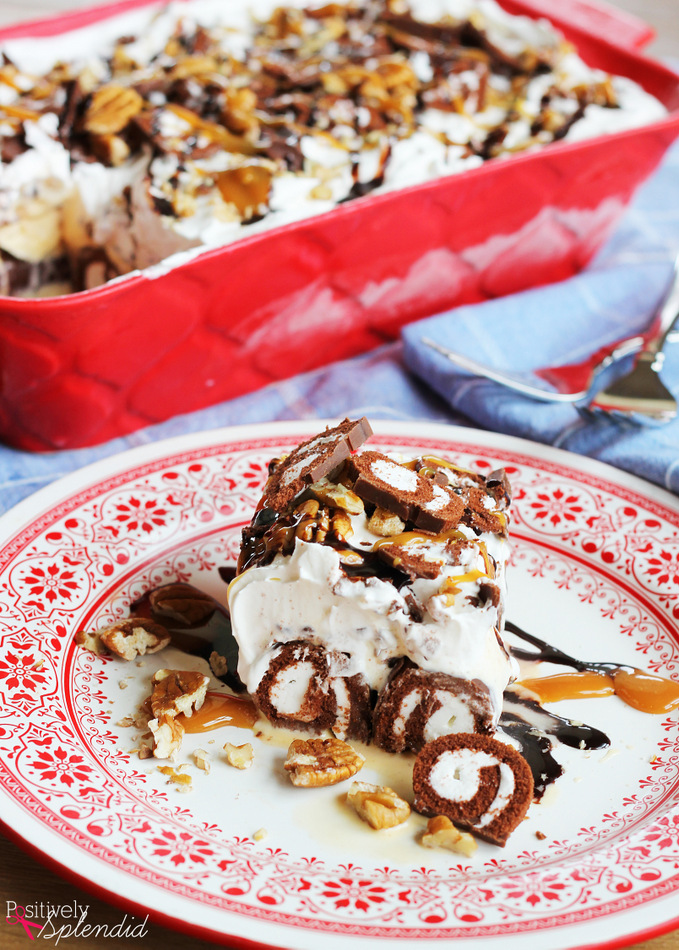 To make this Turtle Swirl Ice Cream Cake Recipe, you will need…
7 twin packs of Little Debbie® Swiss Rolls (14 individual rolls)
2 pints vanilla ice cream (or the flavor of your choice)
1/2 cup miniature chocolate chips
2 cups whipped cream
Salted caramel sauce
Chocolate fudge sauce
3/4 cup toasted pecans
Equipment: 11×7″ pan
Every time I tuck a baked good into one of my kids' lunches, I think of how my own mother did the very same for me so many years ago. No lunch was complete without a Fudge Round, a Star Crunch, or (my favorite) a sweet little package of Swiss Rolls. I would always open up the package and eat each one a nibble at a time, first taking off the yummy chocolate outer layer before digging in to the cake and cream. Those treats were a special reminder that my mom wanted me to have a sweet day at school while we were apart. The McKee family really did create a taste you never outgrow, and this special dessert turns a childhood favorite into a sophisticated dessert!
To begin, spray an 11×7″ pan with nonstick spray. (If this size pan is not available, a 9″ square pan will work, but I really love how the cake rolls fit so perfectly in the 11×7″ pan with minimal trimming and cutting.)
Use a sharp knife to carefully trim away about 1/8″ off of the end of each roll. Reserve these end pieces to use as a garnish for later on.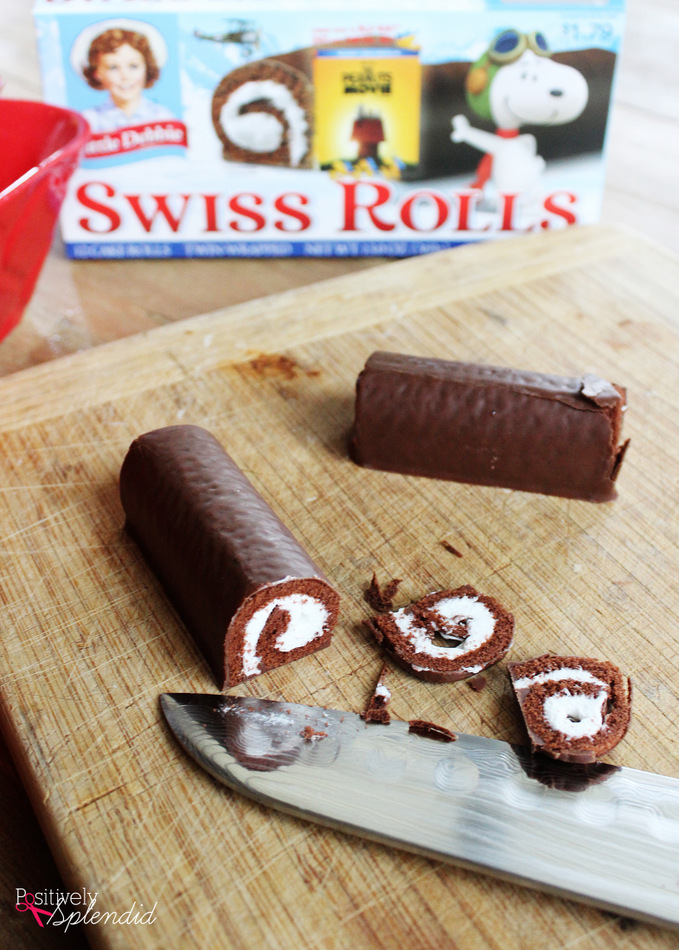 Layer the rolls into the bottom of the pan, as shown, so that the cut ends of the rolls are facing the short (7″) edge of the pan.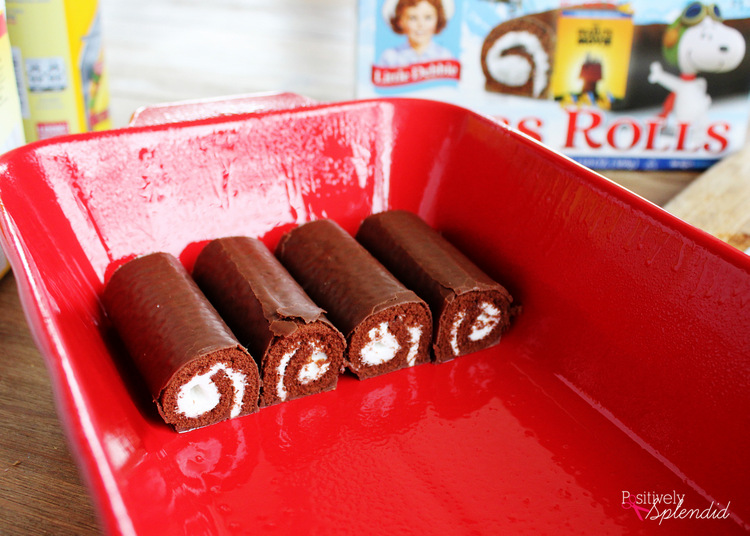 Continue lining up the rolls in this fashion until the entire bottom of the pan is covered, trimming the final rolls to fit.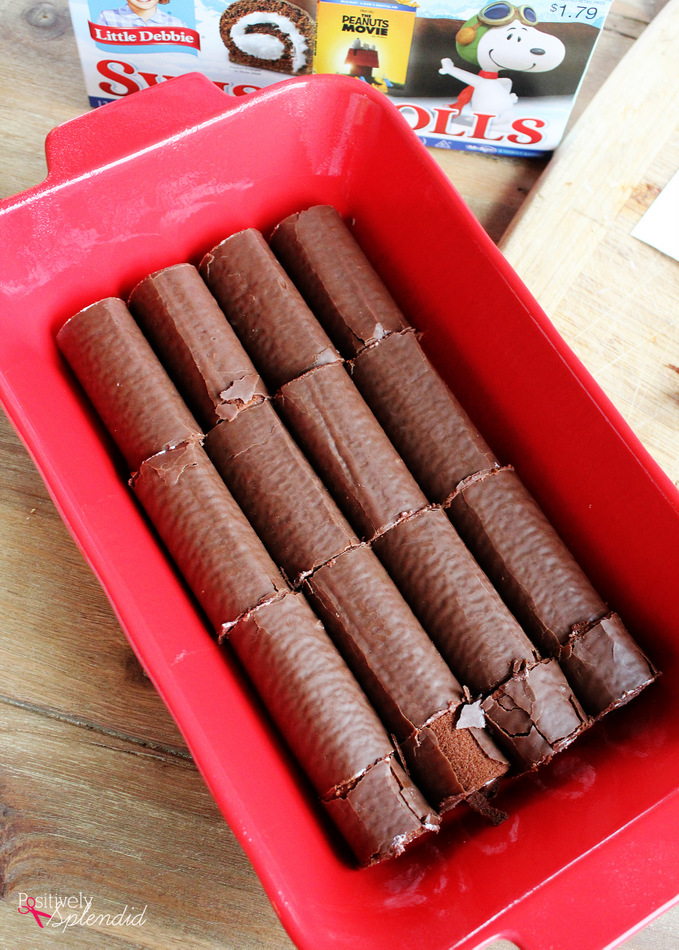 Microwave the ice cream at 50% power in 30-second intervals, stirring after each interval, until ice cream is considerably softened and of a spreadable consistency. (This took me about 90 seconds total.) Spread the ice cream over the Swiss Roll layer, using a spatula or spoon to create an even layer. Sprinkle with the chocolate chips. Place entire pan in the freezer and freeze until set, at least one hour.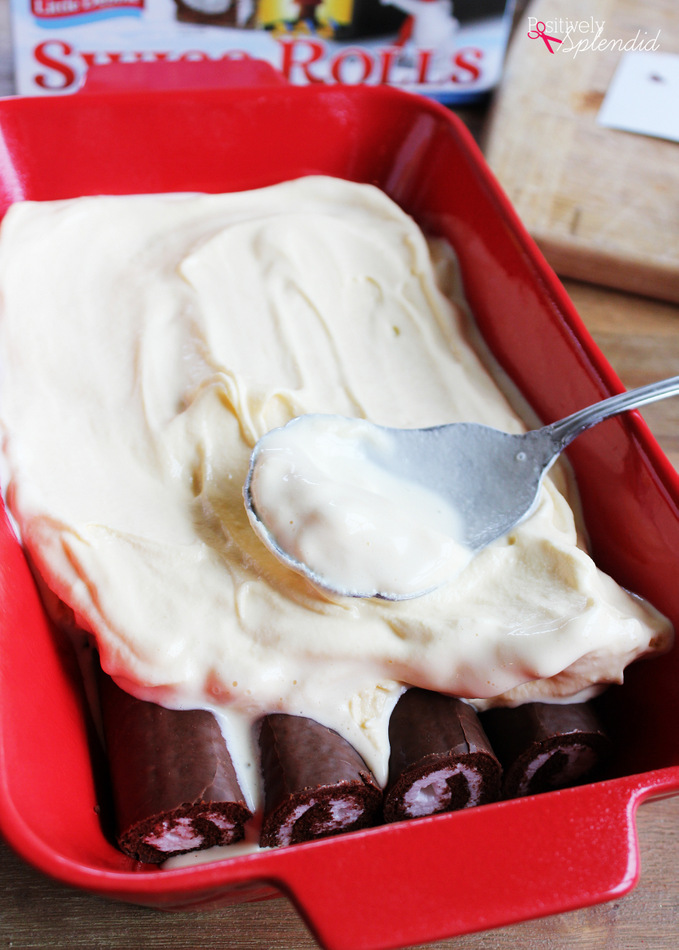 After an hour has elapsed, spread a layer of whipped cream over the ice cream layer, and top with the reserved end pieces.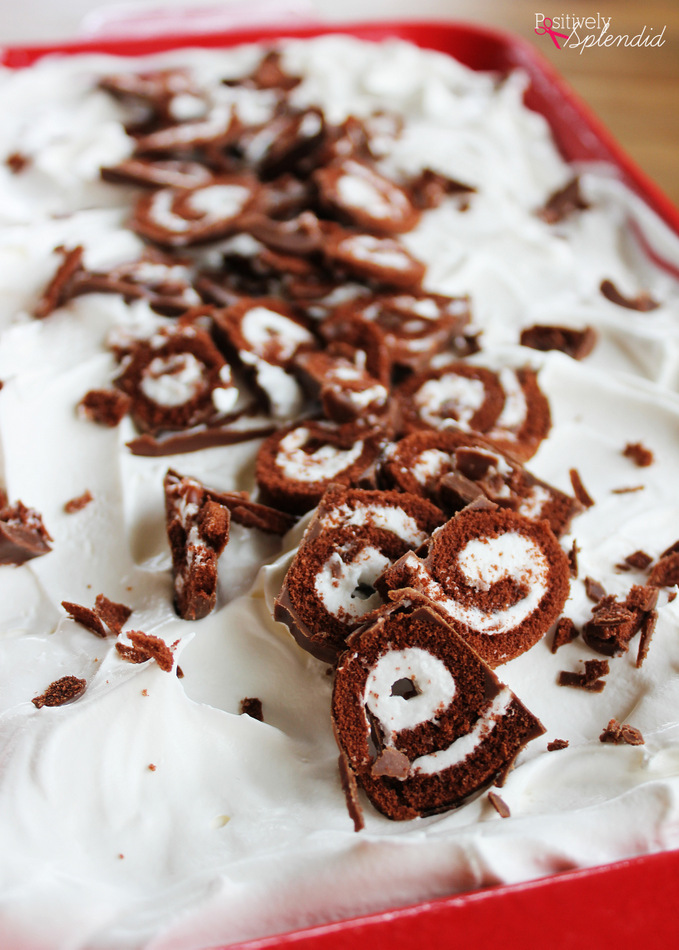 Sprinkle with the toasted pecans and drizzle generously with the caramel and fudge sauces. Freeze until completely firm, at least 3 hours, before serving.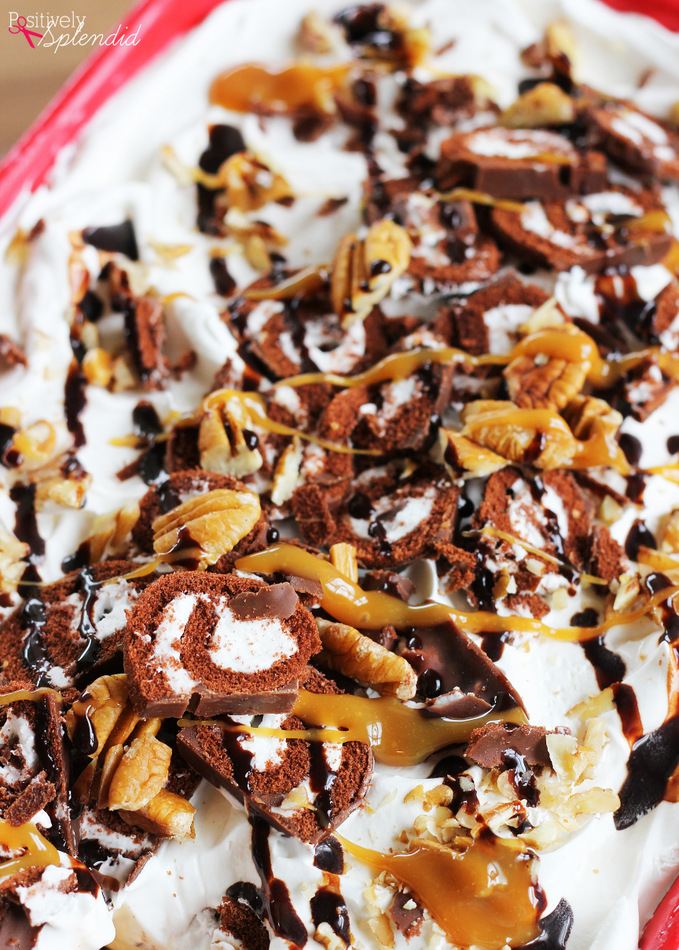 This is a treat that is not only perfect for serving at Mother's Day celebrations, but also for serving at summertime gatherings. The creamy ice cream paired with the rich chocolate Little Debbie® Swiss Rolls and the sweet and salty caramel and fudge is made even better with the satisfying crunch of the toasted pecans.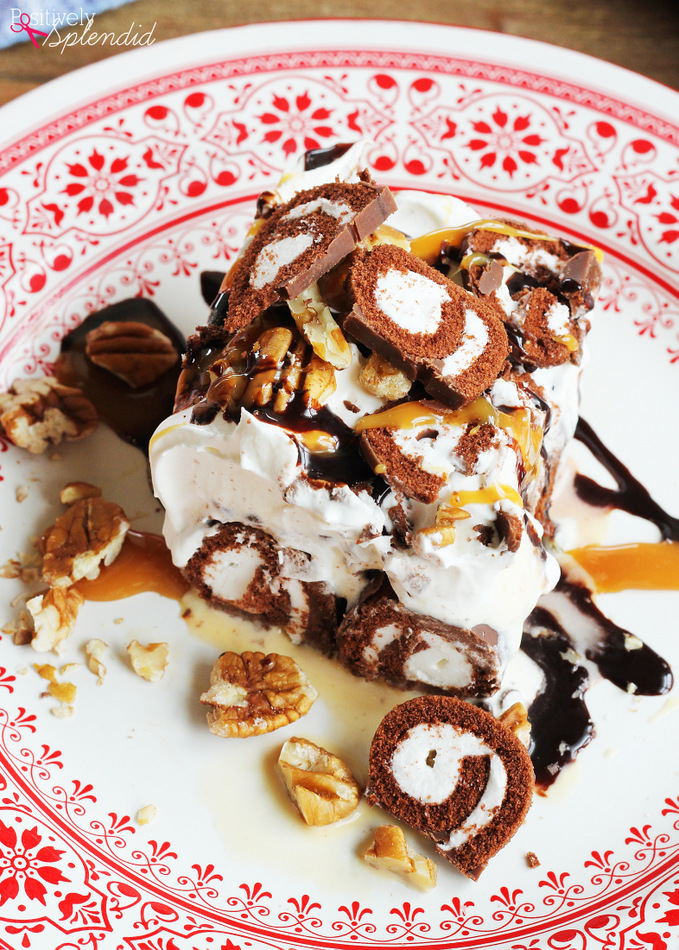 This is one dessert that is sure to impress!
And since this recipe is so simple to make, it is a perfect way to get kids involved to help them show Mom how much sweeter she makes the lives of everyone around her.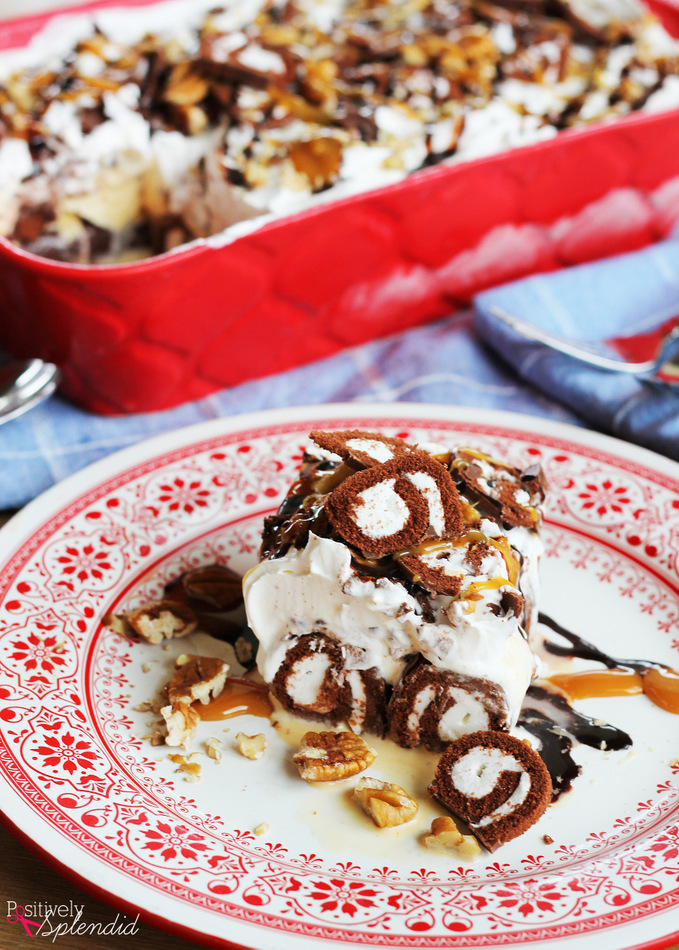 Thanks so much for stopping in today! Take a minute to visit LittleDebbie.com for more recipes! And join the Little Debbie® social media giveaway by posting an image of your family recipe to Instagram with the hashtag #SweetMemoriesGiveaway for a chance to win $1,000!
Having grown up in a home brimming with sewing notions and paintbrushes, Amy has a deep love for all things creative. On any given day, you'll find her knee-deep in her latest creative endeavor, with projects ranging from sewing and crafts to home decor and kid-friendly ideas. Amy believes that everyone, regardless of skill level or experience, possesses the ability to create something beautiful, and Positively Splendid was born of her passion for helping others harness their innate creative potential.