Over the course of the next couple of weeks, I'm going to be revisiting some popular projects from years past here at PS. Today marks the first of these little walks down memory lane, with a new version of my 

Tiered Terracotta Planter!
***
If you've been around since the very beginning here at PS, you probably remember when I originally posted about my

Tiered Terracotta Planter,

a project that was a take on an idea that originally graced the cover of Southern Living probably close to ten years ago. Of all of the projects I've ever completed, I have received more rave "real-life" reviews of this one. One evening, I actually had two complete strangers stop by to knock on my door to tell me how much they love this planter!
The beauty of this project is how deceptively easy it is to do, and how amenable it is to customizing to your particular decor tastes. Take, for instance, my original version, which reflected my favorite red-and-turquoise color scheme at that point…
…and my version today! Believe it or not, these are the very same terracotta pots I used for the original planter project, after some sanding and a bit of repainting.
After completing my Spring Wreath last week, I knew I wanted to use that as the springboard for designing our front porch decor this year.
I specifically wanted to use the wreath's color scheme of coral, buttercup yellow and navy blue.

So, I grabbed my supplies and set to work transforming these pots into the image I had dancing in my head!
Here's how I did it:
I sanded the surface of the old pots to remove all of the peeling paint before spraying each one with two coats of Zinsser spray primer. After they had dried completely, I sprayed each one with 2-3 coats of paint (Krylon Coral Isle and Meringue).
When the pots were all dry, I used some white latex paint and my circle foam pouncers (love these!) to paint polka dots on each pot before spraying everything with a coat of polyurethane sealer.
I then cut out a decorative address label from outdoor-grade adhesive vinyl using my Silhouette. I loved that the original planter doubled as a house number sign, and I wanted to be sure to do that again with this one!
After all of the painting and embellishing, all that was left to do was to construct my stacked planters. Check out the original post for the play-by-play for exactly how to do that.
All finished!
This time of year, this area near the porch is totally shaded, so I filled my planter with some asparagus fern, a spike plant (the name of which escapes me at the moment), begonias and coleus. When summer sets in and the spot gets a bit more light, I'll fill it with petunias and vibrant green sweet potato vine (my favorite!).
And, yes: I do know that I'm being awfully bold to plant so early this year. With the mid-eighty-degree temps we've been having, I just couldn't resist!
In case you're thinking you don't have room for such a large planter, take heart: I used this technique to make a miniature version that looks just as great as its larger counterpart!
 The only difference was that I used a large rock instead of a brick to boost the smaller pot in the display, and I didn't have to use the empty cans as space fillers. 
Our new front porch is coming together so nicely! I'll be revealing all of the projects I'm completing for the space over the course of the next week or two so be sure to stay tuned.
Before I sign off today, a few closing thoughts about what I've learned since my original post:
Even if you're working with brand-new pots, I recommend priming your pots before painting. Spray primer makes this incredibly easy to do, and it will save you the frustration of having to apply a ton of coats to ensure even coverage!
Seal your painted pots with polyurethane spray. After two years, my pots were definitely in need of some TLC (the paint was chipping badly in certain areas), and I'm hoping the spray sealer will mitigate some of that this time around.
When filling your planter with flowers, start planting on the top tier and work your way down. That way, you won't fling potting soil on top of the plants in the lower levels as you work your way up.
If you enjoyed this post, I would love for you to add it to Pinterest! Do so easily by clicking the link below.
Have a great week, everyone!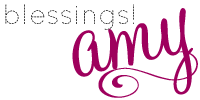 Linking this to…
Skip to My Lou
Home Stories A to Z
Serenity Now
Tatertots and Jello
Oopsey Daisy
Creations by Kara
Every Creative Endeavor
Lolly Jane
Lil Luna
Flamingo Toes