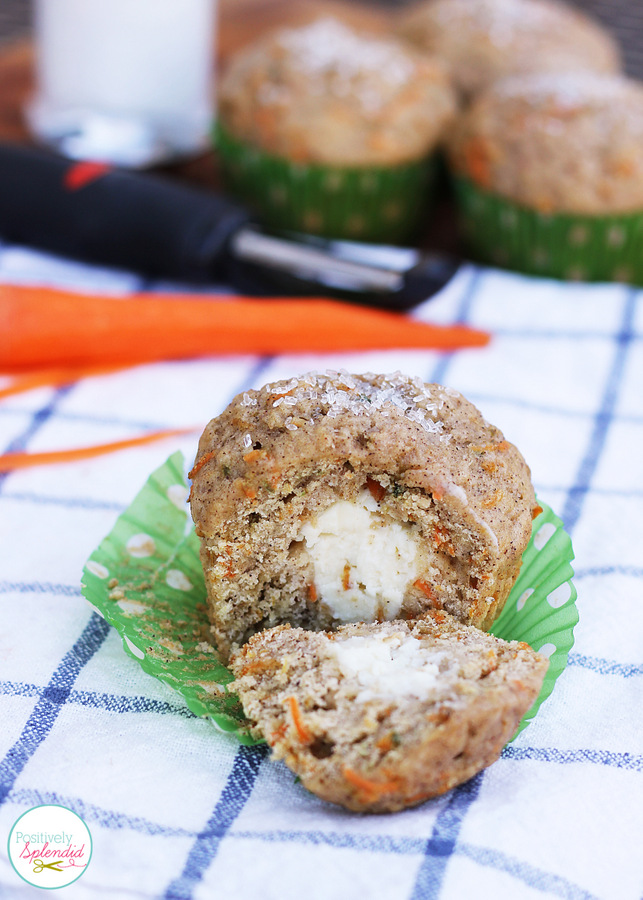 Maybe it's because Easter = bunnies and bunnies = carrots, but something about springtime makes me crave carrot cake. When I came across a recipe for some very yummy carrot cake muffins at King Arthur Flour a couple of months ago, I banked the idea away for future reference. This morning, I made a batch to enjoy with my morning coffee. Wow, are these ever good!
I made a couple of minor changes to the spice and flavor profile, but overall, this was an excellent recipe. And (bonus!) my kiddos loved them, too! I think next time I might try adding a bit of flaked coconut to the batter, which I've indicated in the recipe below. If you don't care for coconut, though, these are perfectly delicious without it!
Cream-Filled Carrot Cake Muffins
adapted from King Arthur Flour
For the filling:
1 (8-ounce package) cream cheese
1/4 cup granulated sugar
1/2 teaspoon vanilla extract
A pinch of salt (optional)
For the batter:
2 1/4 cups all-purpose flour
1/2 cup granulated sugar
1/4 cup dark brown sugar, firmly packed
1 1/2 teaspoons baking powder
1/4 teaspoon baking soda
1 1/2 teaspoons ground cinnamon
1/2 teaspoon ground ginger
1/4 teaspoon ground nutmeg
3/4 teaspoon salt
2 large eggs
3/4 cup water
1/3 cup vegetable oil
1 cup grated carrots, lightly packed (3 smallish carrots was the perfect amount)
1/4 cup flaked coconut (optional)
Filling:
In a microwave-safe bowl, heat the cream cheese on low power for 30-40 seconds. Stir in the sugar, vanilla and salt; set aside.
Batter:
In the bowl of a stand mixer fitted with a whisk attachment, blend together the dry ingredients. In a separate small bowl, whisk together the eggs, water, and oil. Switch out the whisk attachment on your mixer with the paddle attachment, and, using a low speed, blend the the wet ingredients into the dry ingredients, mixing just until blended. Using a rubber spatula, fold in by hand the grated carrots (and coconut, if using), making sure they are evenly incorporated throughout the batter.
Drop about 2 tablespoons of the batter into 12 greased muffin cups, spreading it to cover the bottom. Dollop a heaping tablespoon of filling on top of the batter. Now, use the remaining batter to fill the muffin cups quite full, using a spoon to evenly spread the top layer of batter so it completely covers the filling center. The batter will come about 1/4″ to 3/8″ from the top of each muffin cup, depending upon the size of your muffin tins. (The original recipe says you will probably have some batter remaining after this step; I did not.)
Bake the muffins in a 400-degree oven until a toothpick inserted into the cake part of one (not into the cream cheese center) comes out clean, about 18-20 minutes. The tops of the muffins will feel firm to the touch. Remove the muffins from the oven, and as soon as you're able to handle them, transfer them to a rack. Wait to serve the muffins until they have cooled for a half hour or so, so the filling has ample time to firm up.
Having grown up in a home brimming with sewing notions and paintbrushes, Amy has a deep love for all things creative. On any given day, you'll find her knee-deep in her latest creative endeavor, with projects ranging from sewing and crafts to home decor and kid-friendly ideas. Amy believes that everyone, regardless of skill level or experience, possesses the ability to create something beautiful, and Positively Splendid was born of her passion for helping others harness their innate creative potential.