Books play such a huge role in our family, as I mentioned when I shared about
how my kids and I made book donation totes to deliver to those in need.
Reading is something I have done with all four of my children since they were tiny infants, as I feel strongly that establishing a love of reading early on is one of the most precious gifts you can give a child. Over the years, we have read hundreds of books, but there have been a dozen or so that have emerged as our all-time favorites. Today I thought I'd share our list of some of our favorite books so that you can look into adding them to your home library or borrowing them from your local library to enjoy with your own children!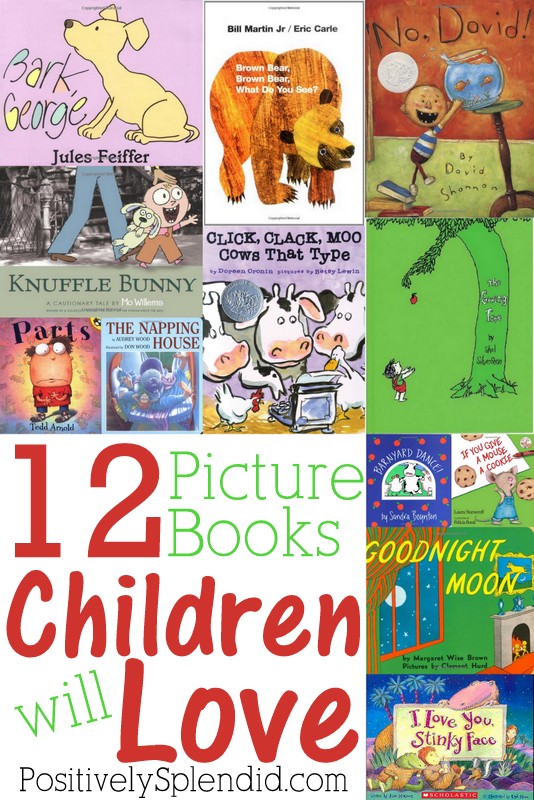 one.
Brown Bear, Brown Bear, What Do You See?
by Eric Carle
This was the very first book I read consistently to baby Jack, so many times, in fact, that we just had to replace our beloved old book with a new copy after it literally fell apart. I love this story for its repetitive simplicity that allows children to "read" along, and Eric Carle's vibrant illustrations are second to none.
two.
Goodnight, Moon
by Margaret Wise Brown
My parents read this book to me when I was small, and I have loved reading it to my own children. Who among us doesn't nearly know this book nearly by heart? "In the great green room, there was a…"
three.
Barnyard Dance
by Sandra Boynton
The infectious, sing-song rhyme of this little book will make it a favorite even with the youngest readers!
four.
Knuffle Bunny
by Mo Willems
A sweet, humorous story about the lengths parents will go to reunite children with a beloved object. We read this one almost daily!
five.
Click, Clack, Moo
by Doreen Cronin
Even parents will giggle at this humorous story about cows who go on strike. So clever!
six.
I Love You, Stinky Face
by Lisa McCourt
Don't be fooled by the silly title: the sweet dialog in this book between a mama and her child will melt your heart!
seven.
The Giving Tree
by Shel Silverstein
A true classic that took on a whole new meaning for me once I became a mother.
eight.
Parts
by Tedd Arnold
Little boys, especially, tend to love this book. It is admittedly a bit gross at times, but it never ceases to make my kids giggle. 🙂
nine.
No, David!
by David Shannon
This simple story about a little boy who can't seem to do anything right, and the mom who loves him anyway.
ten.
Bark, George
by Jules Feiffer
A clever story to teach children their animal sounds, while eliciting lots of giggles! This might be my favorite book on this list.
eleven.
The Napping House
by Audrey Wood
The gorgeous illustrations in this book are unrivaled, and the repetitive rhyme is perfect for allowing little ones to read along.
twelve.
If You Give a Mouse a Cookie
by Laura Numeroff
A classic that I also enjoyed as a child. And what mother can't relate to the fact that little mice always seem to want just one more thing? 😉
***
Which books are on your family's list of favorites? We are always on the lookout for great books to read, so I'd love to hear your suggestions!
Disclosure: This post contains affiliate links. My commitment to my readers to to only recommend products that I truly believe in!
Having grown up in a home brimming with sewing notions and paintbrushes, Amy has a deep love for all things creative. On any given day, you'll find her knee-deep in her latest creative endeavor, with projects ranging from sewing and crafts to home decor and kid-friendly ideas. Amy believes that everyone, regardless of skill level or experience, possesses the ability to create something beautiful, and Positively Splendid was born of her passion for helping others harness their innate creative potential.