Attention Publix Shoppers! From February 23–29 you can participate in P&G's "One List Life" promotion, available exclusively at Publix: simply select any four fabulous participating P&G items and pick up a FREE Rotisserie Chicken while you're at it! Learn more at www.savingspg.com.
***
One thing I have realized as our family has continued to grow:
St
aying organized is essential for keeping our household (and its inhabitants!) stress-free.
Today I thought I'd share four of the primary ways I manage to do this in our family.
Tip One: Make a Menu Plan
Without a doubt, the singular thing that keeps our family running smoothly more than anything else is to make a menu plan each week and stick with it. Each Saturday, my husband and I sit down together to plan our meals and make a shopping list so that all of the groceries are purchased and ready to go during the weekend before the weekday craziness ensues. This entirely eliminates the last-minute "What am I going to feed our family tonight?"  panic and minimizes the number of takeout orders we are forced to make during the week. Not to mention, preparing meals at home is so much less expensive than eating out, and it's healthier, too! 
Last year, I
revamped an ugly mass-produced painting into a chalkboard
to hang in my kitchen. Every Sunday, I write down our planned menu so I can refer back to it throughout the week. If you don't have space for a large wall-hung menu board like this one, consider putting a dry-erase board on your refrigerator for the same purpose. My
flip recipe organizer
is another great space-saving option.
Tip Two: Create a Practical System for Staying Organized
Practical
is the operative word here. Take an honest inventory of your family's needs, and then identify your specific sources of disorganization. Is it that your entryway is constantly cluttered with shoes and backpacks? That you can't see the counters in your kitchen because of all of the mail and school papers you are inundated with each day? All of the above? Once you've specified the things that need attention,
craft an organizing system to address your family's specific needs that is functional and entirely user-friendly.
If it looks pretty but no one in your family winds up using it because it isn't practical, it doesn't do anyone any good!
I shared last week about the
hallway command center
I built to help keep all of our everyday items like coats, important papers, and appointment reminders tidy and consolidated. I am not exaggerating when I say that is one project has honestly revolutionized our lives! School mornings are so much less harried now knowing backpacks, coats, and my purse and keys are all where they need to be. 
Tip Three: Deal with Papers Immediately
This is one area in which I am admittedly lacking, but when I do follow through with this, I am so much happier for it! The idea here is simple:
The moment a paper comes into your possession, deal with it appropriately.
Place junk mail in the recycling bin instead of plopping it on the kitchen counter to be sorted later. Sign important forms for school immediately and place them back in your child's backpack so you don't forget about them. Open bills the moment you receive them and sit down to schedule their payment online (online bill pay is such a life-saver!) instead of letting them pile up throughout the month. These minimal upfront investments of time will help tame the paper monster, saving your sanity in the process!
Tip Four: Don't Let Laundry Pile Up
Instead of saving it all to do on the weekends, strive to do your laundry gradually throughout the week. For me, this means doing 2-3 loads per day, but that amount will vary depending upon the size of your particular family. If you work outside the home, try to put a load on to wash in the morning before you leave to pop into the dryer when you return home and fold before bed. This is admittedly one more thing to add to your daily routine, but you will thank yourself for it when you are able to enjoy some R&R on the weekend instead of getting lost in the mounds of dirty clothes!
***
I encourage you to take some time this weekend to implement even just one of these ideas. You'll reap the stress-relieving rewards for weeks to come! To bookmark this post to refer to later on, add it to Pinterest. Do so easily by clicking the button below!
Pin It
Do you have any organizing tips to add to the list? I'd love to hear!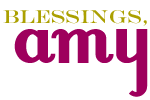 Thank you to P&G for sponsoring my participation in this "One List Life" promotion. I was selected for this sponsorship by the Clever Girls Collective. All opinions expressed here are my own.
Having grown up in a home brimming with sewing notions and paintbrushes, Amy has a deep love for all things creative. On any given day, you'll find her knee-deep in her latest creative endeavor, with projects ranging from sewing and crafts to home decor and kid-friendly ideas. Amy believes that everyone, regardless of skill level or experience, possesses the ability to create something beautiful, and Positively Splendid was born of her passion for helping others harness their innate creative potential.