What would you say if I told you my best sewing tips are some of the simplest? Today I'm sharing five simple techniques and tricks that will immediately improve the quality of your sewing projects and help you take your sewing to the next level!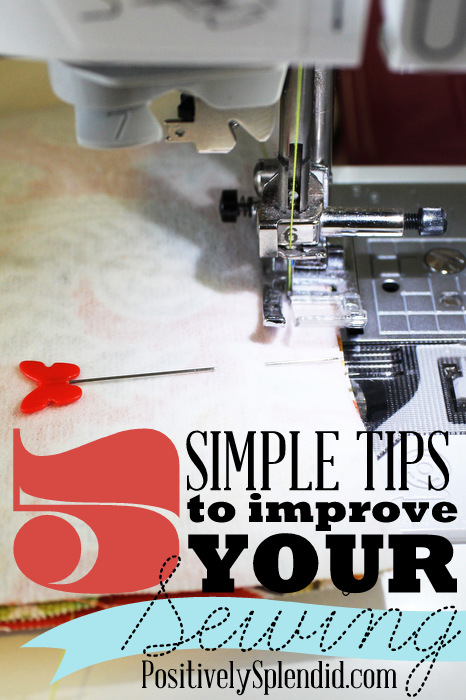 A comment I have been asked many times by PS readers is how to elevate a homemade sewn project from lackluster to fantastic. Aside from a few teaching opportunities here and there with my mom when she comes from out of state to visit, just about everything I know about sewing has come from trial and error, and over time, I have realized that it is often the simplest, smallest steps that can improve a sewn project's appearance the most. Doing these five simple things over the course of each of your projects will have you well on your way to producing finished items that would look perfectly at home in the pages of your favorite magazines and catalogs!
1. Always press as you go.
If you don't take anything else from this article, I hope I can convince you not to skip this step. I have placed this at #1 because, more than anything else, neglecting to press your seams as you work through a project will take a potentially fabulous project and turn it into something frumpy. The time investment is minimal, but having crisp, sharp seams will elevate an otherwise ordinary project to a professional caliber.
To make it even easier to stick with this step, I saw an ingenious idea a couple of years back for placing an ironing board adjusted to waist-level perpendicular to your sewing space. That way, all you have to do is turn in your seat each time it's time to press without having to get up and down a million times. Handy!
My current iron is a very basic model I purchased at Walmart, very similar to this one. I highly recommend never filling your iron with water, instead using a standard spray bottle for steam. This will greatly lengthen the life of your iron!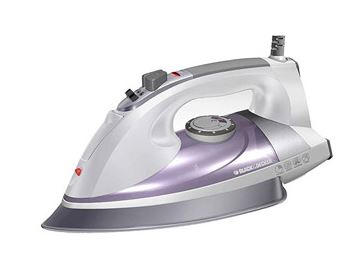 2. Finish your seams.
All of those raw seam edges will turn into a mangled, tangled mess in the wash unless you take time to finish them in some form or fashion. A serger works fabulously for this, but a wide zig-zag stitch or an overlock stitch on a regular machine also does the trick. I absolutely cringe at the projects I completed in years past when I neglected to do this. It is incredible how an extra 5 minutes of effort expended to finish those seams pays dividends considering how much better a garment will hold up over time!
I would urge any avid sewist to consider investing in a serger to go along with a standard sewing machine, even if that means saving and budgeting to do so. I have had mine for a couple of years now, and I absolutely couldn't live without it! My serger is the Brother 1034D, a very basic machine, but I have been very impressed with its functionality and ease of use.
3. Pre-wash your fabrics for items that will be laundered.
Have you ever finished a wearable project you love, only to wash it once and discover that it just doesn't fit quite right anymore? Chances are that you neglected to pre-wash your fabrics, resulting in shrinkage that alters the entire look of the finished garment. Pre-washing fabrics ensures that any shrinkage will occur before your garment is constructed, so you will never have to worry about this issue again. This is particularly important when you are combining fabrics from different manufacturers or even different collections from the same manufacturer, as the fabric content can vary so much from one fabric to the next, and stitching the different unwashed fabrics together can cause those seams to pucker once they are washed.
Be sure to take into account the temperature settings recommended by the fabric manufacturer before laundering your fabric. And when it doubt, instead of drying your fabric in your clothes dryer, lay it flat to dry. Fabrics hold up much longer this way!
If you're like me and crave the crisp feel of unwashed fabrics as you sew, I recommend spraying the fabric lightly with spray starch as you press it after it's come out of the wash.
4. Use the right needle.
All needles are not created equal. There are dozens of different needle sizes and shapes, with specialty needles available for just about any project you can imagine. There are standard, all-purpose sharp needles, of course, which will usually do the trick for run-of-the-mill garment and home dec sewing. But anyone who has ever attempted to sew two particularly heavy fabrics and broken a needle in the process can attest that sometimes a specialty needle is necessary. Aside from preventing needle breakage, using the right needle for a project will allow the needle to glide through the fabric easily, preventing seam puckering and fabric damage. 
Some of my favorite specialty needles:
Denim/Jeans sewing needles will save you immense frustration when sewing through multiple layers of heavy fabrics like canvas. Remember the slipcover I stitched for my sewing room chair? A denim needle was crucial for that project, as I was sewing through many layers of home dec fabric, plus the piping I inserted in some of the seams.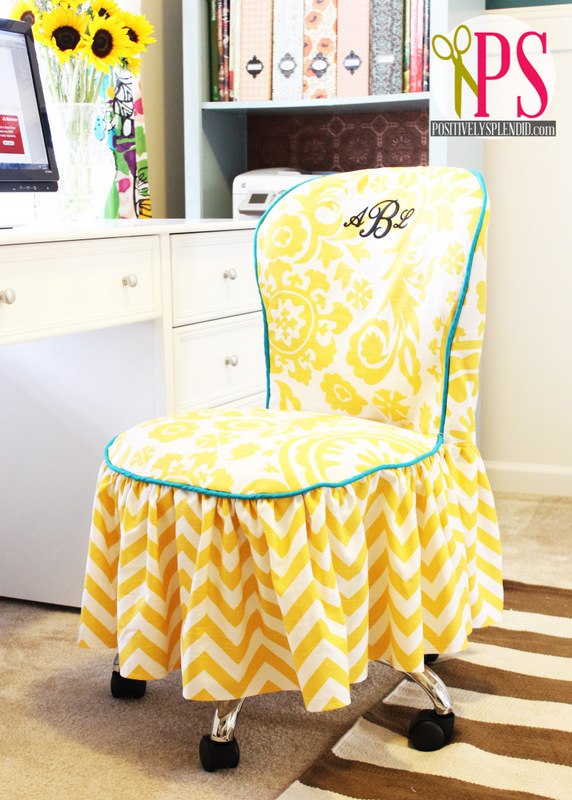 When doing marine vinyl applique on pillows, I couldn't live without leather needles. The pointed end of these needles is essentially like a little knife of sorts, cutting cleanly and easily through the thickness of the vinyl as you sew. This is the type of needle I used for my monogram pillow covers for my front porch last summer.
When doing t-shirt upcyles like my Ruffled Bolero, ball-point needles are a must, as they prevent runs and damage when sewing jersey knits. The rounded tip of these needles separate the fibers of the knit as you sew without cutting any of the fibers. It is incredibly important, however, to always switch out your ball-point needle for a regular sharp needle when sewing woven fabrics, as ball-point needles can snag and damage these fabrics.
I only use Schmetz needles when I sew. The Schmetz site has a great page detailing all of the different needles they offer.
Another needle tip: always start each project with a fresh, new needle. Even if they aren't broken, needles become dulled and blunted over time by general wear and tear. Using an old needle will result in stitches that aren't nearly as clean or crisp as they are with a new, undamaged and unworn one. 
5. Clean and maintain your machine.
At Christmas, I was indescribably frustrated when every single one of the gifts I sewed for friends and family was plagued with a tangled mess on the underside of my sewn stitches. I as at a total loss as to why my bobbin thread kept tangling so miserably as I sewed until my sweet mom came to visit the following month and gently inquired how long it had been since I cleaned my machine. Suffice it to say, it had been way too long!
As it turned out, the reason for the tangled bobbins threads was a ball of lint that had built up underneath the bobbin case inside my machine. All it took was removing the lint and giving everything a thorough detailing to get my machine back up and running again.
I am asked very frequently which type of sewing machine I use. My machine is one I inherited from my mom two years ago, a Brother SE-350.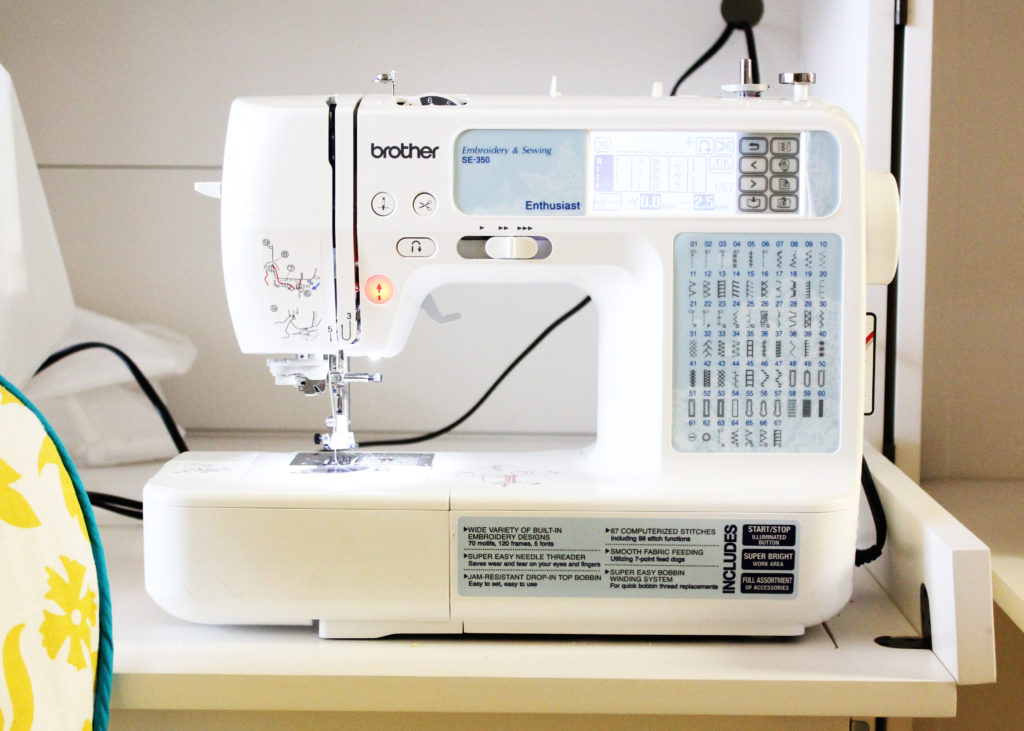 I hope you're inspired to see that just minor changes can make a big difference in the outcome of your sewing projects!
What are your best sewing tips? I would love for you to share!
Having grown up in a home brimming with sewing notions and paintbrushes, Amy has a deep love for all things creative. On any given day, you'll find her knee-deep in her latest creative endeavor, with projects ranging from sewing and crafts to home decor and kid-friendly ideas. Amy believes that everyone, regardless of skill level or experience, possesses the ability to create something beautiful, and Positively Splendid was born of her passion for helping others harness their innate creative potential.