There is something so wonderful, so magical, about awaking to a world covered in white. We weren't even expecting a snow storm when we went to bed last night, just more rain. It was quite a pleasant surprise!

I hadn't seen snow like this since we moved here from Lubbock five (!!) years ago. The flakes were giant and fluffy and wet – the perfect variety for snowballs and snowmen! The older monkeys and I ventured out together during Cecily's morning nap, and we were all like kids in a candy store. Jack and Charlotte quickly realized that the "snow" we had gotten last week was merely a ruse, and today was indeed the real deal. It was so much fun!

I think our rather anemic snowmen merit a bit of explaining. These are the result of my two "helpers" and a sleeping baby I had to run in to check in on every few minutes. 🙂
Miss Lily is five months today, and to celebrate, she took her exersaucer for a spin for the very first time. I still have a hard time wrapping my mind around the fact that she can be old enough to use this thing. She held herself up like a champ, and she really seemed to enjoy herself. I know I say this every time I mention her name, but I cannot begin to express what a blessing this baby girl is to our family. She is so affectionate, and her giggles melt my heart. She especially loves it when I undress her at night to put her in her pajamas, so much so that she will laugh and coo with delight. She is quite the talker! Yesterday during church, she decided to regale her daddy with quite the rousing little monologue. 🙂
There is nothing like a snowy afternoon to lure me into the kitchen. The kiddos and I ventured there to make a cozy snack, and in honor of Valentine's day, what could be better than cookies with a kiss? I hadn't thought of these peanut butter kiss cookies in ages. Don't they take you back to your childhood? (If not, you most likely weren't a child of the 80s. 😉 I love recipes that let the kiddos get involved, and I found this one to be perfect for just that. Jack and Charlotte loved unwrapping all of those kisses and helping me place them in the center of the warm cookies (while carefully avoiding touching the hot pans, of course).
Peanut Butter Kiss Cookies
1/2 cup shortening
1/2 cup peanut butter
1/2 cup granulated sugar
1/2 cup packed brown sugar
1 tsp. baking powder
1/8 tsp. baking soda
1 egg
2 tbsp. milk
1 tsp. vanilla
1 3/4 cups flour
1/4 cup granulated sugar
Hershey kisses
In an electric mixer, beat the shortening and peanut butter at medium speed for 30 seconds. add the 1/2 cup granulated sugar, the brown sugar, baking powder and baking soda. Beat until combined, scraping sides of bowl. Beat in egg, milk and vanilla until combined. Beat in flour. Shape dough into 1-inch balls. Roll balls in the 1/4 cup granulated sugar. Place balls 2 inches apart on greased baking sheets. Bake at 350 for 10-12 minutes or until edges are firm and bottoms are lightly browned. Immediately press a chocolate kiss into the center of each cookie. Transfer cookies to a wire rack and let cool.
(Or, if you rather, enjoy one immediately, letting the Hershey goodness ooze gloriously down your chin.)
Supper tonight was completely off the cuff (and and effort to use up some ingredients we had on hand), but it turned out deliciously. I made a corn and red bell pepper chowder with potatoes served with a loaf of crusty bread. What a perfect meal for a lovely winter day!
Corn and Red Bell Pepper Chowder
3 slices thick pepper bacon, chopped
1 red bell pepper, finely chopped
1/2 medium onion, finely chopped
2 carrots, finely chopped
1/2 cup dry white wine
2 cups frozen corn, thawed
1 cup cream
1 cup milk
2 cups chicken stock
1/4 tsp. dried thyme
2 bay leaves
1/4 tsp. pepper
1/2 tsp. salt (or to taste)
Dash of cayenne
3 medium potatoes, finely chopped
In a heavy dutch oven, heat bacon over medium-high until fat is rendered. Lower heat to medium. To pot, add onion and saute until slightly softened, about 2 minutes. Add red bell pepper and carrots, and saute until onions are golden and all vegetables are softened, about 8 minutes. Add wine, being sure to scrape up browned bits that have accumulated on the bottom of the pot. Reduce wine until it is a syrupy coating on the vegetables. Add the corn, and stir to coat. Stir in cream, milk and chicken stock, blending well. Add thyme and next four ingredients, stirring to incorporate. Stir in potatoes. Bring to a steady simmer over medium-high heat. Reduce heat to low, cover and simmer for 30 minutes, stirring occasionally, until potatoes are tender and flavors have blended.
Enjoy!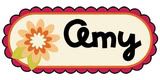 Having grown up in a home brimming with sewing notions and paintbrushes, Amy has a deep love for all things creative. On any given day, you'll find her knee-deep in her latest creative endeavor, with projects ranging from sewing and crafts to home decor and kid-friendly ideas. Amy believes that everyone, regardless of skill level or experience, possesses the ability to create something beautiful, and Positively Splendid was born of her passion for helping others harness their innate creative potential.