I have recently started receiving an abundance of reader emails asking about my blogging experience.
How did I get started?
How do I stay motivated?
How do I keep up, while also balancing my duties as wife, mother, and CEO of our household?
I know starting out blogging can be a daunting, overwhelming prospect. I can recall so vividly when I first started blogging with Positively Splendid as it is today. 
Were my projects and ideas good enough? 
Were my thoughts relevant? 
Was anyone besides my closest friends and family even reading what I had to say?
When you come to Positively Splendid, it has always been my sincerest hope that you leave here feeling as though you've just had a conversation with a friend. The blogging realm is a dynamic community, the strength of which lies in the relationships we can form with one another. If I can enlighten you about my blogging journey in a way that enables you to learn from my experiences and mistakes, we all benefit!
In the spirit of full disclosure: I am in no way a blogging expert. I honestly still feel like a total newbie at all of this, stumbling (and sometimes bumbling!) through each phase of this roller coaster experience and feeling as though I'm about to be swallowed up by the vast sea that social media has become over the course of the last few years. Between pinning and tweeting and stumbling and Facebooking, my brain often feels incapable of taking in one. more. bit. of information. I know I can't be alone in feeling this way, and I want you to know that it is okay to be overwhelmed. It is natural to feel both exhilarated and terrified when you hit "publish," waiting with bated breath to see if anyone likes what you have to share.
This series will start in earnest next week. Before then, I would love to hear:
What about my blogging journey would you love to know more about? If there is a particular topic you would like me to cover in this series, feel free to let me know, either in the comments here, or via email. Any question is fair game! I hope for this series to be a process of give and take, with the opportunity to share your own insight each week by commenting here, and possibly (if you are interested) on Facebook, as well.
I can't wait to see which topics you'd like me to cover!
Thanks so much for reading!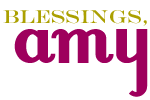 Having grown up in a home brimming with sewing notions and paintbrushes, Amy has a deep love for all things creative. On any given day, you'll find her knee-deep in her latest creative endeavor, with projects ranging from sewing and crafts to home decor and kid-friendly ideas. Amy believes that everyone, regardless of skill level or experience, possesses the ability to create something beautiful, and Positively Splendid was born of her passion for helping others harness their innate creative potential.