Christmas puts me in such a nostalgic mood. Something about the lights and the mistletoe and the festive feeling in the air always entices me to take a walk down memory lane, and it makes my heart so happy to see that my 4-year-old daughter loves to do that just as much as her mama. Earlier this week, Charlotte and I sat down at the computer together to look at dozens of old photos (she was helping me with a gift project – stay tuned for full details Monday!), and it was such a sweet moment to point out members of our family who live far away, and those she has never met because they are no longer with us. 
Truly, one of my most prized folders of photos on my hard drive, aside from those containing the precious images of my children, is one full of old photos I painstakingly scanned into my computer while making a video montage for my grandpa's eightieth birthday. To see Charlotte's face as I pointed out the faces of family members with faces made younger through the magical time machine of photography was such a joy! "Mama, that is you? You look like me! And that is Mammo? She looks like you!" This collection includes photos of my grandparents through every stage of their life together, and every time I scroll through them I have to gasp at what a treasure it is to have so many memories contained in one small digital package. If only I could sit next to my Mammo, who passed away so long ago, and hear her voice narrate the stories told by each and every one. 
The story of herself as a newlywed, only 17 years old, but embarking on the journey of a lifetime with the man she loved.
The story of her experience living in a tiny one-room house for the first years of her marriage, fetching water from the well house outside because they didn't have indoor plumbing. 
Her experience as a mom of two young girls, managing raising her children, running a household and helping maintain a farm.
What were her thoughts and feelings when this portrait was taken, just weeks before her oldest daughter (my mom) left the nest to be married and start a family of her own? A funny aside: When Charlotte saw this photo, she shrieked with shock, "Mama, why are their heads are SO BIG?!" Ah, the fashion statement that was the beehive. 🙂
I miss Mammo so much. But there is something so comforting in knowing this treasured collection of photos will always help me stay connected to her, and that it will help me narrate the story of her amazing life to my own children!
Is there a box of precious photos languishing in your basement, attic, or one of your closets? A treasure trove of memories you would like to digitally preserve to enjoy for years to come? LiveOn Rewind, a service specializing in converting old photos and videos to digital format, is offering PS readers 30% off of their services with the coupon code

HOLIDAYREWIND. 
What a marvelous way to kick of the new year: with the gift of preserved memories!
***
I hope you've had a great week, and that you'll make plans to stop in tomorrow for another Saturday 7 extravaganza!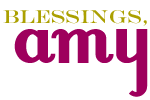 Thank you to LiveOn for sponsoring this blog post. Please LiveOn to learn more about sharing and preserving your most important memories. I was selected for this sponsorship by Clever Girls Collective. Although story ideas were provided, all thoughts and opinions are my own.
Having grown up in a home brimming with sewing notions and paintbrushes, Amy has a deep love for all things creative. On any given day, you'll find her knee-deep in her latest creative endeavor, with projects ranging from sewing and crafts to home decor and kid-friendly ideas. Amy believes that everyone, regardless of skill level or experience, possesses the ability to create something beautiful, and Positively Splendid was born of her passion for helping others harness their innate creative potential.