Janel from NellieBellie is here today to share a quick and easy craft idea inspired by the Block Party Napkins from Anthropologie. I love a good knock-off, and these napkins are so cute! 
Hello Positively Splendid readers!! I'm Janel from NellieBellie and I'm back today with an easy way to diy these napkins from Anthropologie…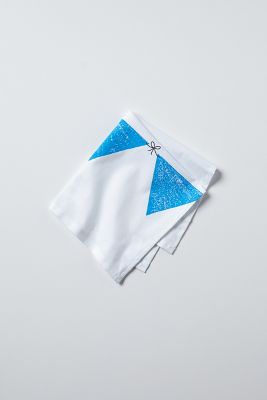 At a whopping $12.00 each I was determined to get the same look for a lot less. And gosh, isn't that a diy waiting to happen!
Before we get too far let me show you my version…
I think they are cuter, personally. But, who am I to argue with Anthro?
So, want the scoop on this easy diy? I got you covered…
You need:
white napkins (mine are cheap-o's from Wal-mart)
craft paint (I use all-purpose from Martha Stewart, love that stuff!)
black fabric marker
painters tape
a paint brush (a cheap foam brush works well!)
To Do:
First, tape off your triangles. Don't worry about being perfect.
Second, paint the triangles.
Paint them all one color if you like, or multiple color like I did here.
Third, use your black fabric pen to add your little bows and swag in between the triangles.
Wait for the whole shabang to dry and you have napkins BETTER then the original!
Note: if you used proper paint these ARE washable.
I'm so glad I was able to come back and hang with you lovely readers!! Have a great rest of June!!
Be sure to stop on over to NellieBellie and visit me…won't you!! I'll leave the tea on for you!
***
If you're looking for something delicious to nosh on while using your darling new napkins, be sure to check out Janel's to-die-for recipe for S'more Cheesecake Bites. (YUM!)
Her Lazy Baker's Petit Fours look fantastic, too. And so easy!
Having grown up in a home brimming with sewing notions and paintbrushes, Amy has a deep love for all things creative. On any given day, you'll find her knee-deep in her latest creative endeavor, with projects ranging from sewing and crafts to home decor and kid-friendly ideas. Amy believes that everyone, regardless of skill level or experience, possesses the ability to create something beautiful, and Positively Splendid was born of her passion for helping others harness their innate creative potential.