Ready or not, the last lazy days of summer are almost behind us, and soon kids will be heading back to school. Returning to the often hectic routines of busy school days can be downright overwhelming, but today, I've teamed up with El Monterey to share some of my best back-to-school tips for making the transition back into school mode as easy and stress-free as possible. With ideas for organizing, food prep, scheduling and even a few tips to make the back-to-school time full of great memories, you're sure to find some new ideas to incorporate into your own family's routine!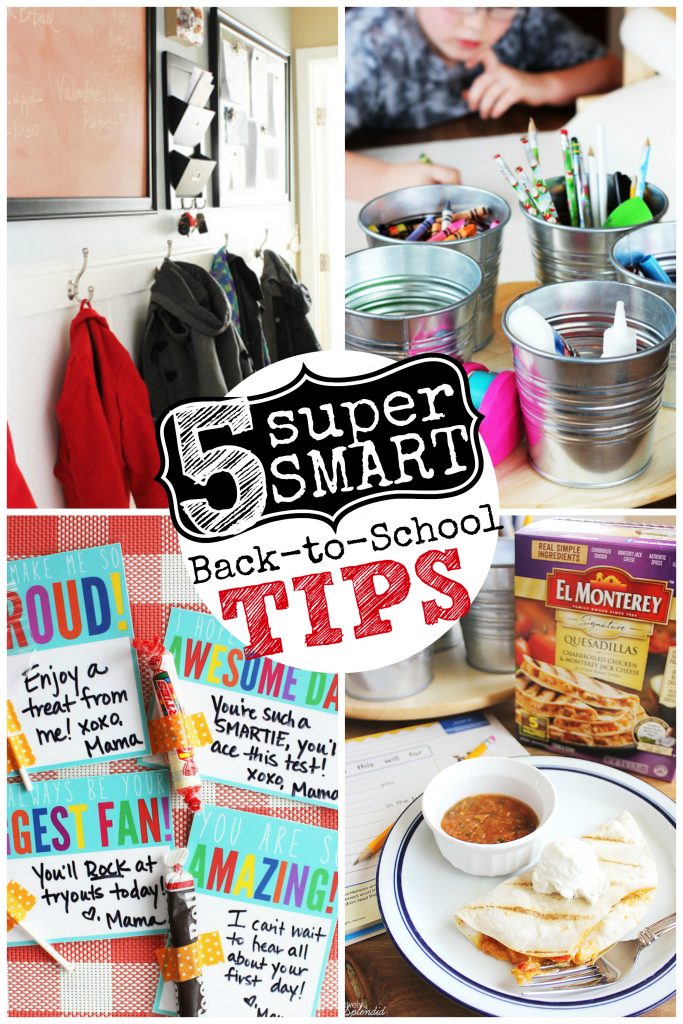 I've partnered today with El Monterey to share these helpful back-to-school tips. All opinions, as always, are entirely my own.
5 Super Smart Back-to-School tips
Tip 1: Master Your Schedule
Of all of the things that make back-to-school time the most difficult, feeling out of control of your family's schedule has to rank at the top. With four kids, I have quickly learned that an essential component of our family's overall happiness is for me to feel on top of our hectic routine. To help with this, I created what I call my Parent Command Center that lives on the counter in my kitchen. With a place to keep important papers like lunch menus and permission forms, handy tools like pens and scissors, and even our weekly dinner menu all in one place, I honestly don't know how I ever lived without this little system in my life!
Another essential that I have for managing our family schedule is this handy planner. (affiliate link) Although I always add appointments and other dates into my phone calendar to share with my husband, there is something so satisfying about seeing everything all in one place in a tangible, dynamic way.
Tip 2: Set Up for Homework Success
Transitioning kids from summer mode to school mode is tough, and one thing that is always a struggle at the start of a school year is diving back in to having nightly homework assignments. And nothing makes homework even more of a task than sitting down to finish an assignment, only to have to spend precious time attempting to find the supplies and tools needed for the task are scattered from one end of the house to the other. A couple of years ago, I came up with a life-saving idea to solve this problem: I created a Homework Command Center that lives on the counter in our kitchen, the place where my kids all sit down each day to do their homework assignments. It is so easy to put one of these together (just a lazy Susan and few containers are all you need–nothing fancy!), but I cannot say enough how much this has reduced our family's daily level of stress!
Tip 3: Get Your Home School-Ready
In both our current and our previous home, I set up a hallway organizing system that is a lifesaver all year long. With hooks to hang backpacks and jackets, as well as memo boards for hanging important papers and a chalkboard for jotting down important appointments and dates, the setup in our previous home was indispensable!
Another home-organizing essential: tackling the mounds of PAPER that accumulate through a school year! Set up a system for tackling the papers that come home with your kids before they start trickling in to ensure you don't wind up overwhelmed later on. My particular paper system is simple: I have a portable hanging file box (affiliate link) for each child that is filled with a folder for each school year, starting with Pre-K and going all the way through the 12th grade. As papers come in, I place my absolute favorites in the file for the current school year. At the end of the school year, I sort through all of the papers that have been placed in the file over the course of the year and keep about 10-15 projects and assignments that I feel best represent the child's growth over the course of the year. This "system" really couldn't be simpler, but I have found it to be the very best for this purpose.
Tip 4: Plan Ahead for Meals and Snacks
Of all of my tricks for staying ahead of the game when school is back in session, meal planning is quite possibly the one thing I do that reduces my stress level the most. With just a small investment of time at the beginning of each week, I am able to ensure that even when life gets the craziest, I won't have to ask myself at 5:00 what on earth I am going to feed this crew for supper. In my two-part menu-planning series, I shared in the first post about why menu planning is essential to our family routine, and in the second post about my 7 essential meal-planning tips, including a free printable shopping list to make staying organized simple.
On particularly busy days, I like to keep my freezer stocked with easy, yet wholesome, items that I can heat and serve in a small amount of time, but that are satisfying to eat. Our family loves Mexican food more than just about any other type of food, so the frozen burritos, chimichangas and quesadillas from El Monterey are a great option for us on nights when we want to sit down together for a delicious meal without having to spend precious time in the kitchen. I love that these products contain real, simple ingredients, like real cheese and fresh-baked tortillas!
Another thing not to overlook when menu planning: snack time! My kids are always ravenous after a long school day, so I have found it works great for us to treat their after-school snack like a fourth meal instead of allowing them to graze their way throughout the afternoon. El Monterey quesadillas are easy for my big kids to prepare for themselves (score!), and when paired with healthy plain Greek yogurt and some salsa, they are a satisfying snack that can give them brain power to finish their homework assignments.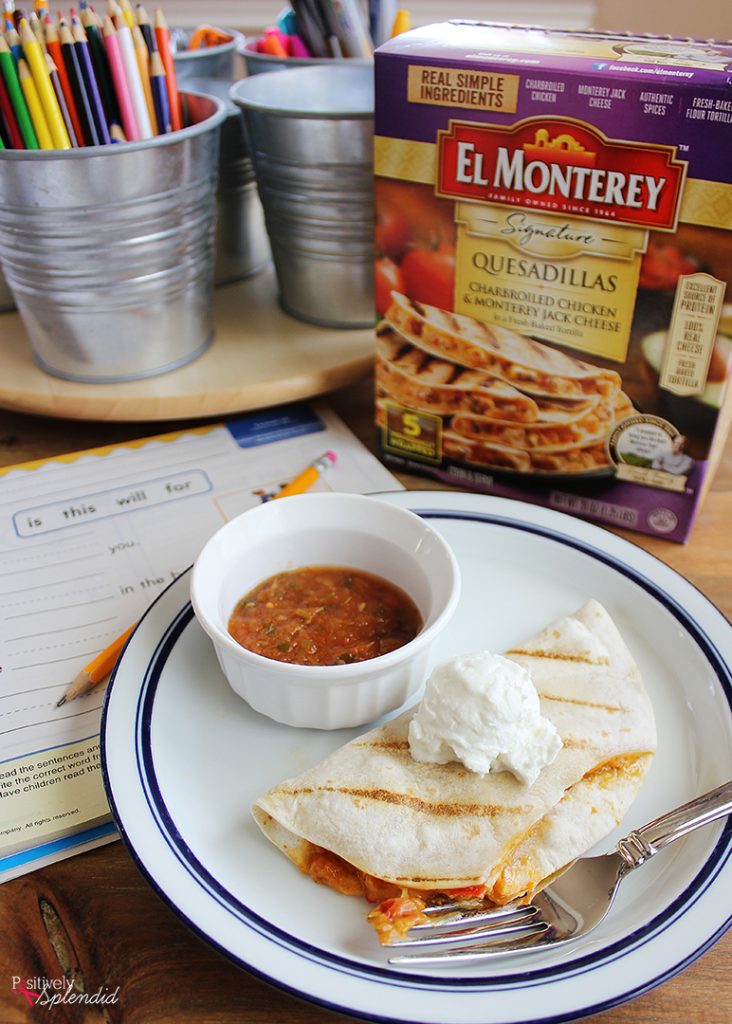 Tip 5: Make it Memorable
A saying I have heard many times over the years: The days are long, but the years are short. Never did I realize how fundamentally true this statement is until my kids started school. Time does absolutely fly by! Watching my kids grow and change year after year has helped me understand how important it is to stop and make these years–no matter how busy and hectic they might be–as memorable as possible.
A few years ago, I created some fun printable interview questionnaires for kids (available to you as a FREE download!) for kids to fill out at the beginning and end of each school year. It is so incredible over time to see how much they change in the span of a school year!
When it comes to school lunches, I also love to make things special by sending notes and treats to let my kids know how proud I am of them for all of their hard work. I created a set of reusable lunchbox notes for this purpose, and I love that these can be used again and again to give my kids an extra boost during their school day!
I hope these helpful back-to-school tips help ensure the new school year gets off to a great start for you and your family!
For even more great #momwins tips to use throughout the year, visit El Monterey on Facebook, Twitter, Pinterest and Instagram!
Having grown up in a home brimming with sewing notions and paintbrushes, Amy has a deep love for all things creative. On any given day, you'll find her knee-deep in her latest creative endeavor, with projects ranging from sewing and crafts to home decor and kid-friendly ideas. Amy believes that everyone, regardless of skill level or experience, possesses the ability to create something beautiful, and Positively Splendid was born of her passion for helping others harness their innate creative potential.