Thank you to Better Homes and Gardens at Walmart for sponsoring today's post. All opinions are 100% mine, and I am committed to sharing only terrific products that I truly love! This post contains affiliate links.
Farmhouse chic home decor is a huge design trend right now. I absolutely love that this style is a perfect way to incorporate new finds with meaningful items I've curated over the years to create a look that truly stands the test of time.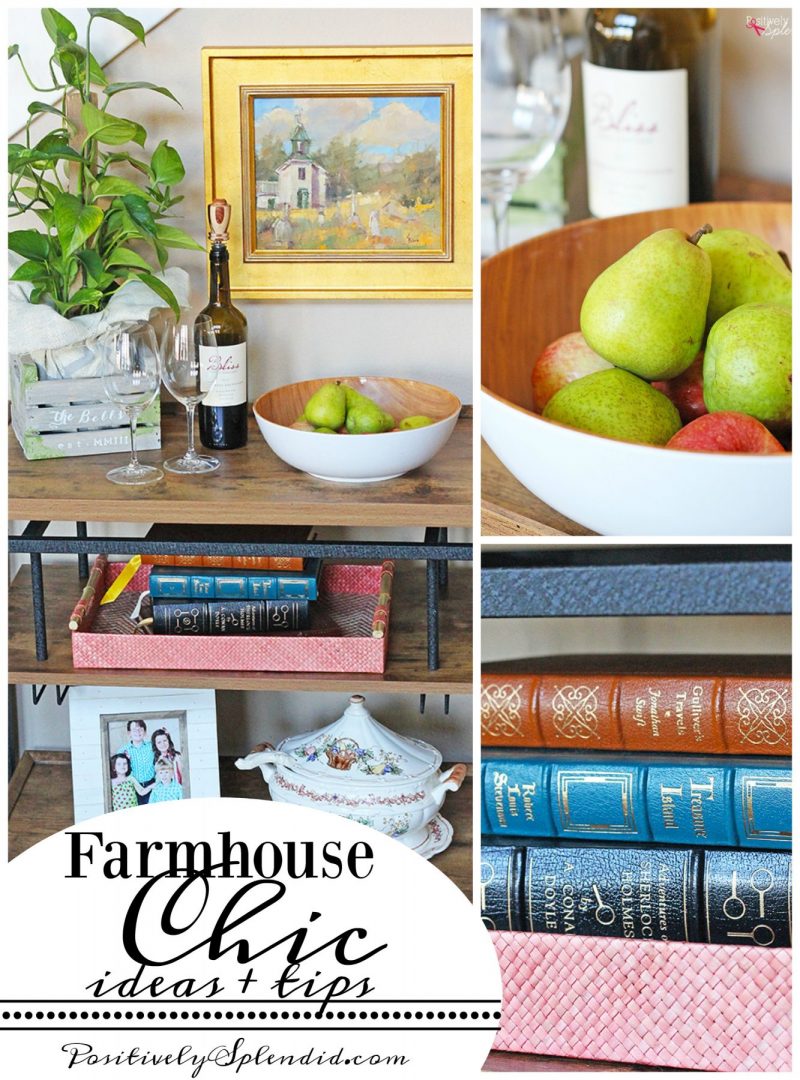 Last month, I had the opportunity to tour the Better Homes and Gardens headquarters. It was so fun to get a behind-the-scenes peek at where all of the Better Homes and Gardens magic comes together! The moment I saw the gorgeous Better Homes and Gardens Rustic Country Bar Cart in the BHG product photography studio, I knew that it absolutely needed to come reside at Chez Bell. I fell in love with its gorgeous wood grain and metal accents, and I envisioned it not only being perfect for serving food and beverages, but also for everyday decorative use in an underutilized corner of our family room.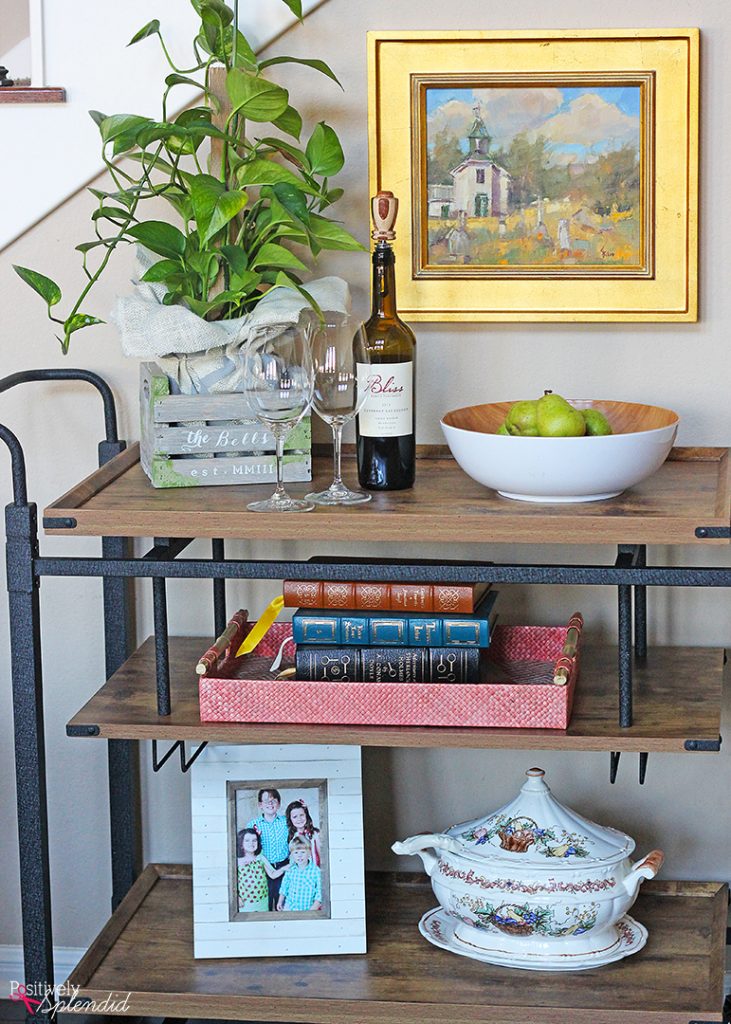 As I mentioned earlier, my favorite aspect of the farmhouse chic home decor style is the opportunity to take items I already have on hand and combine them with new finds to create an easy, stylish look in my home.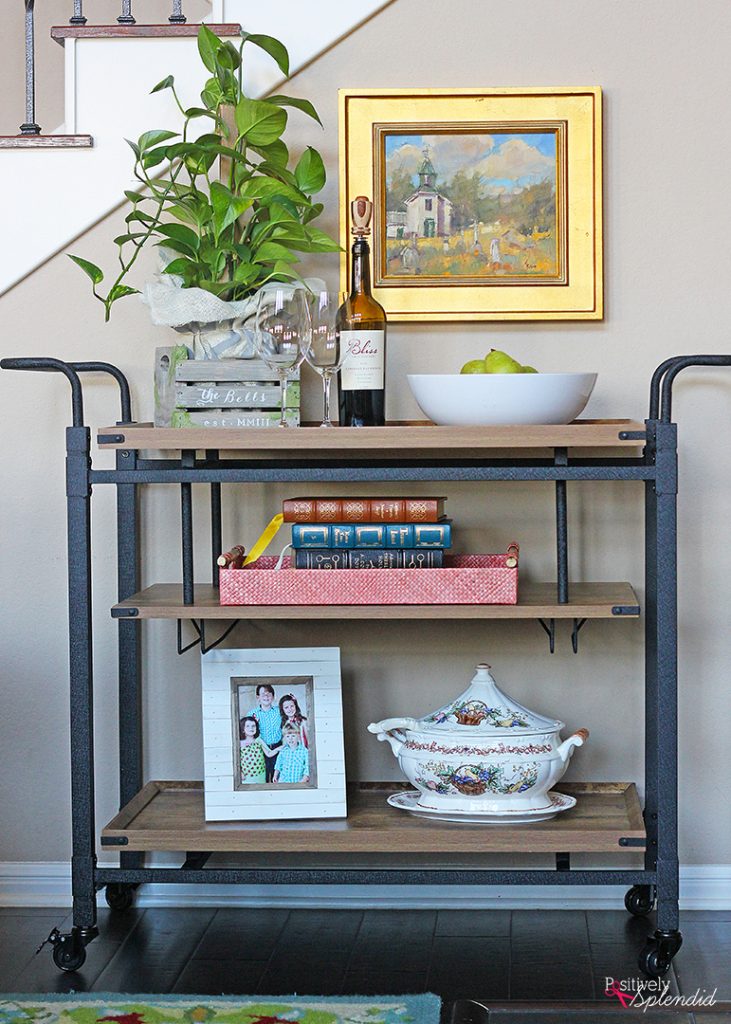 My most prized home decor possessions are undoubtedly my dad's oil paintings. Even though Dad passed away earlier this year, I feel a part of him is always with me when I see his works of art adorning the walls of my home. I continue to learn life lessons through his art every single day! This particular piece is done of a church just down the road from my parents home in New Mexico. When Dad was so sick with prostate cancer, I would go visit to help care for him, and every day I would take a run down the country roads near their home to clear my mind. This abandoned church was one of the places I passed each time, and it became a truly sacred place to me at that very difficult point in my life. And so, when I found this painting recently in my dad's studio, I immediately knew I would treasure it always!
Having an art piece to anchor the scene of any home decor display really imparts a sense of balance and movement, as well as telling an interesting story. Great places to find original pieces of art are thrift stores, flea markets and yard sales. It is amazing the things you can find with a bit of legwork!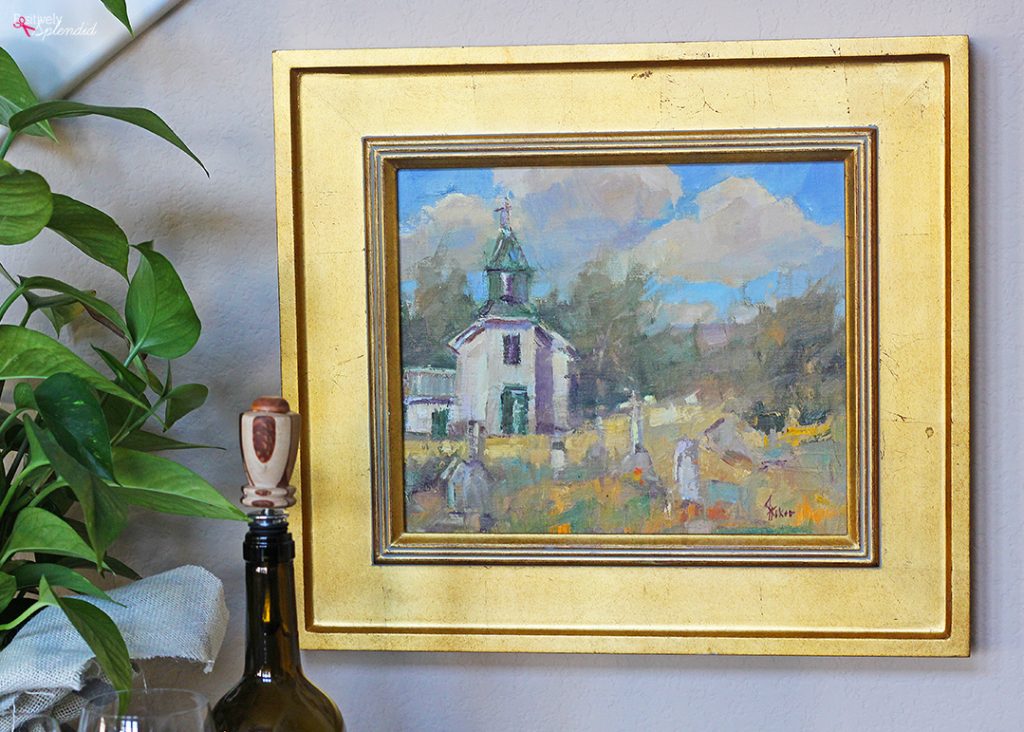 Another of my decorating obsessions: gorgeous books! These volumes were in my parents' library until my mom gave them to me earlier this year. I love the gold leaf detailing on the cover and pages. So elegant!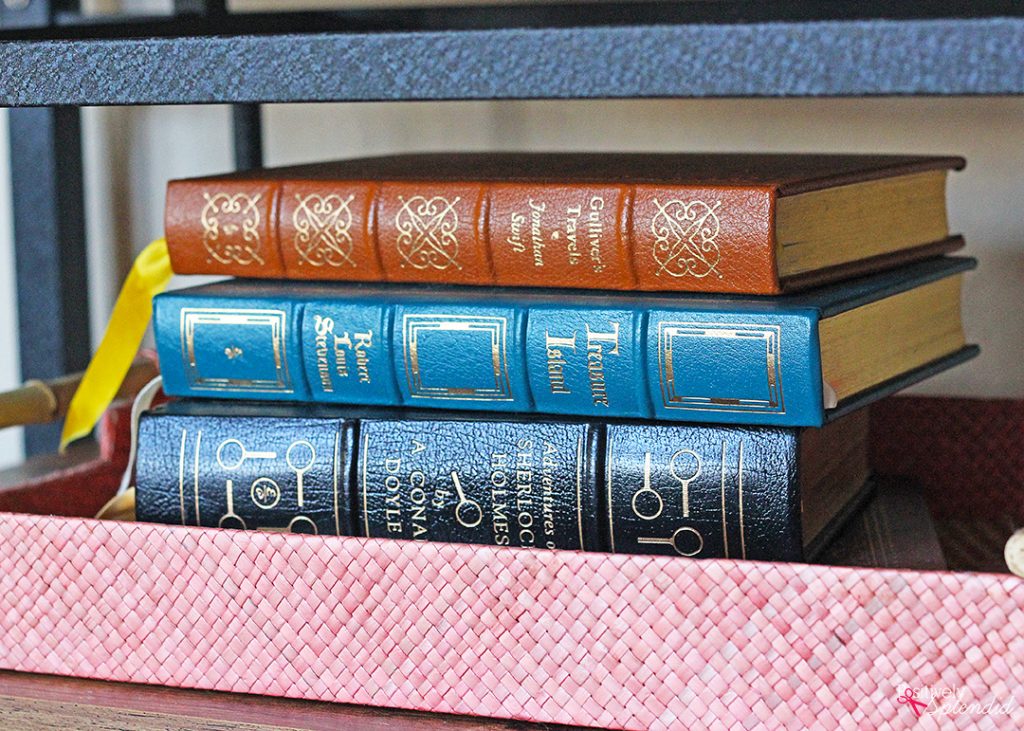 A dear family friend gave this antique hand-painted soup tureen to us when my husband and I married, and I think it looks lovely displayed on the bottom shelf. With the farmhouse chic home decor look, it really is possible to take everyday items like plates, glassware and more, and turn them into stylish decor elements.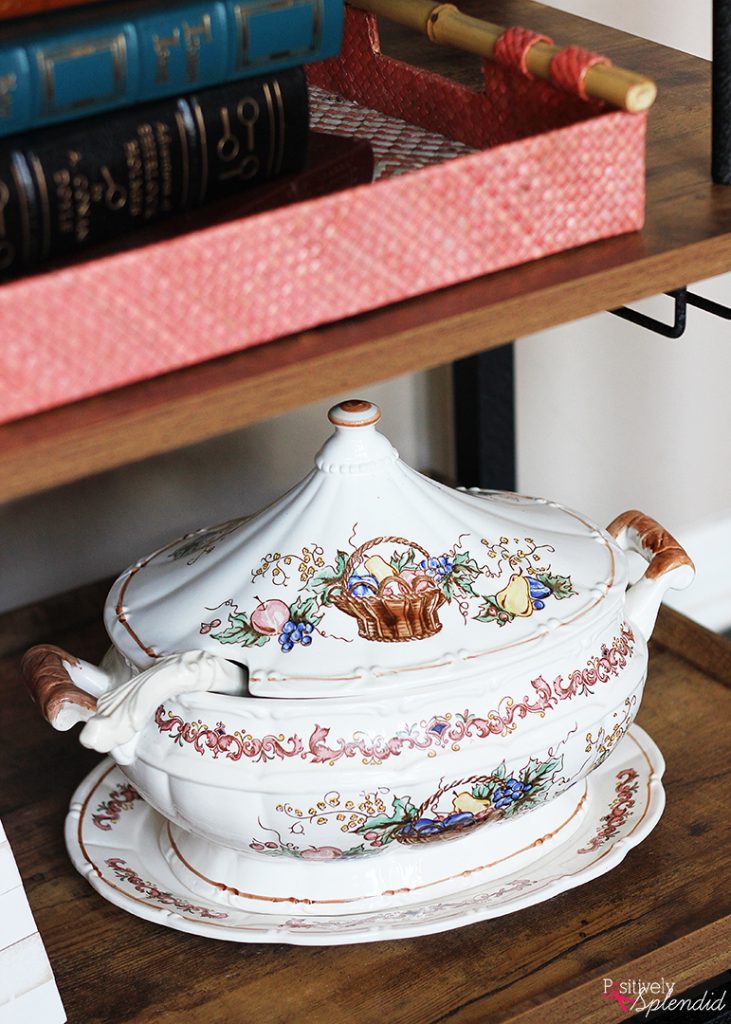 The DIY barnwood crate from my rustic barnwood centerpiece is another item I already had on hand that looks perfect placed on the top shelf of the cart. Instead of filling the crate with flowers, I opted to add a pop of green to the mix with a pretty house plant.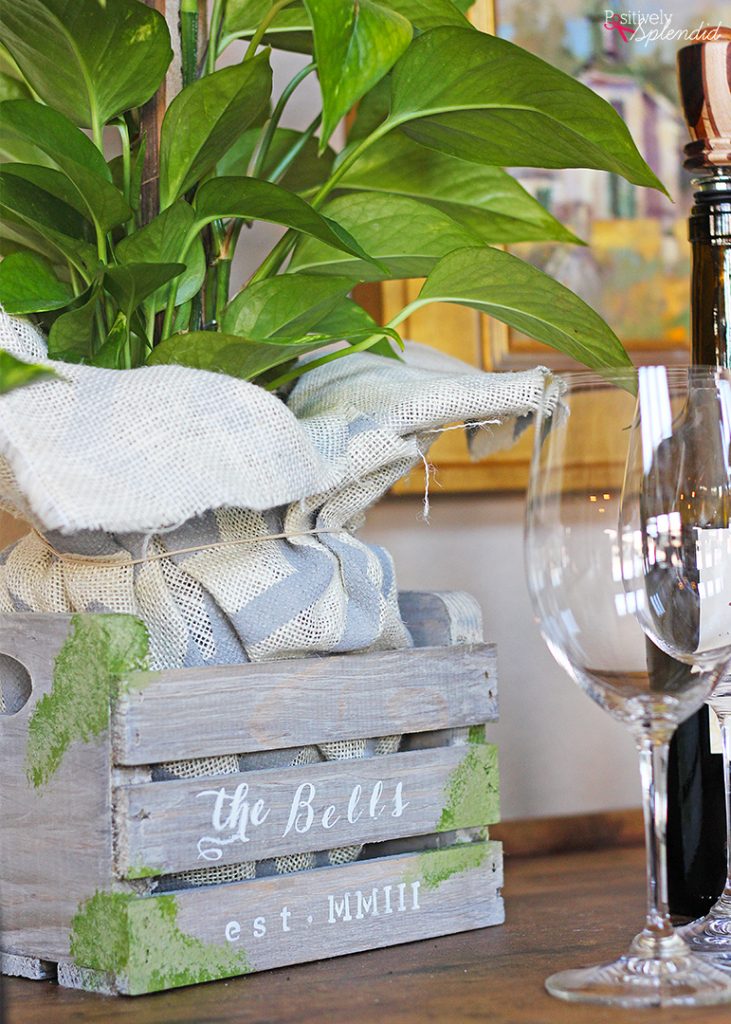 I had a great time finding some other new elements for this display, too, to combine some fresh items with my tried-and-true favorites! This rustic-chic Better Homes and Gardens Oracoke Soft White Picture Frame is a perfect way to bring farmhouse chic appeal into a home, and it adds a pop of personal character to this display.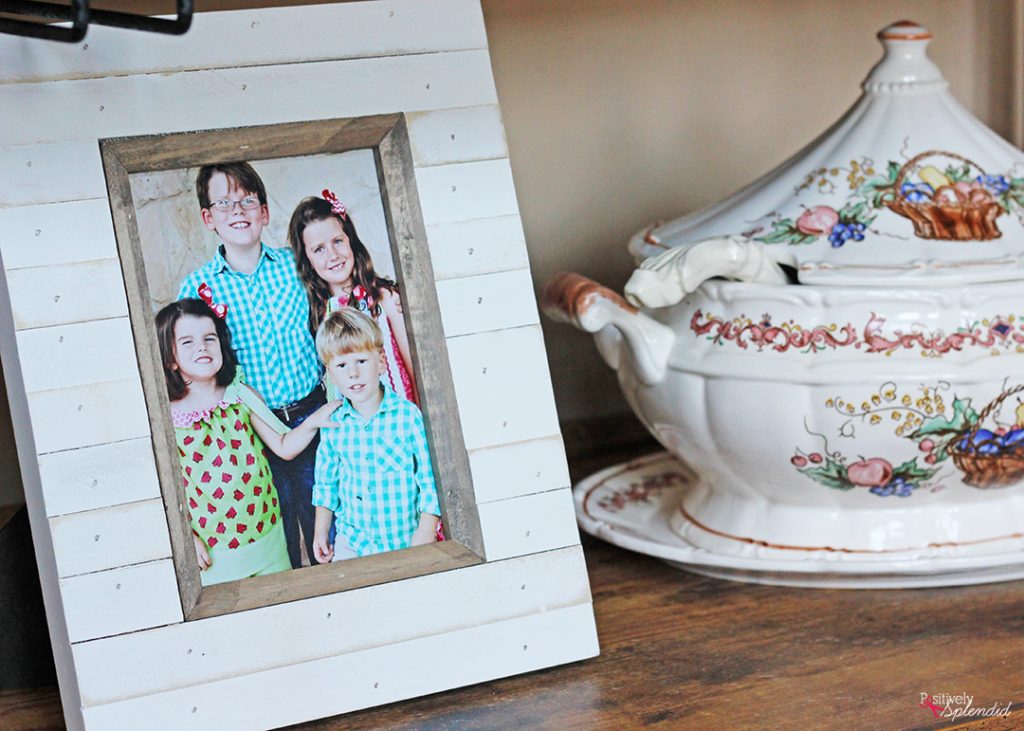 One of my favorite DIY decorating secrets for adding a pop of color without breaking the bank: fruit! This Bamboo Print Serving Bowl from Better Homes and Gardens at Walmart is one of my new favorites. I love that is combines the look of rustic wood with a modern dose of crisp white, and it looks lovely filled with fresh apples and pears.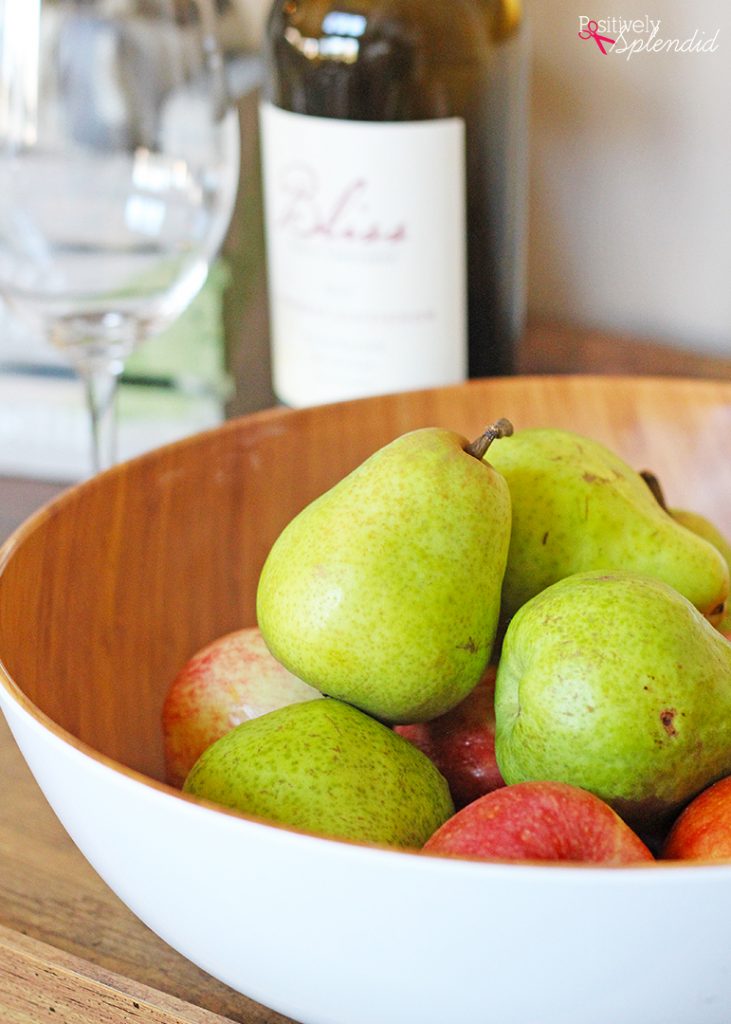 Altogether, I can't say enough how thrilled I am with the punch of style this bar cart display has added to our family room! And in looking to the months ahead, I know that the casters on the cart will make it indispensable in all of our holiday entertaining, whether it be to hold extra platters and plates during large family meals in our dining room, or to house a cocktail station during festive gatherings with friends.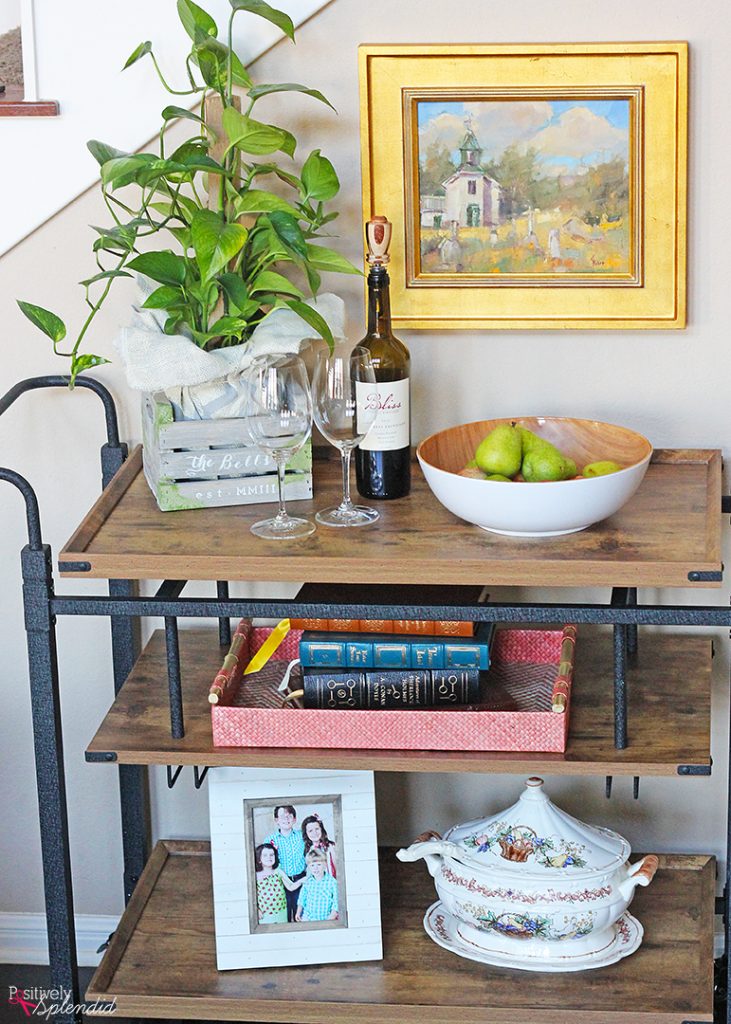 You can always find Better Homes and Gardens products in Walmart stores, but there is a huge assortment of products online at Walmart.com/BetterHomesandGardens. So with just a click, the styles, colors and sizes you need are right at your fingertips!
For more inspiration, visit Better Homes and Gardens Live Better on Facebook, Twitter, Instagram and Pinterest!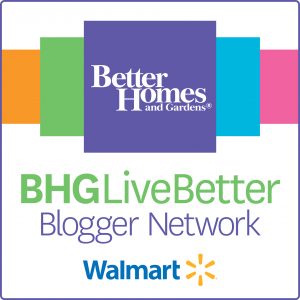 Shop back to school cyber rollbacks in clothing, backpacks and more at Walmart.com!
Having grown up in a home brimming with sewing notions and paintbrushes, Amy has a deep love for all things creative. On any given day, you'll find her knee-deep in her latest creative endeavor, with projects ranging from sewing and crafts to home decor and kid-friendly ideas. Amy believes that everyone, regardless of skill level or experience, possesses the ability to create something beautiful, and Positively Splendid was born of her passion for helping others harness their innate creative potential.