Looking for an entertaining, easy kids' craft project to make this summer? Barefoot sandals are not only great fun to make, they are also a blast to wear! Made with beads and stretch cords, these "sandals" slip onto the foot to give the look of wearing shoes when you are actually barefoot. This project is suitable for kids of all ages, and most kiddos probably won't have any idea that as they are crafting up fun new barefoot sandals to don at the beach or pool, they are also honing very important fine motor skills! Read on for all the details.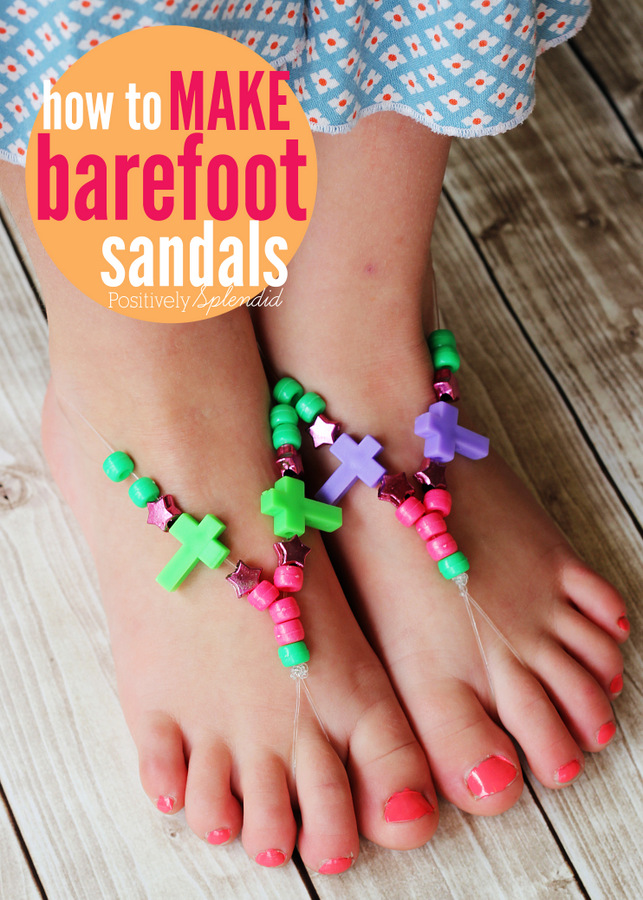 For this project, you will need…
1 mm elastic cording
Assorted craft beads: pony beads, cross beads, star beads, letter beads
Scissors
Directions:
For each pair of sandals, cut (2) 24-inch lengths of the elastic cording.
Fold 1 of the cording pieces in half, and tie a double knot and the folded end, creating a 1" loop on the folded end of the piece.
Slip 3 pony beads over the 2 free tail ends of the piece.
Separate the 2 tail pieces from one another, and slip an additional 6-7 beads onto each tail.
Repeat with the other cording piece.
Have the child sit on a chair, with his or her feet flat on the floor. Fit the loop of one of the sandals onto the child's second toe, and wrap the loose tail ends around the back of the child's ankle. Tie a knot on the back of the child's ankle, pulling gently to ensure the sandal doesn't slip off when worn. Trim any extra cording length close to the knot. Repeat with the other sandal.
To put on the sandals, first slip the large loop around the foot and then around the ankle. Pull the small loop forward and around the second toe.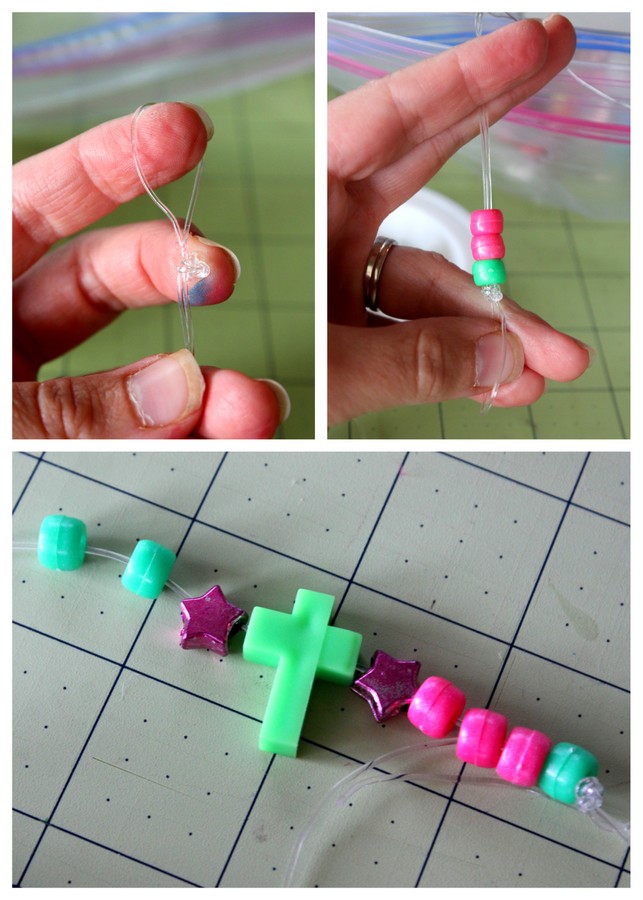 These sandals are a terrific VBS kids' craft, since it can be made using just two simple supplies and it appeals to and is achievable by a wide range of ages. (This is actually a craft we are doing at our own church's VBS this week!)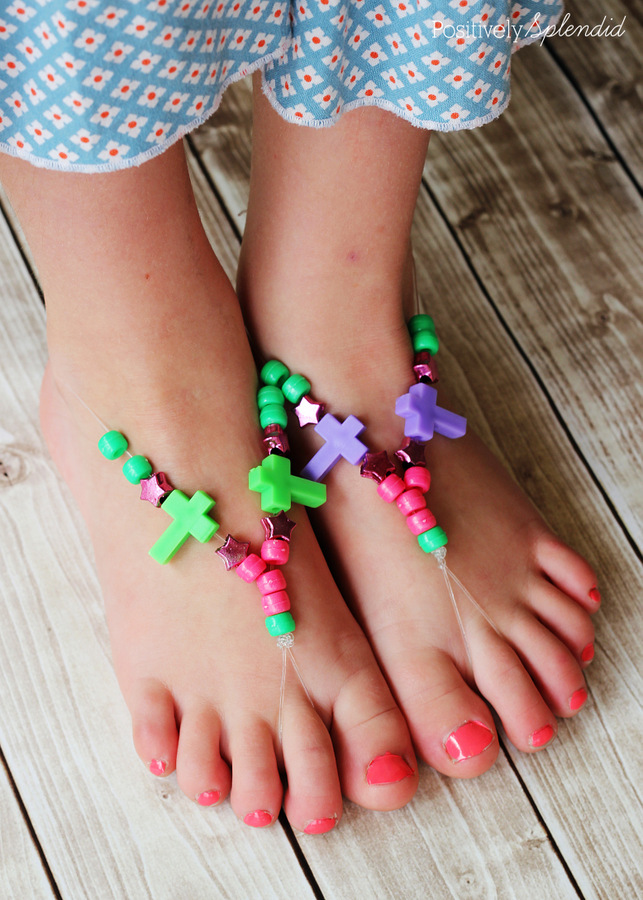 I think a pair of these made with chic and romantic beads and pearls would be the perfect foot attire for a beach wedding!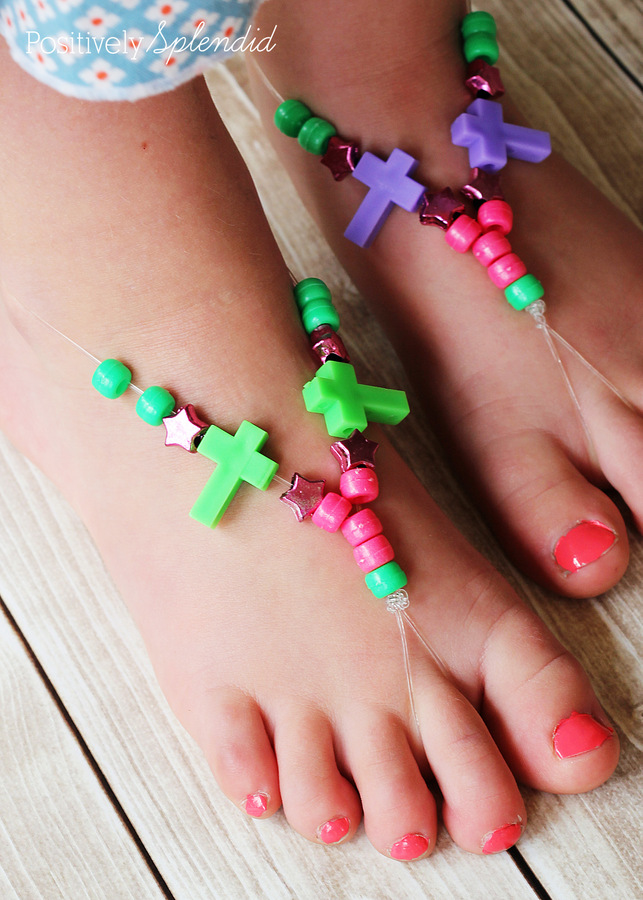 My daughters and son both enjoyed this craft project, and I love that it is easily tailored to a child's tastes by allowing them to mix and match bead colors and types. There are so many possibilities here!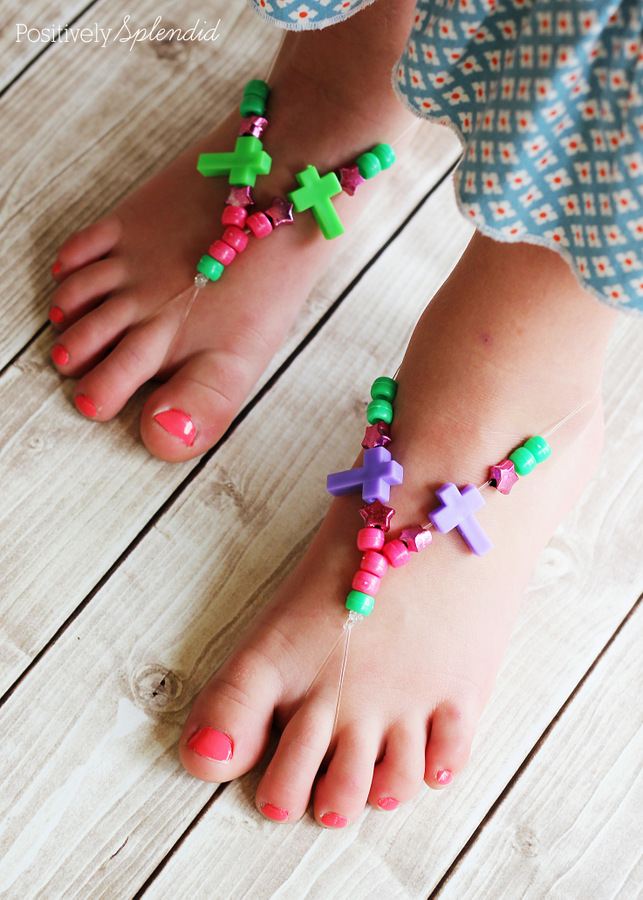 Thanks so much for stopping in!
Having grown up in a home brimming with sewing notions and paintbrushes, Amy has a deep love for all things creative. On any given day, you'll find her knee-deep in her latest creative endeavor, with projects ranging from sewing and crafts to home decor and kid-friendly ideas. Amy believes that everyone, regardless of skill level or experience, possesses the ability to create something beautiful, and Positively Splendid was born of her passion for helping others harness their innate creative potential.