Happy Presidents' Day, everyone!
With many school-aged kids enjoying a day off, I thought today would be the perfect opportunity to share a project that enables children to use their creativity to benefit others! 
Books are the most crucial part of any child's educational foundation. Sadly, there are all too many kids who lack a home library, even one containing one or two titles. Why not take some time out today to create a personalized (no-sew!) book tote with your children and fill it with books from your collection that you no longer read? Then, you can head out to a local battered women's shelter, a children's hospital, your church or another place after the books are gathered to deliver the joy of reading to a child staying there!
There is no need to purchase any fancy inkjet fabric sheets for this project, although if you already have those on hand, feel free to use them. For our bag, my daughter and I used the same method for printing on fabric that I used in my Custom Twill Ribbon tutorial. Here is how we did it:
To start, ask your child to draw a picture of him- or herself enjoying a book with a friend on a regular sheet of 8.5 x 11-inch paper. Once the picture is complete, scan the artwork into your computer and save it as a jpeg file. (If you don't own a home scanner, you can take pictures to your local copy store, where they can do this for you.) 
To transfer the picture onto fabric to adhere to the tote, start by cutting a piece of

white canvas fabric

to 8.5 x 11 inches. Cut a piece of

freezer paper

to the same dimensions. Using a dry iron on a cotton setting, adhere the freezer paper to the back of your canvas piece, making sure to the place the shiny side of the paper against the fabric. By backing the fabric with the freezer paper, you will now be able to feed it through your inkjet printer. Cool!
Now, print your scanned picture onto your paper-backed fabric piece using normal ink settings. Make sure to place the fabric piece into the printer tray so that the image will print on the fabric side of the piece as it feeds through rather than the paper side. Once the image is printed, peel away and discard the freezer paper.

 If desired, use 

pinking shears

 to trim the edges to minimize fraying. 
Center the printed fabric image onto the front of a store-bought canvas tote. Adhere the image to the tote using iron-on 

fusible web tape.

Your bag is finished!
Once your bags are finished, take an hour or so to sort through your book collection with your kids, and explain to them that there are some children who don't have books to read. Have them personally choose 3-4 books to place in their totes to give to a child in need.
Terrific places to consider donating the filled bags are battered women's shelters, local schools, your church, the Salvation Army, or children's hospitals.

 A nice idea when dropping off the books is to tuck a little piece of paper inside containing the address and information for your local library so the recipient can use their new tote when they go check out even more books to enjoy!
If you enjoyed this idea, share it on Pinterest to refer to later on! Do so easily by clicking on the link below.
Pin It
Thanks so much for making me a part of your day!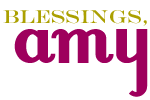 Having grown up in a home brimming with sewing notions and paintbrushes, Amy has a deep love for all things creative. On any given day, you'll find her knee-deep in her latest creative endeavor, with projects ranging from sewing and crafts to home decor and kid-friendly ideas. Amy believes that everyone, regardless of skill level or experience, possesses the ability to create something beautiful, and Positively Splendid was born of her passion for helping others harness their innate creative potential.