Throughout November and December, some of my favorite blogging friends have stopped by Positively Splendid to share some of their best holiday ideas in the third annual Swell Noël series. You can stay up-to-date on all of the fantastic ideas shared throughout the series by following the Swell Noël 2013 Pinterest board, and also by following the #SwellNoel hashtag on Facebook, Twitter, Google+ and Instagram. Janel from NellieBellie is here today to share a darling last-minute gift idea perfect for neighbors, co-workers, friends and more!
Hi! It's so lovely to be here! I'm Janel from NellieBellie…
It's so great to be here as part of the holiday inspiration at Positively Splendid! It's getting pretty close to Christmas and if you are like me—you need some last minute gifts! I am usually pretty good at having a stash of fudge, toffee, or coffee syrups on hand over the holidays. Just in case. But, I also keep a set or two of these little Bottle Cap N' Wrap's around. They are quick and easy to make and seriously adorable!!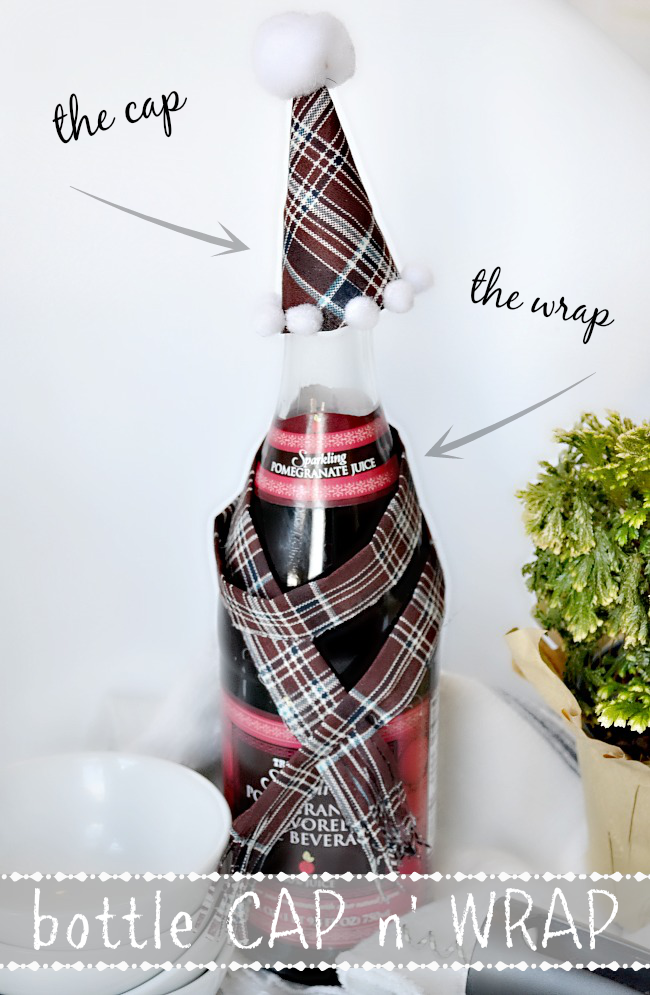 To make your own Bottle Cap N' Wrap you need some simple supplies:
Materials:
fabric
scissors
fabric glue
pom poms…if desired
Note: You can customize the fabric to your hearts content! Use up some old plaid shirts, a wool sweater on its way to the trash–whatever you have on hand!
1- For the scarf –simply cut a strip of fabric (long enough to wrap around the bottle a couple times) and use your scissors to cut a fringe. If you like…when you wrap the scarf around the bottle you can cut a slit in the scarf to allow it to be pulled through itself.
2- For the hat…start with a triangle.
3- Shape the triangle into a cone and use fabric glue to close the seam.
4- Use fabric glue to stick a pom pom to the end of your cone. Be sure to press down well.
Now you have a Cap N' Wrap for your bottle! You can take these basic instructions and personalize them to your heart's content! Add a monogram, knit the scarf yourself, put a ribbon fringe on…the possibilities are endless!
And… how cute would it be to give a bottle and include a set of wine glasses with their own mini scarves? So cute!
Thanks for having me! I wish you all a wonderful, happy, joyous, loud, and colorful Holiday Season!! Be sure to stop over to NellieBellie when you get time in between your fun! And, of course…be sure to stay around Positively Splendid for more great ideas!
Janel's blog is brimming with creative, accessible, and oh-so-clever ideas!
Connect with Janel:
Having grown up in a home brimming with sewing notions and paintbrushes, Amy has a deep love for all things creative. On any given day, you'll find her knee-deep in her latest creative endeavor, with projects ranging from sewing and crafts to home decor and kid-friendly ideas. Amy believes that everyone, regardless of skill level or experience, possesses the ability to create something beautiful, and Positively Splendid was born of her passion for helping others harness their innate creative potential.