Have the decorating itch but not a boundless budget for beautifying your space? Today I am sharing a few home decorating tips that will help you utilize what you already own to achieve the looks you love, all while sticking to even a tight budget. Hopefully you'll be inspired to see the latent potential in the items around your house!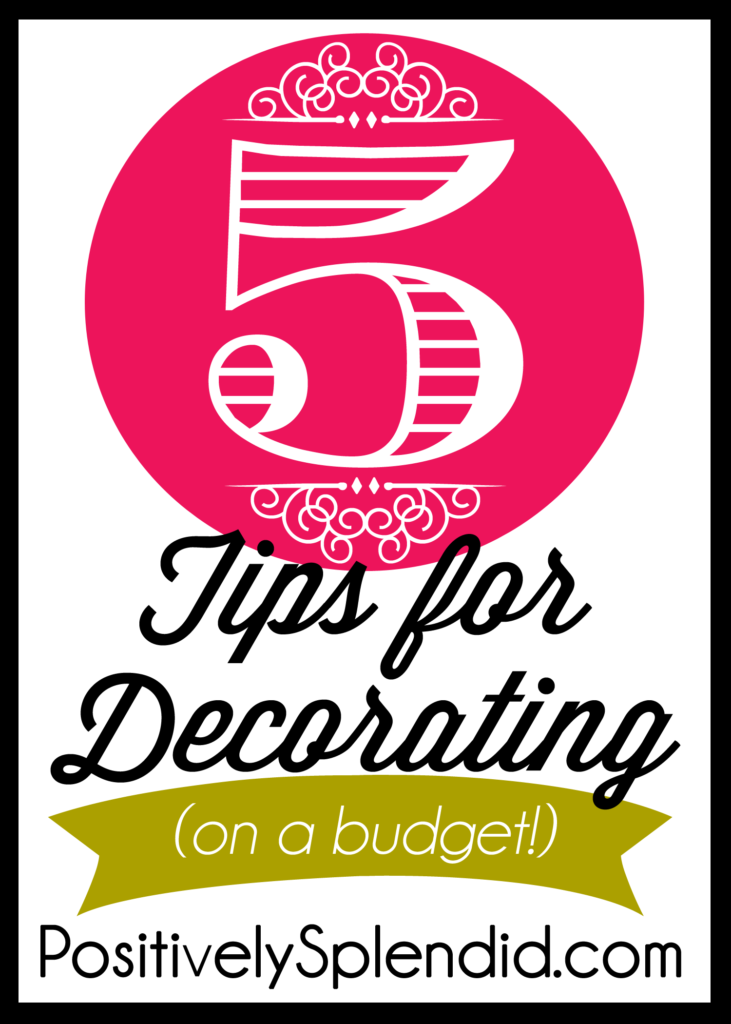 I am a shelter magazine junkie, having a subscription to just about every home and DIY magazine you can think of. Scouring those beautiful pages never ceases to leave me with an abundance of inspiration, but unfortunately, as my ideas mount, my decorating budget doesn't grow accordingly. (I wish I could figure out a way to make that happen!) What I have discovered over time, though, is that when it comes to decorating, there is plenty that can be done by taking a fresh look at the objects I already have in my home. Read on for my 5 tips for utilizing what you already own in your home decor.
1. Use practical items in unexpected ways.
Consider ways you can incorporate the practical items you have in your home into your decor. It is likely your kitchen is filled with items with great decorating potential! Serving pieces like plates, platters, pitchers and other similar objects can really make a great statement when displayed in unexpected places. 
When we married, my husband and I were fortunate enough to receive various place settings of beautiful china. Unfortunately, four kids later, those pieces rarely see the light of day, except for on very special occasions. As I was planning my spring mantel last year, it dawned on me that my china pattern would make for a really lovely display, so I took that idea and ran with it! Salad and dinner plates, cups and saucers and a sugar and creamer set look really stunning displayed in a fresh way, and this allowed me to enjoy those items when they would otherwise be stowed away in my china cabinet. 
2. Think outside the box.
The items you have on hand might seem boring at first glance, but taking time to think of fresh, creative ways to display them can reveal a wealth of possibilities! The blogosphere abounds with forward-thinking ideas to breathe new life into old objects, like this stunning layered frame gallery wall at Living with Lindsay.
For my outdoor decor each year, I create a tiered planter with three pots of ascending sizes nestled within one another. On their own, these pots would be entirely humdrum and nothing at all special, but by displaying them in this unique way, they really make a statement on my front porch!
3. Remember the transformative power of paint.
There is absolutely nothing that can make as big of an impact as a fresh coat of paint. When you are tempted to head out to purchase an accessory or furniture piece, do yourself a favor and take inventory of what you already have sitting in your home. Chances are, there is a diamond in the rough right under your nose that will suit your decor needs perfectly if it is just given a thorough paint treatment!
When I was on the prowl for a shelf to place in my son's nursery, it dawned on me that an old, outdated laminate bookshelf we had languishing in our garage was just the right size for the space. With a few coats of paint and a bit of textured wallpaper, it became a sweet little focal point for the room. (You can check out the details of the process here.) In fact, once I saw the huge impact produced by that minimal effort, I also painted one of our old end tables in the same shade of grey to match. Few would ever guess at first glance that those two mismatched pieces didn't start off as a set, and the money I saved by not buying two brand-new pieces enabled me to purchase a cozy upholstered rocker for the space instead!
4. Don't throw it out.
As crazy as it might sound, sometimes an object that would otherwise wind up in the recycling bin or the garbage is brimming with potential. Case in point: See the decorative storage bins on the bookshelf pictured above? Those started off life as a lowly pair of diaper boxes! (I share the process for how I made them here.) There is so much that can be done with cans, boxes, bottles and such. Consider ways to utilize these to maximize their decorative potential.
And, finally, when you do head out to shop…
5. Make intentional, thoughtful purchases.
When your decor needs necessitate something in particular that you don't already have at home, head out to shop with purpose. I have found that impulse-buying an item here and an item there tends to leave my home filled with things that I don't strongly connect with. If you need a new pitcher, for instance, look into buying one that suits your design aesthetic so that you can fill it with fresh cut flowers to display on your kitchen table when it isn't in use for its conventional purpose. 
When you do see an item that really makes your heart skip a beat, though, by all means – buy it! Being an intentional shopper really makes the thrill of a great find that much sweeter, and it just so happens I experienced that very thing last spring when I fell in love with this funky little ceramic pig from Home Goods. 🙂
What are some of your best tips for utilizing what you already own in your home decor? I would love to hear!
Having grown up in a home brimming with sewing notions and paintbrushes, Amy has a deep love for all things creative. On any given day, you'll find her knee-deep in her latest creative endeavor, with projects ranging from sewing and crafts to home decor and kid-friendly ideas. Amy believes that everyone, regardless of skill level or experience, possesses the ability to create something beautiful, and Positively Splendid was born of her passion for helping others harness their innate creative potential.