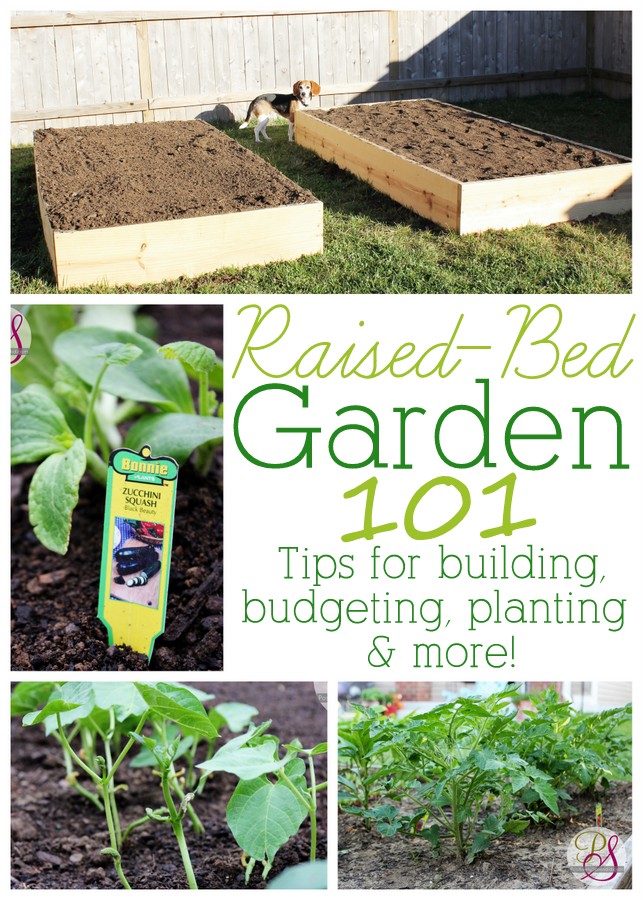 In January, I shared my 12 major DIY goals for 2012, with a different project designated for each month of the year. So far, things are going great! I shared earlier this month the Hallway Command Center I created to fulfill my February goal (a board and batten hallway), and this weekend, the fam and I wrapped up the construction portion of my March goal, a raised vegetable garden. It feels so good to be ahead of schedule!
Confession time: I have never had any success with gardening. My husband loves to refer to my "black thumb," and I have to admit that in the 8+ years we've been married, that has been a fairly apt description of my gardening prowess. This year, though, I am determined to do things right, and I have found so many incredibly helpful resources to help me along the way! Today I thought I'd pass along a few of the resources that I've found particularly helpful in the planning process.
The Construction Process
This tutorial

from The Pioneer Woman was the springboard as we began to plan the construction of our beds. We did things slightly differently than is detailed in that tutorial, opting for 2×12's in lieu of stacked 2×6's, but overall, the basic process was the same. For each of our beds, we used #2 Southern Yellow Pine (avoid pressure-treated lumber here, as it is laden with chemicals that certainly don't belong in one's food supply) cut to the following dimensions:
(2) 2×12's at 8 feet
(2) 2×12's at 4 feet
This means our finished beds are 8 feet by 4 feet, which I hope is more than enough space to grow a garden sufficient for our family. If we discover after this summer that we need more space, we'll build an additional bed (or two) next year.
One thing we did that the tutorial linked above didn't mention was to add 2 L-shaped brackets to each of the corners of our beds. This helped immensely in squaring up our boxes and making sure our they were nice and secure.
After the boxes were built, it was time to fill them with dirt! I used this calculator from Gardener's Supply to figure out how much we would need. It takes a LOT! We opted to purchase our soil in bulk instead of buying bags, since it would've taken about eleventy thousand bags to do the job. We called our local nursery and placed our order, and they delivered it within a couple of hours. I imagine our neighbors thought we were totally bonkers when they drove by and saw this in our driveway:
But after a few hours of scooping, hauling and smoothing…
…this was our result!
(Even Maggie the wonder Beagle was so proud, she had to pose for a picture. 😉
Our beds are now built, filled and ready to welcome their very first crop!
Planning Our Garden
Now that our beds are ready to go, we can get started on the fun part: planning exactly how to fill them! The

Garden Planner section at Gardener's Supply

really is unrivaled in terms of its user-friendliness. You simply input the size of your garden, and the garden-building tool will let you pick and choose the different items you want to plant, telling you how much of each type of plant your garden can accommodate. Once you've chosen your plant types, the site automatically includes planting instructions for each type.
Here is a mock-up I made of one of our beds using their system. With square-foot gardening techniques (read: one type of plant per square foot), it is incredible how much you can grow in a relatively small amount of space!
Even easier, you can choose their pre-planned gardens that do all of the planning and plotting for you. So handy!
Another great site I came across recently that I have yet to really explore at length is SproutRobot.com. I love the idea of being able to enter your zip code for personalized planting instructions delivered straight to your inbox!
The Bottom Line
I'll be honest: This has not been an inexpensive endeavor. I am quickly discovering that building raised beds like this should be considered an investment that pays for itself over the course of two to three seasons and not immediately.
Here's a breakdown of what we've spent so far:
$100 for building supplies (Lumber, L brackets, stakes, screws, etc.)
$150 for 2.5 cubic yards of gardening soil and delivery
Time investment: 8+ hours of labor
It is possible that with some sleuthing, these supplies could be purchased at a smaller cost. Obviously, smaller beds will result in lower costs, based on the amount of supplies and dirt necessary. If you are thinking of building your own raised-bed garden, I encourage you to weigh all of your options and pick the best possible options for you!
***
Read more about our vegetable garden journey:
Having grown up in a home brimming with sewing notions and paintbrushes, Amy has a deep love for all things creative. On any given day, you'll find her knee-deep in her latest creative endeavor, with projects ranging from sewing and crafts to home decor and kid-friendly ideas. Amy believes that everyone, regardless of skill level or experience, possesses the ability to create something beautiful, and Positively Splendid was born of her passion for helping others harness their innate creative potential.