Around here, I am in full Creative Estates planning mode. I can't believe I leave tomorrow! In typical last-minute fashion (read up in this post for the full lowdown on my procrastinating ways), I decided yesterday one of my outfits needed a little "something." And thus the idea for these flowers was born!
These are a quick-and-easy project that is totally doable in a half hour or less. I just love the juxtaposition of the felt and burlap textures here!
For this project, you will need…
Burlap
Felt in various colors
Thread
Hot glue
Pin backs
Basic sewing supplies: machine, shears, etc.
Prep Work
Cut out your fabric strips. For each flower, you will use the following dimensions:
Large flowers: 
1 center piece, cut to 2 x 5 inches
1 petal piece, cut to 3 x 12 inches
Small flowers:
1 center piece, cut to 1.5 x 3.5 inches
1 petal piece, cut to 2.5 x 8 inches
Note: Be sure to cut 1 piece from each fabric type for each flower. For example, if your center piece is felt, make sure to use burlap for the petal piece, and vice versa.
step

1

/ Fold your petal piece in half lengthwise, and, using a 1/8-1/4″ seam, sew the open side shut. Use your shears to snip your pieces, as shown, cutting as closely as possible to your line of stitching as you can without cutting any of your stitching. Note: For large flowers, make snips about 1/2″ apart; for small flowers, make snips about 3/8″ apart.
 step
2
/
Take your center piece and dab three dots of hot glue along one of the long edges, as shown. Fold the piece in half lengthwise, and press. Starting at one of the narrow ends, start rolling your piece up. When you get to the end, place a dab of hot glue at the end to secure your roll.
 

step

3 /
 Across the seam where your roll is glued together, place a small line of hot glue along the raw (unfolded) edge of your rolled piece. Starting at this point, adhere the end of your petal piece and start wrapping it around your center piece, adding small dabs of hot glue every so often to keep things nice and secure. When you get to the end of your petal piece, secure the end with a dab of hot glue. 
step

4

/
Complete the above steps until you complete your desired number of flowers. Then, place a generous amount of hot glue on the back of each flower, and adhere it on top of a piece of felt. Trim away the excess felt so that none of it is visible from the front of your flower. Adhere one of your pin backs to the felt backing with hot glue.
All done!
Note: To complete my look below, I actually pinned three individual brooches in a cluster.
These flowers would also be great for a number of purposes: wearable items, home decor items, and so much more. Be sure to check back in Friday when I'll be sharing a fun gift idea that incorporates these blooms!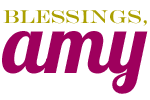 Linking this to…
The CSI Project
Having grown up in a home brimming with sewing notions and paintbrushes, Amy has a deep love for all things creative. On any given day, you'll find her knee-deep in her latest creative endeavor, with projects ranging from sewing and crafts to home decor and kid-friendly ideas. Amy believes that everyone, regardless of skill level or experience, possesses the ability to create something beautiful, and Positively Splendid was born of her passion for helping others harness their innate creative potential.