Swell Noel Idea #8 
The darling Summer from Sumo's Sweet Stuff is in the house today sharing a delectable treat and some terrific ways to package it! Take it away, Summer!


***


Hello everyone!
I'm Sumo! Well, my real name is Summer, but my husband nicknamed me Sumo when we were dating. (Yes, I still married him!)
It's a blog I started to share my crafting and creating. I also like to host giveaways, feature other bloggers, and maybe share some crazy ramblings about how much I love Diet Coke, or my relationships with Shirley and Lucy (my sewing machine and Silhouette). I started sewing about a year and a half ago, and I haven't looked back since! It's probably my favorite creative past time now, especially since I've got two little girls and a third one on the way!
I feel so honored that Amy asked me to help her out while she is on leave with her sweet little babe. I don't know about all of you, but I've been dying her entire pregnancy to see what that baby was! Amy is just a doll, and I'm glad I've been able to get to know her a little better in this little nook of blogland.
Since this series is about gifts for Christmas, I thought it would be great to combine some crafting with some sugary goodness. I mean, what is Christmas time without a bunch of sweets?
Let's start off with the crafty and functional part of the gift. You'll want to pick up a charger plate somewhere. I got this fun, rhinestone rimmed one at Michael's a few years ago. Use your digital cutter (or have a friend cut it for you!) to cut some sort of holiday saying in vinyl. I chose Joy. I liked the simplicity of it, and then it's not too busy on the plate. Apply the vinyl directly to the charger.
Next, you want to pick up a couple of glass mugs. These babies are from IKEA. You can again use vinyl, or if you want to do some etching, you can use my etched glasses tutorial. I went with vinyl, and cut out Hot Cocoa and applied it directly to the mugs.
(You'll want to let people know to hand wash these only!)
While this would make a fabulous gift on it's own, it would also be fun to include some tasty holiday treats.
Enter my candy cane whoopie pies.
Not only are these delicious, but they are quite easy to make!
– 1 box chocolate cake mix
– Andes peppermint crunch baking bits
– peppermint extract to taste
You'll start off making cake mix cookies. To do this, combine your cake mix, oil, and eggs. Then stir in your Andes baking bits.
Place scoops of dough on your cookie sheet and bake for 10-12 minutes at 350.
Allow cookies to cool before continuing on!
In a bowl, scoop out your can of frosting. Mix it with red food coloring and peppermint extract to taste.
Take a cooled cookie and frost it generously. Roll the edges in crushed candy cane, and add another cookie on top to sandwich it.
Now you've got some tasty treats to deliver on that charger plate!
You could also stick some hot chocolate packets and marshmallows in your cocoa mugs before delivering your gift.
Your neighbors will thank you for the yummy goodness, as well as the plate that can serve as a plate or a decoration! Now they are set to snuggle up to watch White Christmas (best Christmas movie ever) with the Christmas tree lights on, warm mugs of hot chocolate in hand, and tasty treats to enjoy.
Thank you so much, Amy, for having me here today! I hope you are enjoying your time snuggling your sweet new babe. And I hope to see the rest of you over at Sumo's Sweet Stuff!
***
Thanks so much for stopping by, Summer! My mouth is watering!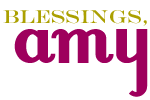 Having grown up in a home brimming with sewing notions and paintbrushes, Amy has a deep love for all things creative. On any given day, you'll find her knee-deep in her latest creative endeavor, with projects ranging from sewing and crafts to home decor and kid-friendly ideas. Amy believes that everyone, regardless of skill level or experience, possesses the ability to create something beautiful, and Positively Splendid was born of her passion for helping others harness their innate creative potential.