In my last Why-Didn't-I-Think-of-That? roundup, I shared an idea I recently found at Skip to My Lou for some ingenious little tags to hang on your door announcing to neighborhood kiddos when it is or isn't okay for children to head out and play. What a great way to manage situations that can make for some very tearful "no" answers, especially with summer months not too far in the distant future!
I started thinking that in addition to the can/can't play message, it would be handy to have a little sign to hang for other purposes as well. 
How about a sign to politely ask the UPS person not to ring the bell when a package is delivered? 
Or a sign to welcome cookout guests to head straight to the back yard instead of waiting at the front door? 
There are dozens of different situations I thought of that would warrant a sign on the door, but I didn't think it would be terribly practical to make a new sign for each purpose. Instead, I opted to use some 12-inch Silhouette chalkboard vinyl to make a wooden door hanger that I can personalize with any message that suits my fancy as soon as the mood strikes!
I dedicated one side to the can/can't play functionality, since that is the way the sign will be used the majority of the time…
…and the other I left blank for writing in my desired message.
This was such an easy project: seriously one hour or less, and that included drying time!
Here's how I did it!
I cut a 6 1/2-inch section of a scrap left over from my picket fence pallet project and spray painted it aqua. While that was drying, I used my Silhouette to cut out two decorative pieces of chalkboard vinyl to put on either side of the wood piece. I also cut some white adhesive vinyl lettering for the "We can/can't play!" message, as well as a little pineapple I purchased in the Silhouette online store to decorate the blank side.
Once the wood piece was completely dry, I simply adhered the chalkboard vinyl to each side, and I then placed the vinyl decals on their respective sides. I placed an eye hook on either side of the top of the plaque and then threaded some ribbon through to serve as a hanger. That was it!
To write on chalkboard vinyl, I love to use the chalkboard markers like they use at Starbucks. The colors of the markers are vivid, and it minimizes the mess typically associated with chalk. (Not to mention, the fact that the ink is wet erase means that curious little hands won't be able to smudge the wording as easily.)
I am so pleased with how this project came together! I think it is going to be extremely handy for our second week of spring break, which is kicking off today. 🙂
Did you enjoy this post? I would love for you to add it to Pinterest! Do so easily by clicking on the link below.
 Thanks so much for stopping in, everyone!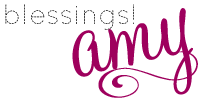 Having grown up in a home brimming with sewing notions and paintbrushes, Amy has a deep love for all things creative. On any given day, you'll find her knee-deep in her latest creative endeavor, with projects ranging from sewing and crafts to home decor and kid-friendly ideas. Amy believes that everyone, regardless of skill level or experience, possesses the ability to create something beautiful, and Positively Splendid was born of her passion for helping others harness their innate creative potential.