I posted last week on the Positively Splendid Facebook page that I had a hankering for some chewy oatmeal-raisin cookies. A couple of sweet girls posted their recipe recommendations, and I decided to take those and others I came across to combine a few recipes to create my very own cookie. These beauties are what I came up with!
Reading up over at Smitten Kitchen on her Oatmeal-Raisin Cookie post, I was intrigued by a recommendation she made to chill the dough before baking to ensure a super-chewy texture. I decided to do a little experiment of sorts to test her theory, by baking one batch after no chilling time, one batch after 10 minutes of chilling time in the fridge and one batch after 5 minutes of chilling time in the freezer. I have to say, she is spot on: both of the chilled batches maintained their shape and finished with a much chewier texture than their unchilled counterparts. My recommendation? If you have time, chill your scooped cookie sheets of dough in the fridge for 10 minutes or so before popping them into the oven. You'll be glad you did!
Chewy Oatmeal-Raisin Cookies
3/4 cup shortening
1 1/4 cup granulated sugar
2 tablespoons molasses
1 large egg
1/3 cup buttermilk
2 teaspoons vanilla
1 cup flour
1/2 teaspoon baking soda
1/2 teaspoon salt
1/4 teaspoon cinnamon
3 cups rolled oats
1 cup raisins
Preheat oven to 375.
Cream together shortening, sugar and molasses. Add egg, stirring to combine. Stir in buttermilk and vanilla. Sift together flour, baking soda, salt and cinnamon. Stir flour mixture into batter, combining well. Stir in oats until they are thoroughly incorporated, then stir in raisins. 
Scoop dough onto greased cookie sheets about 2 inches apart. Chill the dough on the sheets in the fridge for 10 minutes or so to ensure the chewiest possible texture, if desired. Bake for 10-12 minutes, or until brown. Cool on sheets for a few minutes before transferring them to baking racks to cool completely.
Enjoy!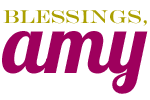 Having grown up in a home brimming with sewing notions and paintbrushes, Amy has a deep love for all things creative. On any given day, you'll find her knee-deep in her latest creative endeavor, with projects ranging from sewing and crafts to home decor and kid-friendly ideas. Amy believes that everyone, regardless of skill level or experience, possesses the ability to create something beautiful, and Positively Splendid was born of her passion for helping others harness their innate creative potential.