Each year when my kids head back to school, our family's schedule inevitably becomes much more hectic. With homework, sports practices, music lessons and church activities, our daily routine has to be a finely tuned machine to allow us to keep up with everything on our plate, and especially household chores. Over time, I have found that coming up with a chore chart system is a great way to help our family dynamic run as as smoothly as possible. Having each family member's individual chores clearly outlined and defined in a chore chart is terrific for a couple of great reasons: expectations are clearly defined, thus reducing conflict, and children are provided a great sense of accomplishment when they get to mark a chore off of their list!
Today, I am going to share with you our family's simple, yet incredibly effective magnetic chore chart for kids, which can easily be put together from start to finish in an hour or two.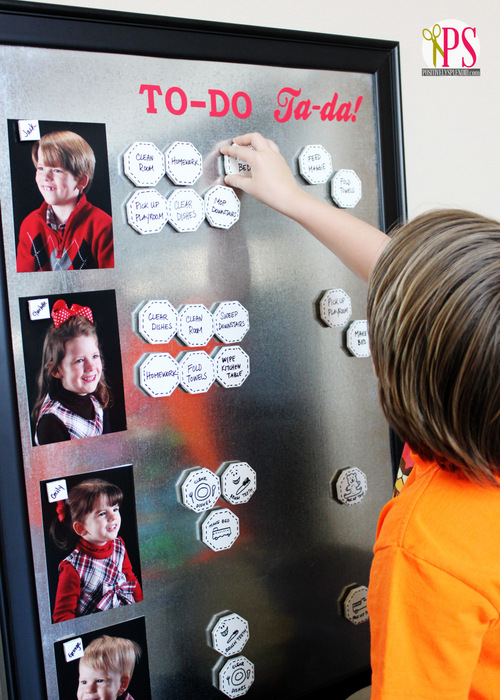 For this project you will need:
A 24×36" frame
(1) 24×36" sheet galvanized sheet metal
(1) sheet of ceramic tiles
Sharpie marker
1/2" ceramic disc magnets
E-6000 adhesive
Letter stickers, vinyl decals or stencil (for lettering)
To start, carefully slip the sheet metal into the frame. (Be sure to wear work gloves when doing so, as the edges of the sheet metal are very sharp!) This is a great project to breathe new life into a frame that might otherwise be donated or discarded.
Apply letter stickers or vinyl decals to the top of the frame to designate the "to-do" column and the "finished" column. (Alternatively, you can use stencils and paint to label your board. There are so many options!) I opted to label the sides of our chart with "To-Do" for the pending column and "Ta-Da!" for the completed column, which I cut with my electronic die-cutting machine. The idea for the wording came from the incredibly inspiring Julie Hanks, and I love the sense of accomplishment and excitement it conveys!
Use the Sharpie to write each child's name of a separate tile. Next, write the wording on the tiles for each child's respective chores. For pre-readers, it is also helpful to draw pictures of each chore to make expectations clear. Even the smallest children can garner a great sense of accomplishment for completing helpful, simple tasks like brushing their teeth or putting their dishes in the sink, so don't forget to include them, as well! Allow the tiles to dry completely.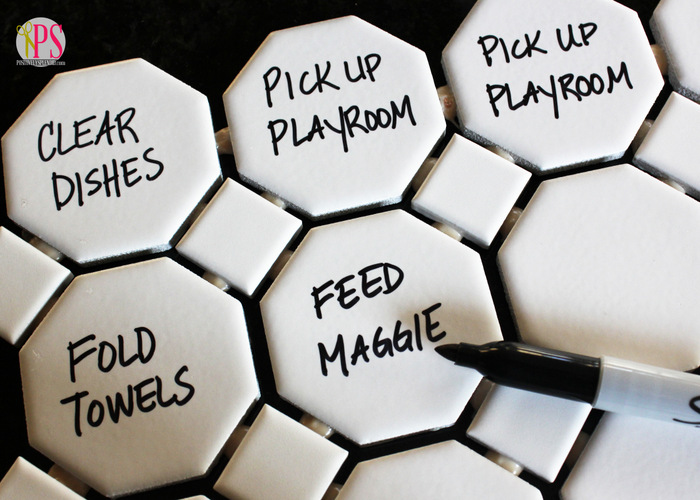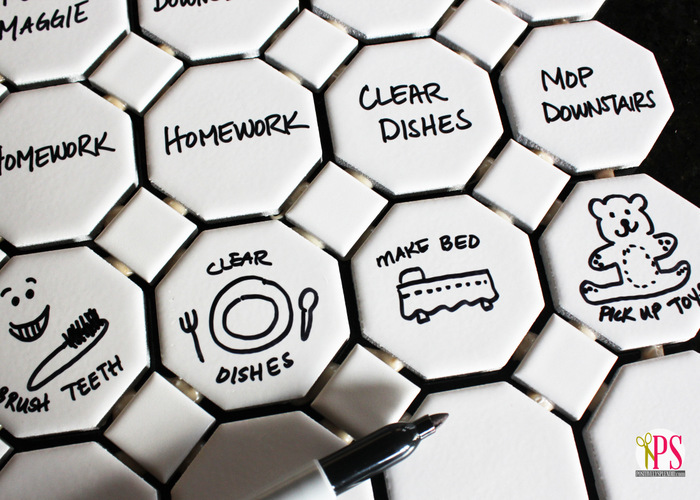 When the tiles are dry, use the heavy-duty adhesive to affix a magnet to the back of each. Allow the adhesive on the tiles to dry completely.
Affix a photo of each child on the left-hand side of the board with his or her name tile, and then place his or her respective chores in the "To-Do" column. When he or she finishes a chore, she can move it to the "Ta-Da!" column. When all of the tiles have been moved to the complete column, a special reward can be given for a job well done. So simple!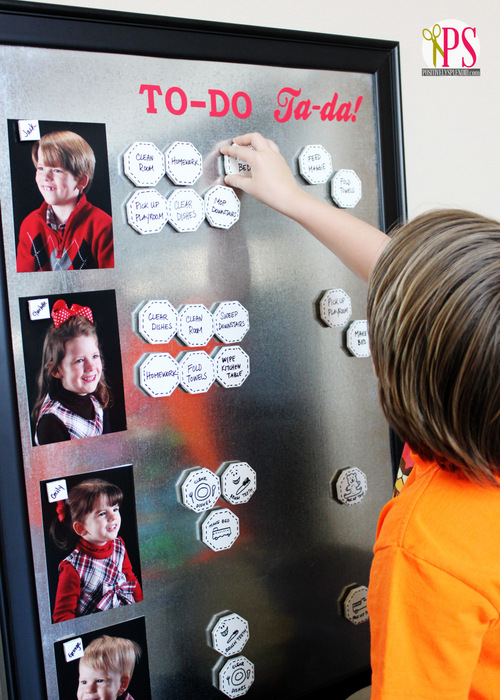 I love that each child's photo adds a personal touch to the chart…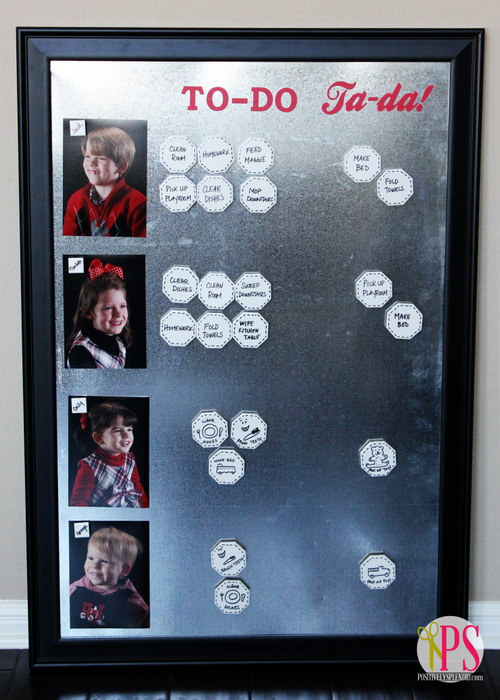 …and because the tiles are so easy to create, this is a chore chart that can easily grow along with children as their expected chores change over time.
Does back-to-school time make you want to get more organized, too? If so, I've got some other great organizational ideas you should check out!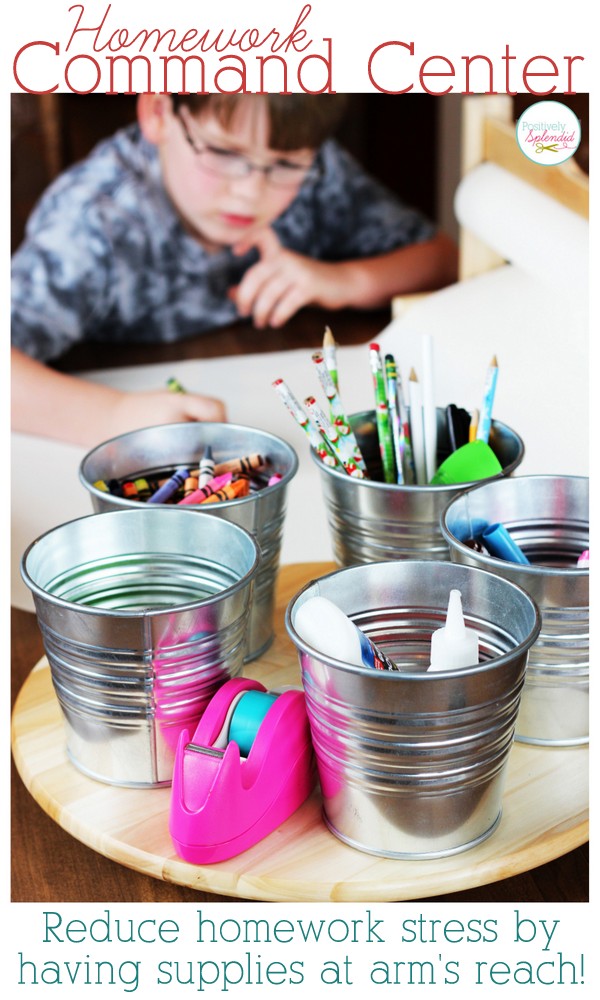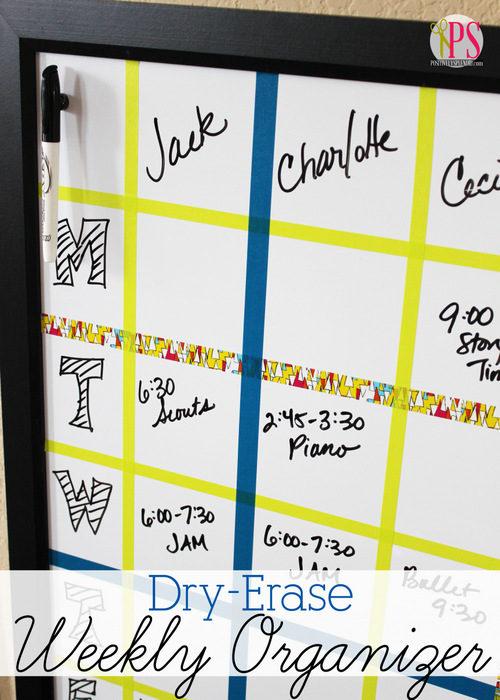 Thanks so much for stopping in!
Having grown up in a home brimming with sewing notions and paintbrushes, Amy has a deep love for all things creative. On any given day, you'll find her knee-deep in her latest creative endeavor, with projects ranging from sewing and crafts to home decor and kid-friendly ideas. Amy believes that everyone, regardless of skill level or experience, possesses the ability to create something beautiful, and Positively Splendid was born of her passion for helping others harness their innate creative potential.