I have finally managed to sift through all of our photos from Christmas. There were so many terrific shots, I had a heck of a time deciding which ones to share!
One of the things Matt and I have enjoyed immensely about having children is the opportunity to create new Christmas traditions unique to our family, incorporating things from our childhoods, but also adding new ideas to the mix as well. Starting last year, we made the decision to make the Christmas Eve service the central focus of our Christmas Eve festivities, following that with a terrific spread of Mexican food afterward: posole, tamales and avocado salad. Then on Christmas morning, after the children discover their gifts from Santa, we open the rest of our family gifts. An early-evening meal rounds out the Christmas Day festivities. I think our little routine is one that will pass the test of time!
'Twas the Night Before Christmas
Santa outdid himself this year: a Handy Manny tool set and tool bench and a Hungry, Hungry Hippos game for Jack, a pink pedal car and Sleeping Beauty doll for Charlotte, and a first baby doll and set of pop beads for Cecily.

I absolutely loved our Christmas tree this year. I really think we will be hard pressed to ever find another so perfect for this spot!
Christmas Day
These years when the children are small and everything about the season is so magical are such a treasure. Matt and I were actually up well before all three of the kiddos on Christmas morning, so determined were we not to miss a single moment of their excitement!

For Christmas dinner, we prepared a pork crown roast with an apple-sage stuffing, potatoes au gratin (I loved my mandoline for this!) and wine-braised green beans with tarragon and shallots. I was so proud of the cake I made for dessert, which came straight from the cover of December's issue of Southern Living. It had a rich chocolate ganache in between two layers of chocolate cake and a delicious seven-minute frosting. Leigh, whom I consider the biggest cake lover of them all, declared it the best cake she had ever eaten, and coming from her, that is a huge compliment!
Our family is so immensely blessed!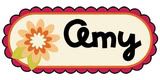 Having grown up in a home brimming with sewing notions and paintbrushes, Amy has a deep love for all things creative. On any given day, you'll find her knee-deep in her latest creative endeavor, with projects ranging from sewing and crafts to home decor and kid-friendly ideas. Amy believes that everyone, regardless of skill level or experience, possesses the ability to create something beautiful, and Positively Splendid was born of her passion for helping others harness their innate creative potential.