…is something else!
Charlotte is our walking hurricane, and I say that with all of the fondness and pride (and utter exhaustion!!) a parent of such a little girl knows very well. From the moment she is up every morning until the second she collapses in a heap each night, she is on the GO. She has opinions on everything, and by golly, does she ever want us to know about them! I think the thing I love most about Charlotte is that she is at once girly and tough, feminine and fearless. If one moment she is asking me to paint her nails the brightest shade of pink I can find, the next she is pulling out her best moves while she and Jack engage in Wrestlemania on our living room floor.
Charlotte's hair is wild, her tales are tall (she loves to make up stories to entertain us at the dinner table), and her heart is huge. This girl, my friends, is going to go places. Of that I am certain.
And when she gets where she's going, I am sure she will be wearing a pair of high heels. (But I hope she'll always be prepared to kick them off when it's time to get down to business. 😉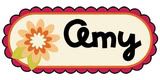 Having grown up in a home brimming with sewing notions and paintbrushes, Amy has a deep love for all things creative. On any given day, you'll find her knee-deep in her latest creative endeavor, with projects ranging from sewing and crafts to home decor and kid-friendly ideas. Amy believes that everyone, regardless of skill level or experience, possesses the ability to create something beautiful, and Positively Splendid was born of her passion for helping others harness their innate creative potential.