Christmas is the perfect opportunity to pull out your camera to try out some new creative photo ideas. This is such a magical time of year, as your home is probably brimming with countless backdrops for beautiful Christmas photos! Today I'm sharing a meaningful photo idea for capturing part of the joy of the season as it lives in the heart of your children. By photographing each child in front of the Christmas tree holding a sign telling the item that tops their Christmas list, these photos will undoubtedly be cherished for many years to come.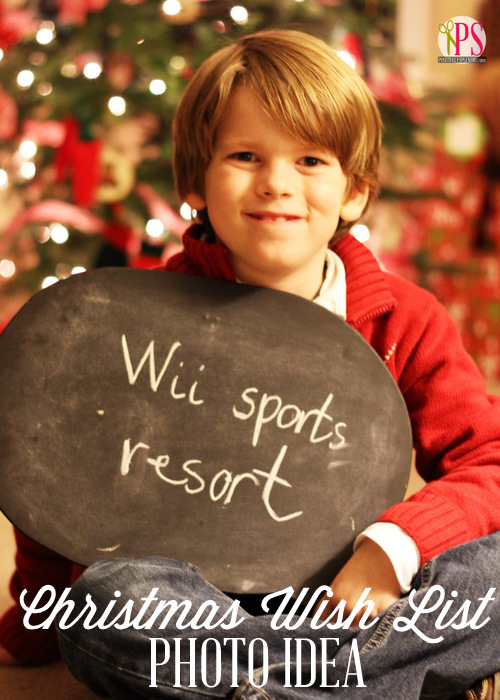 Last year, I shared an idea for creating Christmas ornaments showcasing a child's photo on one side, and their Christmas wish list on the other. As we placed those Photo Christmas List Ornaments on our tree this year, I knew I wanted to do something similar again in 2012.
Reading through each of my kids' Christmas lists last week, I was struck by how much sweeter those words seem because they are written in their own distinctive handwriting. It was then that I decided to take each of my children's photos sitting in front of the tree, using a chalkboard showcasing their number one gift request of Santa, written on their own, using their own spelling. (Or, in the case of my youngest, dictated by her to me to write down.) I just adore how these photos turned out!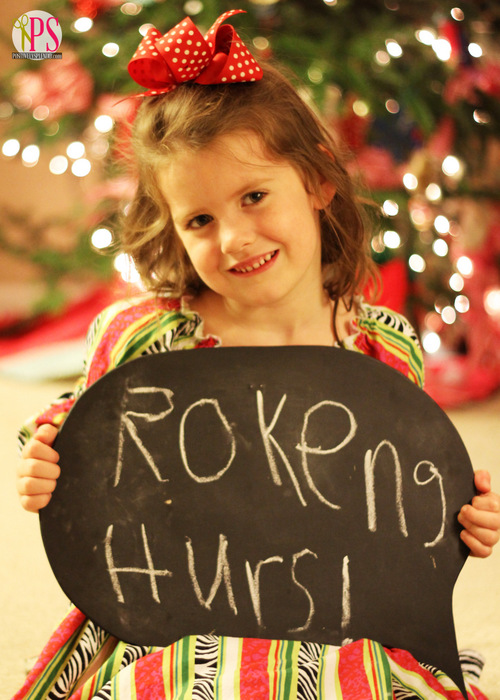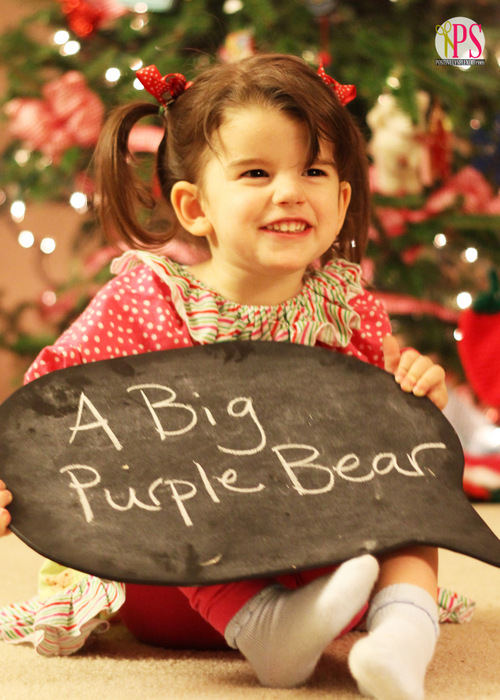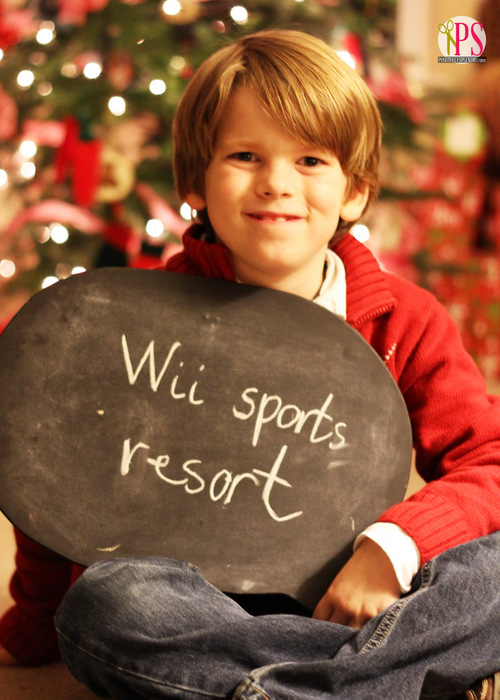 I am planning to make an ornament using each of these photos to hang on our tree. Wouldn't it be neat to do this with each child each year to demonstrate how they (and their handwriting and gift requests) change throughout the years?
Taking these photos gave me the opportunity to take one of my early Christmas gifts–a new 50mm lens–out for a spin. The beauty of Christmas twinkle lights is only enhanced by the lovely blurred background created with a lens like this one, which has a very shallow depth of field. Essentially, that just means that you are able to focus on a main subject, while everything else is the background is given a nice, velvety blur. That blur is called bokeh.
The full details for how these photos were taken:
Camera: Canon Rebel T2i
Lens: Canon 50mm F/1.8
ISO: 1600
Aperture Value: Between 2.0 and 2.2
Ambiance: Indirect light, mainly from the tree, and a table lamp moved near the subject.
Distance from subject to background: Between 5-6 feet
The key to getting a good bokeh effect in photos like these is to move the subject a few feet away from the tree itself. The greater the distance between the subject and the tree, the stronger the blur effect will be. My kids were each about 6 feet from the tree in these photos.
I hope I've inspired you to try taking some creative photos to capture the joy of the holiday season this year!
Having grown up in a home brimming with sewing notions and paintbrushes, Amy has a deep love for all things creative. On any given day, you'll find her knee-deep in her latest creative endeavor, with projects ranging from sewing and crafts to home decor and kid-friendly ideas. Amy believes that everyone, regardless of skill level or experience, possesses the ability to create something beautiful, and Positively Splendid was born of her passion for helping others harness their innate creative potential.