Our fun and easy kids' craft idea for today is from Angie at the Country Chic Cottage. Love this idea, and I love her various ideas of ways to use them!
***
Painting Rocks for Everyone!
Hello everyone!!  I am Angie with The Country Chic Cottage!  So far Amy's series has been AMAZING!!  So many great ideas!  I hope I can provide a little something you can take away!
  I found a tutorial on Family Fun and was doing some experimenting with crayon wax.  This idea was born!  An easy way to paint "treasures" for even the tiniest of hands!  Get your rocks and get started!
Smooth rocks

Crayons

Foil lined baking sheet
Literally color all over your rocks.  Randomly, in patterns, doesn't matter.  Just a nice thick coating of crayon wax.  Let the kids go wild!!
Place the rocks in your oven on 225 degrees for about 3 minutes.  Watch them close.  The wax should melt but not start to come off of your rocks.  Remove them from the oven and let cool!
While the wax was wet, we even scratched some initials in some of our rocks with a skewer.  Totally optional but fun!  🙂
They look all shiny when you remove them.  The wax will sort of melt together and blend.  Then harden back to a smooth, glossy finish!
Gorgeous "painted" rocks — no mess, non toxic, easy, quick, fun, what more could you ask for?
I popped our creations in a mason jar to display them….
But you could use them in a wide variety of ways:
place in the dirt of your potted plants for a touch of color

make "X" and "O" rocks for a great tic tac toe game

draw faces for your very own rock men
I don't know about your kids…but mine looove to treasure hunt for rocks.  So this is a perfect activity for us!  Treasure hunting for the rocks and then painting them!
My collection would have been more colorful — but my youngest loves the color black!  What is a mom to do but have black rocks! 🙂
I hope you enjoy this tutorial!  Let me know if you paint some rocks with your kids!  And be sure to visit me at the cottage anytime!
Thanks again Amy for having me!
***
Thanks so much to Angie for stopping by with her fun idea! I hope you'll head over to her place to pay her a visit!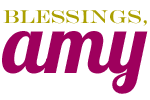 Having grown up in a home brimming with sewing notions and paintbrushes, Amy has a deep love for all things creative. On any given day, you'll find her knee-deep in her latest creative endeavor, with projects ranging from sewing and crafts to home decor and kid-friendly ideas. Amy believes that everyone, regardless of skill level or experience, possesses the ability to create something beautiful, and Positively Splendid was born of her passion for helping others harness their innate creative potential.