Surely I can't be alone.
There are some days when I would really like to flex my creative muscles, but I am stopped dead in my tracks by the negligible amount of free time I have at my disposal, or the squeakiness of my crafting budget, or both. 
Can you relate? I have a feeling you can.
It is out of the predicament that I just related that the series I'm starting today,

Creating in a Crunch,

came to be. The projects in this series will be quick, easy and inexpensive ways to get your creative fix.  Some of the ideas I share will be seasonal, some will be kid-friendly, and many will be something else entirely. The one thing they'll all have in common: They will all be totally doable in the span of an hour. Or a naptime, as the case may be 😉
With today being the first day of February, Valentine's Day is truly just around the corner. I shared a great project here for how to make some plantable Valentines with your little ones, but that project is admittedly somewhat time consuming. Today I thought I'd share a Valentine idea that is equally as cute, but with a much smaller time requirement! Once I got used to the whole process for making these Sliding-Door Valentines, it only took me about 10 minutes or so to put one together. Not too shabby!
I first stumbled upon the idea for a sliding-door card in a card-making magazine eons ago. I decided to adapt the idea for Valentine's Day this year as a treat for my kiddos!
All set? Let's get started!
For this project, you will need…
Pre-folded blank cards 
Assorted patterned papers
A die cutting machine
A heart-shaped soap mold (I found mine at Hobby Lobby)
Scrapbooking adhesive
Letter stickers
Ribbon
Scissors
Candy
step

1 / For each card you plan to make, cut a small heart shape and a larger heart shape. Your smaller heart should be at least 1/4″ larger than your soap mold heart, to ensure that you will have enough room to trim the center out later on. For the soap mold I bought from Hobby Lobby, a 3.5″ and a 4″ heart were just the right size.
step

2 / Hold your soap mold up to a well-lit window (or a light box, if you have one), and place a piece of copy paper on top of it. Use a pencil to carefully trace the outline of the heart shape of the mold. Carefully cut a scant 1/8″ outside of this traced line around the perimeter of your heart, as shown.
step

3 / Now, center the template you just created on one of your smaller hearts, and use a pencil to trace it carefully. Poke your scissors up through the center of the heart you just traced, and carefully trim out the center of the heart, so you are left with a hollow heart shape, as shown. Now, position this smaller hollowed out heart onto your larger heart shape, making sure everything is centered correctly, and use the hollow center to trace a heart center onto your larger piece. Trim away this heart center just as you did before, so that you now have two hearts with hollow centers. Adhere the smaller heart on top of the larger, carefully aligning the heart centers, as shown. 
step

4 / Now, position your stacked hearts on the front of your blank card, and use their center opening to trace another heart. (Make sure to position your stacked hearts exactly as you want them to appear on your finished card as you trace.) Cut out the center of the heart you just traced just as you did in step 3. Use adhesive to affix your stacked heart piece over this opening, so that the edges of the heart openings are all precisely aligned.
step

5 / Trim one of your pre-folded cards in half. Position one of the halves inside your outer card, making sure all of the edges are precisely aligned. Use a pencil to (you guessed it! 😉 trace off the trimmed heart from the front of your card onto this center piece. Trim the center away from the heart you just traced, just as you did in the preceding steps. Set the center piece aside for now.
step

6 / Trim around one of your soap mold hearts, making sure to leave a 1/4″ border all the way around it, as shown. Apply adhesive around the rim of this border (I used tiny adhesive dots), and then push the shape up and through the heart window on front of your card, pressing firmly to adhere it securely.
 step 

7 / Grab the center piece you created in step 5, and run adhesive around three outer edges on the front this piece, leaving the short edge closest to your heart open, as shown. Affix this piece behind your card front, so that the heart openings are precisely aligned.
step

8 / Now, embellish you card front with letter stickers, as desired. Trim a piece of paper for the sliding "door" of your card. (For my cards, a 2.5 x 5.5″ pull tab was just the right size.) Embellish the front of one end of this piece with letter stickers and a piece of ribbon, as desired. Now, open up your card, and fill your heart mold with candy, being sure not to overfill the space. Slide your pull tab through the side opening between your center piece and your card front (this is why we only applied adhesive to three sides of our card center), so that it covers the candy-filled heart opening as it slides through.
All finished!
Helpful Hints and Tips
No Cricut at your disposal? Take heart!

Pun intended. 😉

Make some heart templates using your word processing software, and trace these onto your patterned paper to cut out by hand.
Mini M&M's or redhots would be great options to fill these, too!
By the way, if you have any ideas or suggestions for a particular project you'd like me to tackle in the Creating in a Crunch series, I'd love to hear!
Take care!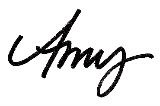 Linking this to…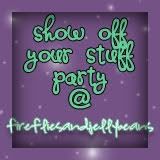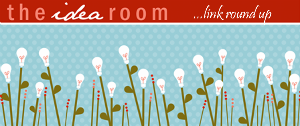 If you enjoyed this post, subscribe to Positively Splendid 
to receive updates, and join us on Facebook and Twitter!





Having grown up in a home brimming with sewing notions and paintbrushes, Amy has a deep love for all things creative. On any given day, you'll find her knee-deep in her latest creative endeavor, with projects ranging from sewing and crafts to home decor and kid-friendly ideas. Amy believes that everyone, regardless of skill level or experience, possesses the ability to create something beautiful, and Positively Splendid was born of her passion for helping others harness their innate creative potential.