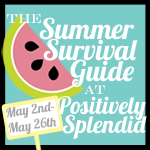 One of my recent blogging discoveries (and one that quickly made it on to my list of must-reads) is today's guest, Kiki from Kiki Creates. She is sharing a truly brilliant idea to keep idle little hands busy during the most harried part of the day!
***
Hi everyone! My name is Kiki over from
Kiki Creates
where I blog about any and everything I create with my hands and the inspiration it comes from.  I often have
free printables to download
and have an
etsy shop
filled with fresh and fun prints for your home!  I have been loving this series so far…hasn't it been great?  It's one of my first stops every morning…and feel blessed to be a part of it!
If you frequent my blog, you will know that I have 3 little munchkins.  They keep me on my toes in the best way and are OFTEN the inspiration behind my projects. Today is no different!
I'm hoping a few of you relate to this scenario. It is 5:40 p.m. The hubby is due home in the next half hour and it is time to finish up (or start!) dinner preparations.  And then it begins. 5 minutes ago your children were happy and helpful..they were busy playing and sharing.  And now? I have a 2 year old glued to my leg begging for a snack and drink…and then back a few minutes later to be held. My 7 and 5 year old are wrestling on the ground and it is a mixture of crying/ yelling/ and noises of all kinds.  IT IS CHAOS!  And in all of the craziness, you are trying to get dinner cooked and on the table, so when your husband comes home you can all sit down and eat. Sound familiar?
During one of these episodes a few weeks ago I had an idea:
 I am sure many of you cannot relate to the above situation and just see this all day:
But either way…Chaos or Calm..I hope you enjoy these before dinner activities…and with summer just around the corner these will be perfect to add into your busy days!
These are super simple to make.
Simply download the files, print them out and get them laminated!  Provide your kids with dry erase markers and as a bonus, your dinner conversation will never be dull again!
Let me show you the goods:
#1-The Story of My Day.  This will give your child the opportunity to write or draw his/her activities from the day. When dad asks during dinner what they did during the day..there will be no more "I don't know" or "nothing" answers!
#2- Place setting- Have you ever asked your children to set the table and they have no idea how? Look no further than this placemat which will aid them in doing it correctly everytime!  There is even a space to write a name!
#3- Tic-Tac-Toe.  Give your kids a way to play together (without killing each other, like mine!).
#4-Today… This placemat will give them a chance to remember their day in a different way than #1..and is sure to bring up some funny answers!
After setting up the table for them today, I went in to get dinner going and came back to this:
and before you knew it, dinner was on the table..and I hadn't gone crazy!
Give it a try…it may just give them the quiet activity they need before sitting down together!
Go ahead and download all of the files
HERE
…and have a lovely day.
Thanks again for having me, Amy!
***
Seriously – aren't those great? I can't wait to make a set for our household! Thank you so much to Kiki for stopping by today to inspire us!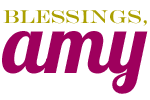 Having grown up in a home brimming with sewing notions and paintbrushes, Amy has a deep love for all things creative. On any given day, you'll find her knee-deep in her latest creative endeavor, with projects ranging from sewing and crafts to home decor and kid-friendly ideas. Amy believes that everyone, regardless of skill level or experience, possesses the ability to create something beautiful, and Positively Splendid was born of her passion for helping others harness their innate creative potential.